An amazing awards season for Evoluted
We're in celebration mode here at Evoluted because we're having an incredible awards season, taking home more than our fair share of trophies due to the hard work of our amazingly talented team.

We've had an incredible awards season so far, and we're rounding it out with two further wins for Evoluted and one for Ash Young and CarMats.co.uk, alongside being finalists in a few others too. We're thrilled with what we've achieved, and it feels great to be recognised for the hard work every member of the team has put in this year, especially when we're up against some tough competition.
EUROPEAN AGENCY AWARDS
This year, we've been lucky enough to be the winners of not one, but two European Agency Awards, bagging the Campaign Effectiveness Award and Best PPC Campaign, both for our work on founder Ash's e-commerce business, CarMats.co.uk. Up against some huge players in our industry like Absolute Digital and Gravity Global, the competition was stiff, so to take home not one but two awards was a real triumph.
The awards were judged by leading industry experts, carrying out a robust two step process involving pre-scoring, scoring and then finally judges deliberation to crown the champions for each award.
Watching the event being streamed live on the European Agency Awards site, the whole team was feeling the excitement and were waiting in anticipation for the result to be revealed. We also received some fantastic feedback from the judges, who said of our winning entry to the Campaign Effectiveness Award:
'An audacious objective supported by a clear strategy has resulted in fantastic results for CarMats.co.uk. Detailed implementation and tactics shows off the agency's skills well. At the end of the project, the results speak for themselves.'
After a year of hard work from the entire team, it was great to be recognised for what we have achieved, and for CarMats.co.uk being such a young business, winning awards already is even more exciting.
For the full list of winners and those shortlisted, head to the European Agency Awards website.
LOVE CHESTERFIELD AWARDS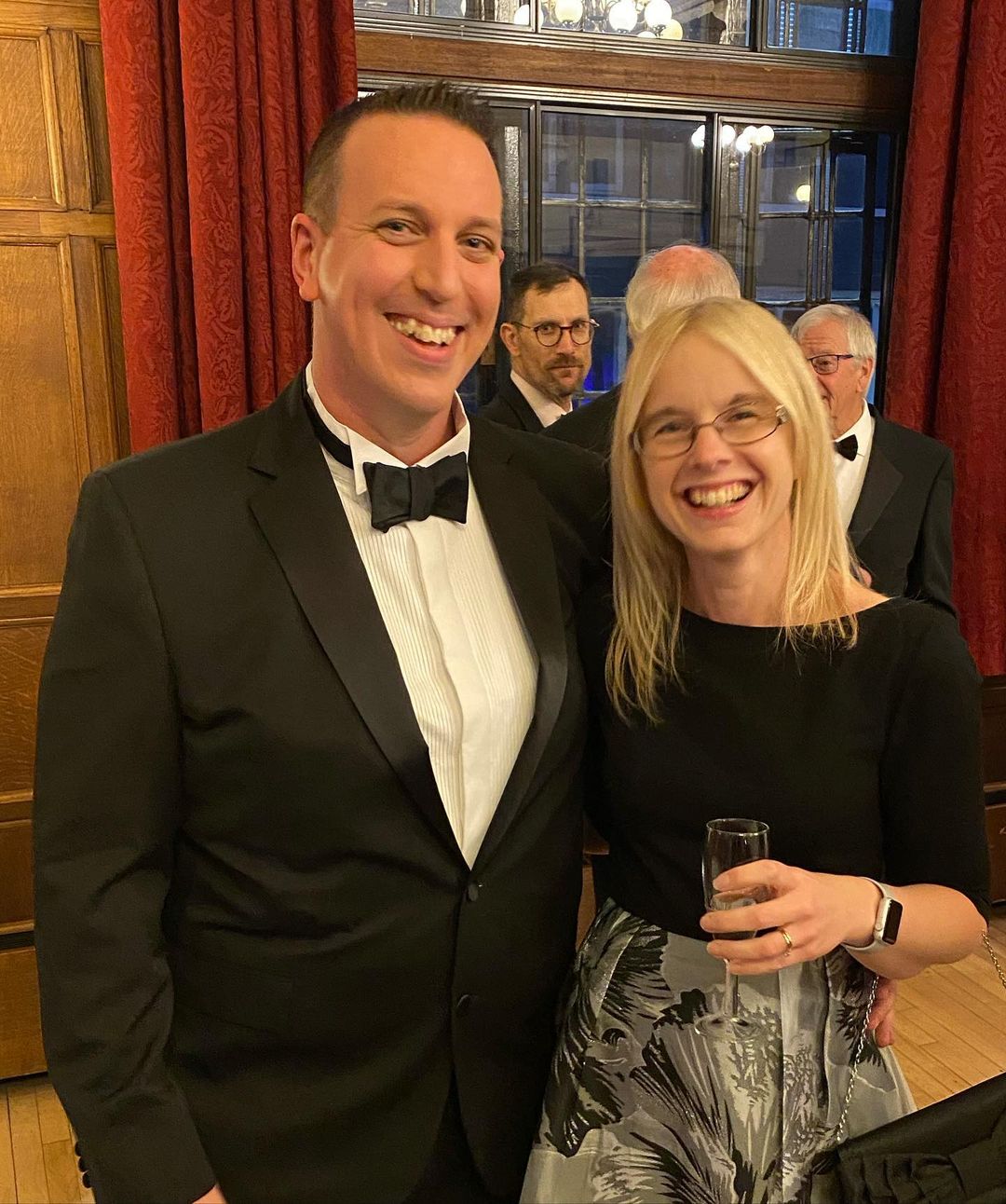 Next up, Ash received the award for Entrepreneur of the Year at the Love Chesterfield Awards for his work building and scaling CarMats.co.uk.
Having built the business during lockdown as a way of keeping the team's skills sharp, CarMats.co.uk was a side project that quickly scaled far beyond the ambitious goal of reaching £1 million in revenue in a year. Grown using a combination of paid search, paid social and SEO, CarMats.co.uk has recently hit the 100,000 orders mark, and has also amassed over 12,000 reviews from customers, so being recognised for the huge amount of work that went into building the business from the ground up was a lovely bonus!
Ash tweeted of his success: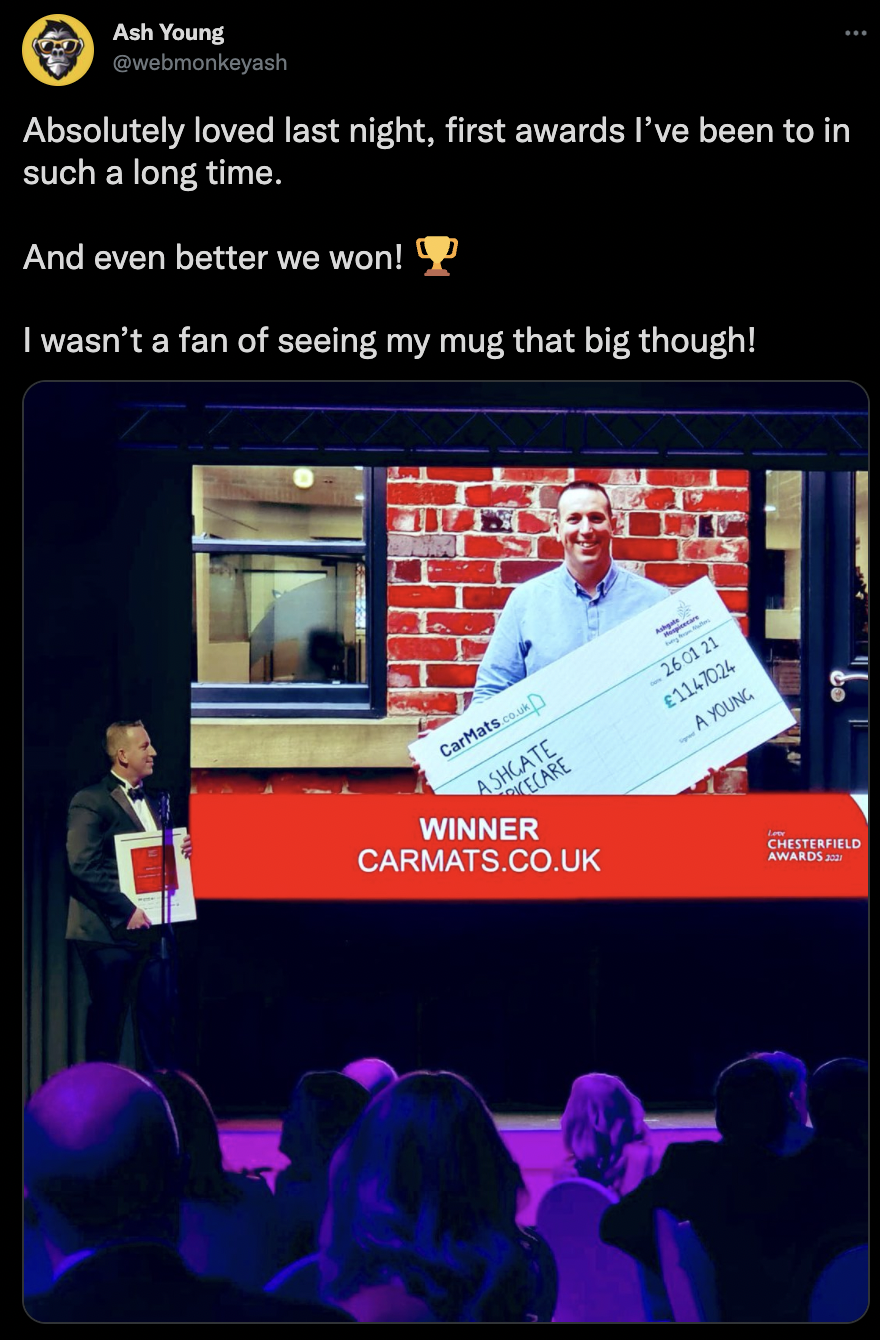 Having smashed it over the last year, we have now set our eyes on the £2 million in revenue benchmark for CarMats.co.uk, which we are feeling very confident we will reach. As a result of the success we've already achieved with the brand, we've also expanded the product lines to begin offering personalised mats, which are proving popular so far.
If you'd like to see the full list of winners from the night, you can do so by heading to this link.
UK E-COMMERCE AWARDS
Finally, we've also won a UK E-commerce Award this year for E-commerce Startup Website of the year for our work on CarMats.co.uk, which has rounded off an incredible awards season!
The awards were judged by a panel of esteemed industry experts, and every application went through a rigorous two step judging process before receiving feedback from the judges. We were up against some amazing competition from the likes of B2D and Best Response Media, so we're thrilled with this result.
For the full list of the winners, head to this link.
If you require expert support with your next E-commerce project, check out our Paid Media and E-commerce SEO services.