Bangers & Cash 2023 - Round up
I'm sure by now you've seen us mention the Bangers & Cash rally?

If not, in short: Bangers & Cash was a 1092-mile charity rally challenge from Sheffield to Munich to raise money for Roundabout! The rally took place over five days, with a series of mini-challenges across Europe en-route to the final destination - including performing a Disney song outside a castle in fancy dress!
There was also an artistic element to the rally. All car bonnets were painted by local artists, which will be part of an art trail from the 14th-29th of October. The bonnets will then be auctioned off at The Bangers and Cash Auction Dinner 3rd of November.

Evoluted's involvement began after undertaking a pro bono project to design and develop the Bangers & Cash Art Trail website. With our team building the site for the art trail, it made sense for us to take part & enter a team in the rally itself.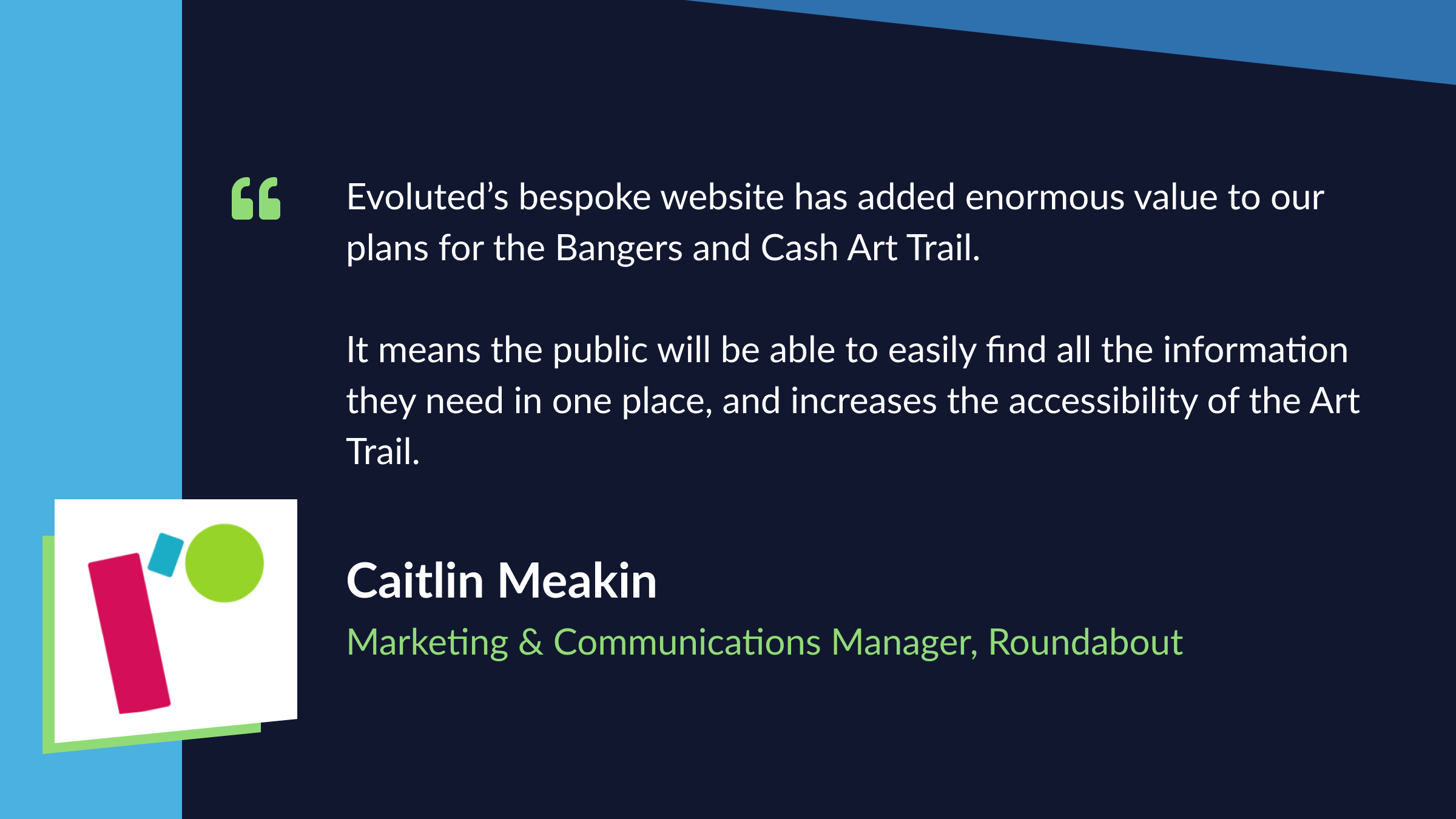 I was lucky enough to represent Evoluted on this exciting adventure along with my colleagues Rebeca and Jamesh. With myself as a designer, Rebeca as a project manager and Jamesh as a developer, we felt we had a good mix of skills to take on the challenges ahead.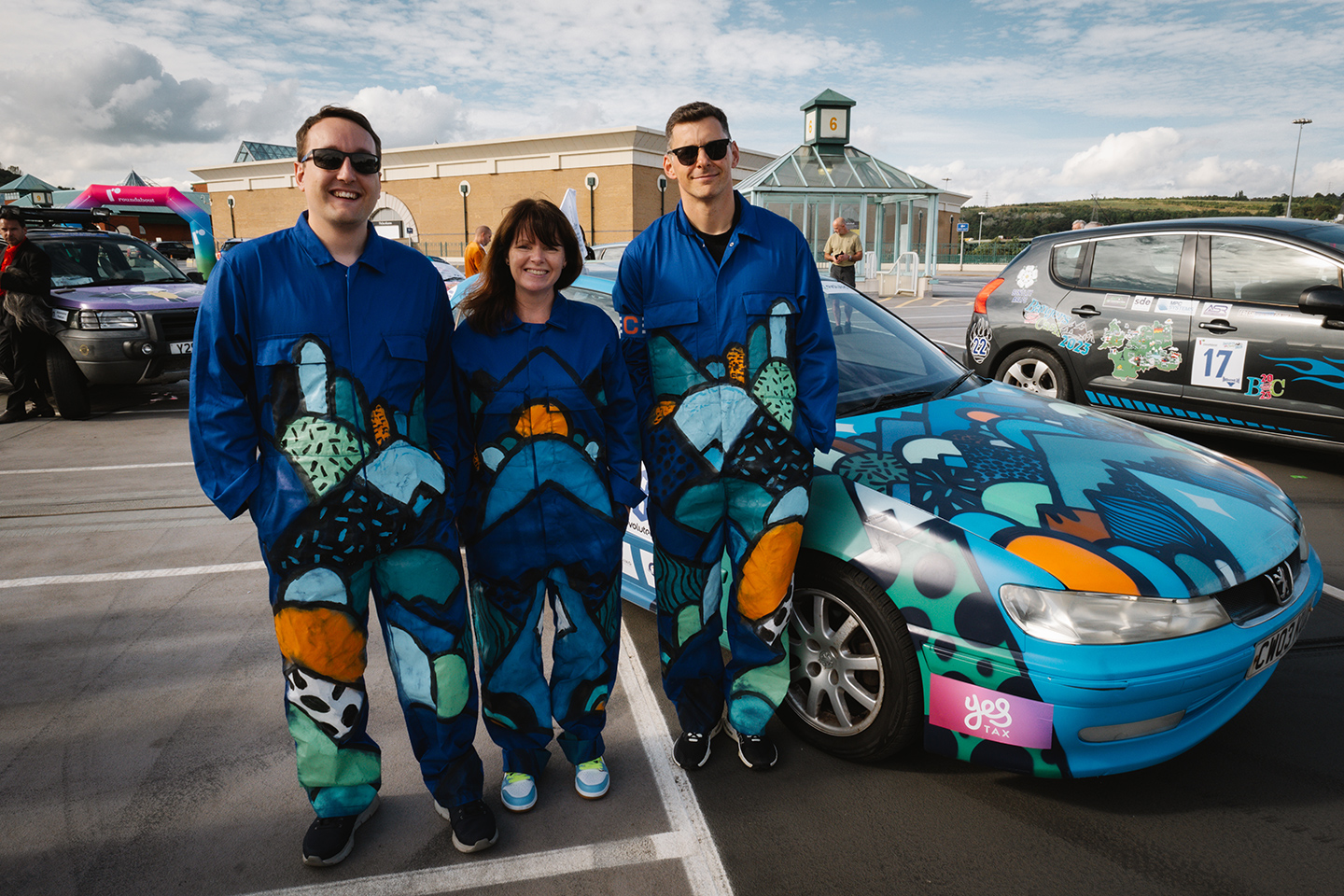 In the run up to the rally, we had our hands full with various tasks including securing our banger, arranging for the bonnet to be painted, starting our fundraising efforts and planning for the rally itself. We shared our progress for all of this on our social media accounts for "@evoluted_banger".
At the time of writing this blog post, we have raised a whopping £4,555 on our JustGiving Page, which is a pretty respectable contribution towards Roundabout's total of £80,000+ so far between 21 teams! With hopefully much more to come with the bonnet auction in November.
Day 1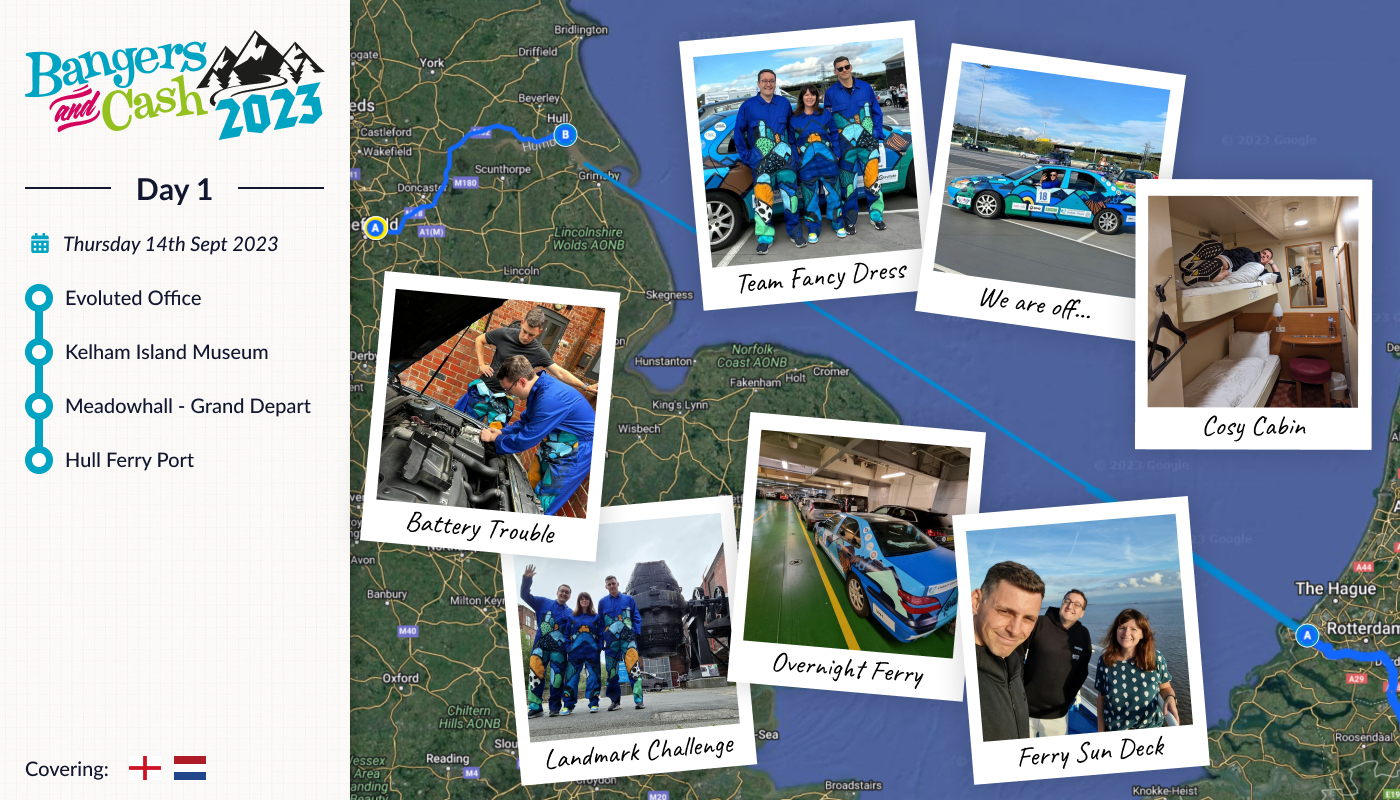 With all the preparations for the rally in place, we had our bags packed, our boiler suits on and we were ready to go! Unfortunately I had accidentally left the lights on after driving the car the previous day, which left us with a flat battery and already running behind schedule.
We had dealt with this before, so we knew we had to take the battery out and get it connected to our charger. Whilst the battery was charging, we set off on foot to take a quick picture at a local landmark (Kelham Island Museum) for one of the first challenges. The battery didn't take too long to give us enough charge to start the car, so we set off for Meadowhall for the "Grand Depart". 
The Grand Depart event was a great opportunity to see all of the cars and meet people from the various rally teams. We posed for a few photos and videos and had support from some of our Evoluted colleagues, friends and family. After a few laps of the car park in our rally number order, the barrier was lifted and we set off on our way.
The short journey over to Hull was a steady start to the rally. With very little traffic, we made it to the ferry in good time and joined the queue of cars to board "The Pride of Rotterdam". Once parked tightly in our parking lane, we found our cabins to drop off our bags before exploring the ship.
I was pleasantly surprised with the ferry. The facilities available on board were great, we had a good meal in the buffet restaurant & took part in a quiz in one of the bar areas afterwards.
Check out our Day 1 Instagram Reel
Day 2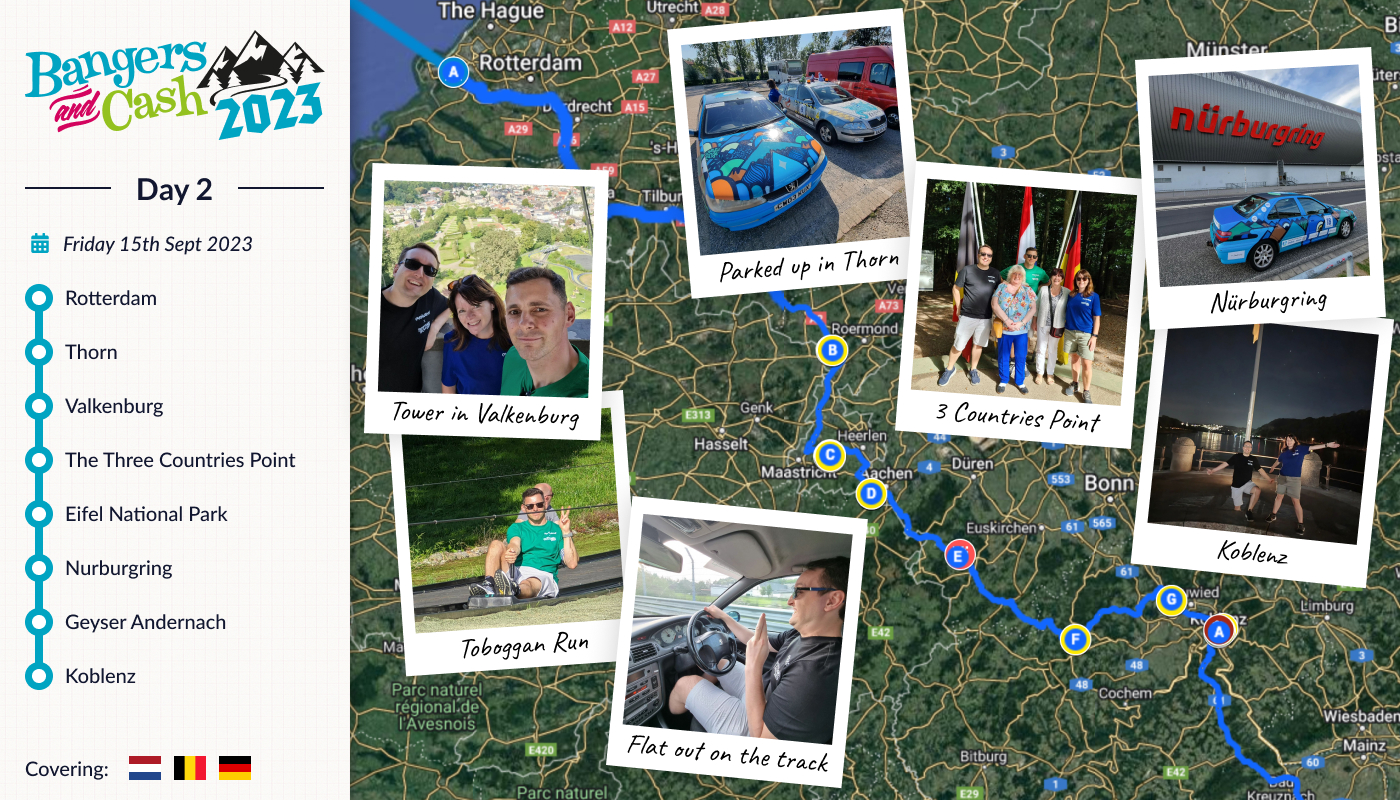 With an early wake up alarm that went out across the entire ferry, we had no issues being up and out of our cabin in plenty of time. We took in some of the impressive industrial views from the sundeck as we approached Rotterdam ferry port before heading down back to our car ready to disembark. Unfortunately this process did take quite some time and the parking lane that we had been assigned, was one of the last off the ship which left us towards the back of the pack with some of the other rally cars over an hour ahead of us.
I had the pleasure of driving the first stint on European roads. Once we were through passport control, we joined the motorway using Google Maps as our sat nav. This was my first experience of driving a UK car on the right hand side of the road and I was pleasantly surprised at how easy it was.
Our first stop was in the little Dutch village called Thorn. A lovely little place with lots of white-washed brick houses in the centre. We had a few little challenges here that involved visiting the local Monastery and finding a mummy inside.
Jamesh was next at the wheel and after a 45 minute drive we arrived in Valkenburg. Here we had a number of challenges to complete including taking a chair lift, climbing a viewing tower and riding a toboggan. With our challenges complete, we grabbed a quick sandwich and set off on our way.
A woodland spot was our next destination. This is known as "Three Countries Point" where the borders of the Netherlands, Germany and Belgium converge.
Our next stop was the Nürburgring. Both Jamesh and myself planned to do a tourist lap of the Nordschleife race track (aka "The Green Hell") and had taken out track day insurance just to be on the safe side. Driving this legendary track in our old banger was a hell of an experience that left us all with sweaty palms and a rush of adrenaline. All sorts of amazing and high performance cars were flying past us, but our old Peugeot 406 made it round for two laps in one piece. Although, we did have to let the car cool down afterwards, as the temperature gauges were in the red!
After stopping off to find Geyser Andernach with the light fading, we arrived at our hotel in the dark. We checked in and walked over the bridge into Koblenz. We did a quick tour of the beautiful city, ticking off landmark challenges on the way before grabbing some bratwurst and meeting up with the other teams at the end of day meet up point.
Unfortunately with an early start the next day and our hotel just over the bridge slightly out of the centre, we never got to see Koblenz in the daylight.
Check out our Day 2 Instagram Reel
Day 3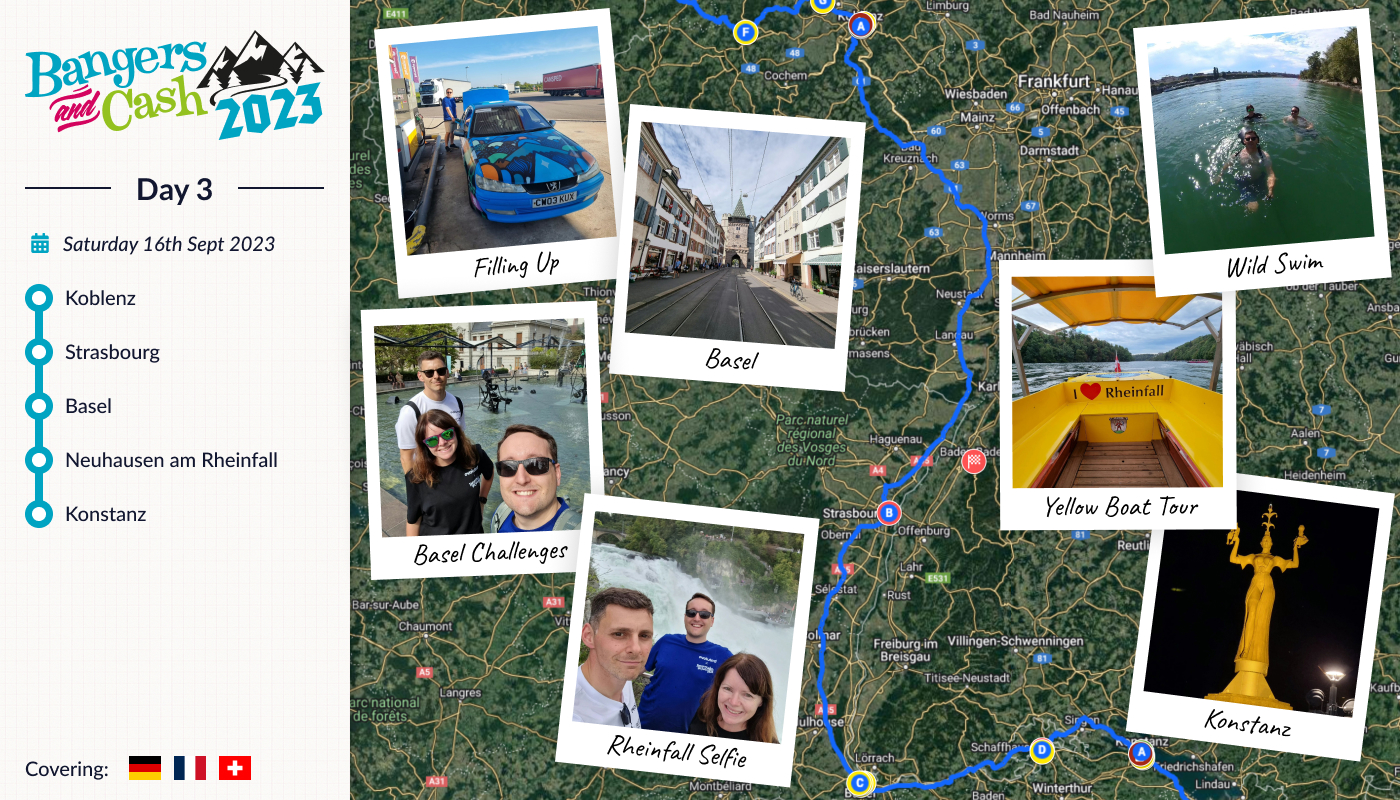 Day 3 began with the longest driving stint of the trip. It was over four hours to drive to Basel which we decided to break up with a stop to refuel and change drivers. Surprisingly, this would be the only time we had to refuel the entire trip! We passed through a toll road & had to purchase an emissions sticker when we crossed over into Switzerland.
Once we got parked up in Basel, we set about exploring the picturesque city. We had a number of landmarks to visit to earn various points, but the main challenge was to swim in the Rhine river. We were all quite keen for this challenge and wanted to do it properly, so rather than a quick paddle we walked up the river bank to the Tinguely museum where we made use of the lockers available.
Swimming in the Rhine is very popular and many people take a waterproof bag and use it to keep their clothes and belongings dry as they float down the river with the current. Once acclimated with the water, swimming in the Rhine was a lovely refreshing experience on such a hot day. We swam with the current for around ten minutes before making our way to a pebble beach area (trying not to look at some of the local nudists) then walking back up river to collect our things.
With the extra time we spent in Basel swimming in the Rhine, we were in quite a rush to get to the Rhine Falls before the time of the final boat tours of the day. We did manage to make the red taxi boat over in time to catch the final yellow tour boat. This boat brought us up close to the Rhine Falls and dropped us off on a small rock area right in the middle of the falls for some incredible views.
With the falls challenge complete and knowing that many teams did not make it to the falls in time, we were quite happy with our challenge efforts for the day. We checked into our hotel before walking into Konstanz. We visited some of the local statues and landmarks for more challenge points on the way. We then met the Roundabout team to check in at the meetup point before getting some food to end the evening.
Check out our Day 3 Instagram Reel
Day 4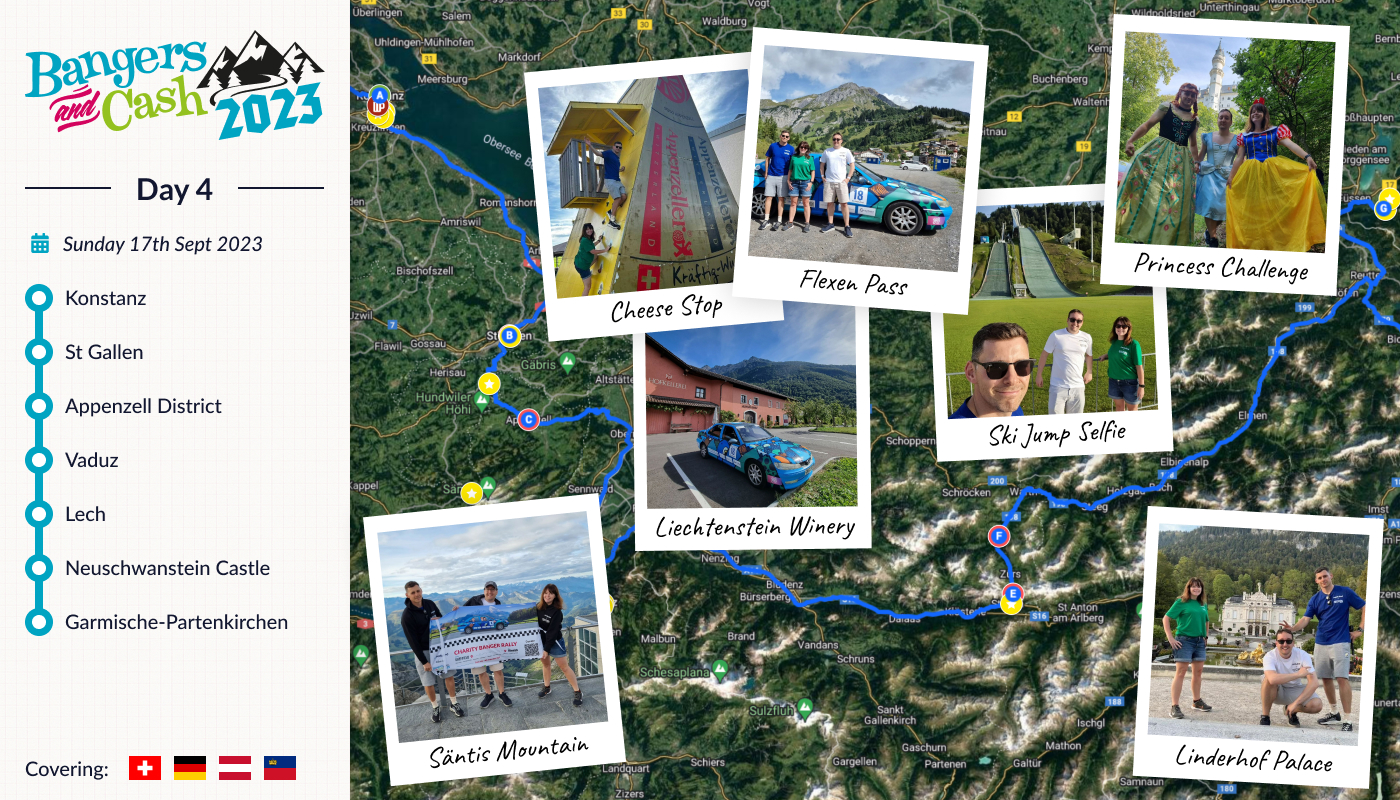 With day 4 being the biggest day for challenges, we had planned an early start to fit in as much as possible. So early in fact, we were ready to check out 15 minutes before the hotel reception was even open.
Once we were on the road we soon realised that this would be the best day of driving, with so much mountainous scenery to take in. It was a welcome change from most of the motorway & autobahn driving so far.
Our first challenge of the day was a visit up Säntis mountain which offered incredible views. This was a tactical choice for us, as it was further away than other challenges on our route. However, it opened much earlier in the day for the early morning hikers. This allowed us to get a head start on the other teams, before returning back on ourselves for the cheese challenge. Where we purchased some cheese and bread, which served as our breakfast for the day.
The driving continued through lots more beautiful mountain scenery before arriving in Vaduz, the capital of Liechtenstein. We bumped into some of the other teams here who had skipped one or two of the previous challenges. We visited the cathedral, castle and Prince's Winery.
The Flexen pass was the next challenge on our route. This is an iconic high mountain pass in the Austrian Alps. Rebeca was behind the wheel for this beautiful section of winding road that was a real pleasure to drive on.
The biggest points haul of the entire rally was next. A visit to the Neuschwanstein Castle offered up 25 points to take a photo at the castle dressed as a Disney Princess and a further 40 points to sing a Disney song whilst dressed as a princess. We had obviously planned for this in advance and chosen our respective outfits. I had an Anna dress (from Frozen), Rebeca was Snow White and Jamesh was Cinderella. Despite there being literally thousands of tourists around, we managed to find a fairly secluded spot to change, take our picture and perform our song with the castle still in view.
With the embarrassing princess challenge complete, we hit the road again towards Garmisch-Partenkirchen ahead of all the other teams. We were too late to get to the final 2 cable car challenges, but managed to complete all the others including visiting a ski jump, monastery and the Linderhof Palace. We even made it to the toboggan ride before closing time and were the only team to do so that day.
Happy with our efforts for the day, we decided to enjoy a traditional German meal at our hotel before joining the other teams at the meet up bar to end the day. 
Check out our Day 4 Instagram Reel
Day 5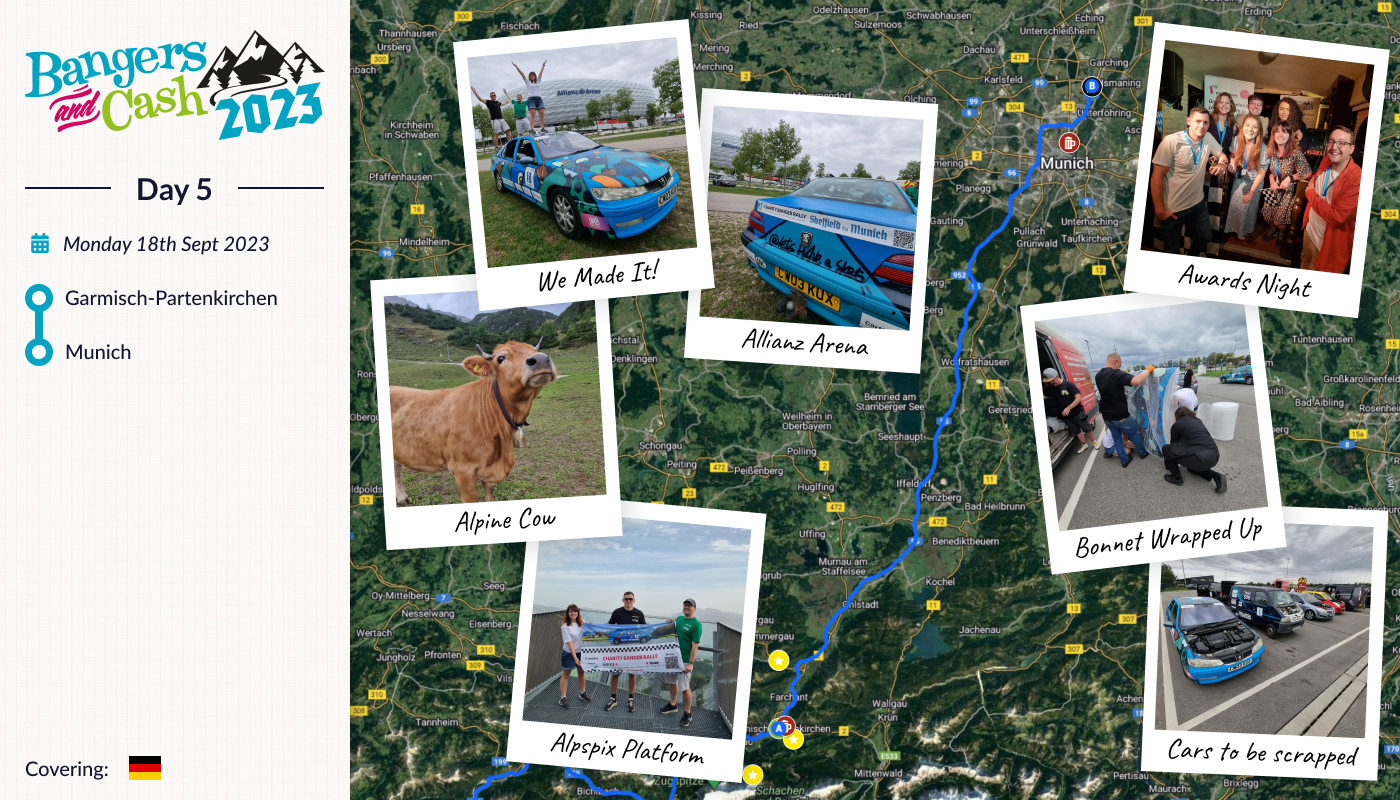 We were aware that some teams had planned to complete challenges from the previous day (though we didn't realise quite how many), so we decided that we could fit in one more ourselves. We got the cable car up to the Alpspix viewing platform. This is a steel viewing platform that is attached at an altitude of about 2050m on the Osterfelderkopf. The views up there were incredible. We made the most of our morning by getting a second cable car to a slightly lower area, then had a 30 minute walk to a lower point where we boarded another cable car that took us back down to the same car park.
After coming down from the mountain, we began our drive into Munich. We tried to stop off to buy an emissions sticker (required to drive old diesel vehicles in central Munich) only to find out our car was too old. We were not allowed to buy a sticker or dive in the emissions zone at all. We took a longer route to avoid the zone and drove on towards the Allianz Arena, our final destination.
There, we were waved into the car park by the Roundabout team and met a few other rally teams, with others arriving shortly after us. A few teams were still completing challenges, so missed the planned finale and arrived much later. We did a celebratory lap with the other rally cars before making arrangements to meet at the scrap yard to scrap our vehicle.
After dropping Jamesh & Rebeca off at our hotel with all our luggage, I began the long lonely drive out of Munich to the scrap yard. After spending 5 days in a car together, the quiet hour and 20 minute drive to the scrap yard felt much longer without any chat or music from our Bluetooth speaker. Ours was one of four vehicles being scrapped, the bonnets were removed and wrapped up and I got a lift back to the hotel in one of the Roundabout support vehicles. 
It was great to see and catch up with all of the teams at the afterparty and awards night. Despite our best efforts to win, we finished a respectable third place - with the teams in first and second overtaking us in points on the final morning by catching up on points from day 4.
It would have been nice to win, but we were still proud of our efforts as we had tried to fit in as many challenges as possible whilst still making the most of the places we visited and the activities we participated in.
Check out our Day 5 Instagram Reel
Day 6
With Bangers & Cash officially over, we had most of the day to ourselves before our evening flight from Munich to Manchetser. We decided to make the most of this with a quick visit to Octoberfest to take in the sights, enjoy a few rides, amusements and of course a stein of beer. 
We also managed to explore other parts of Munich on electric scooters, which was great fun.
Check out our Day 6 Instagram Reel
Summary
The whole Bangers & Cash experience has been fantastic and something I'll never forget. I feel very fortunate to have visited so many amazing places, complete fun activities and challenges all whilst representing Evoluted and raising money for such a worthy cause in Roundabout.