Galactic Fireworks
Galactic Fireworks are a leading retailer of fireworks with stores across the country. However, their ecommerce platform struggled with demand, experiencing technical outages and losing revenue during critical sales periods. 
The final straw came when Galactic Fireworks launched their annual sale weekend, with the surge in demand leading to site-wide outage minutes into the sale.
They enlisted the help of Evoluted's development team to create a platform that could handle their traffic.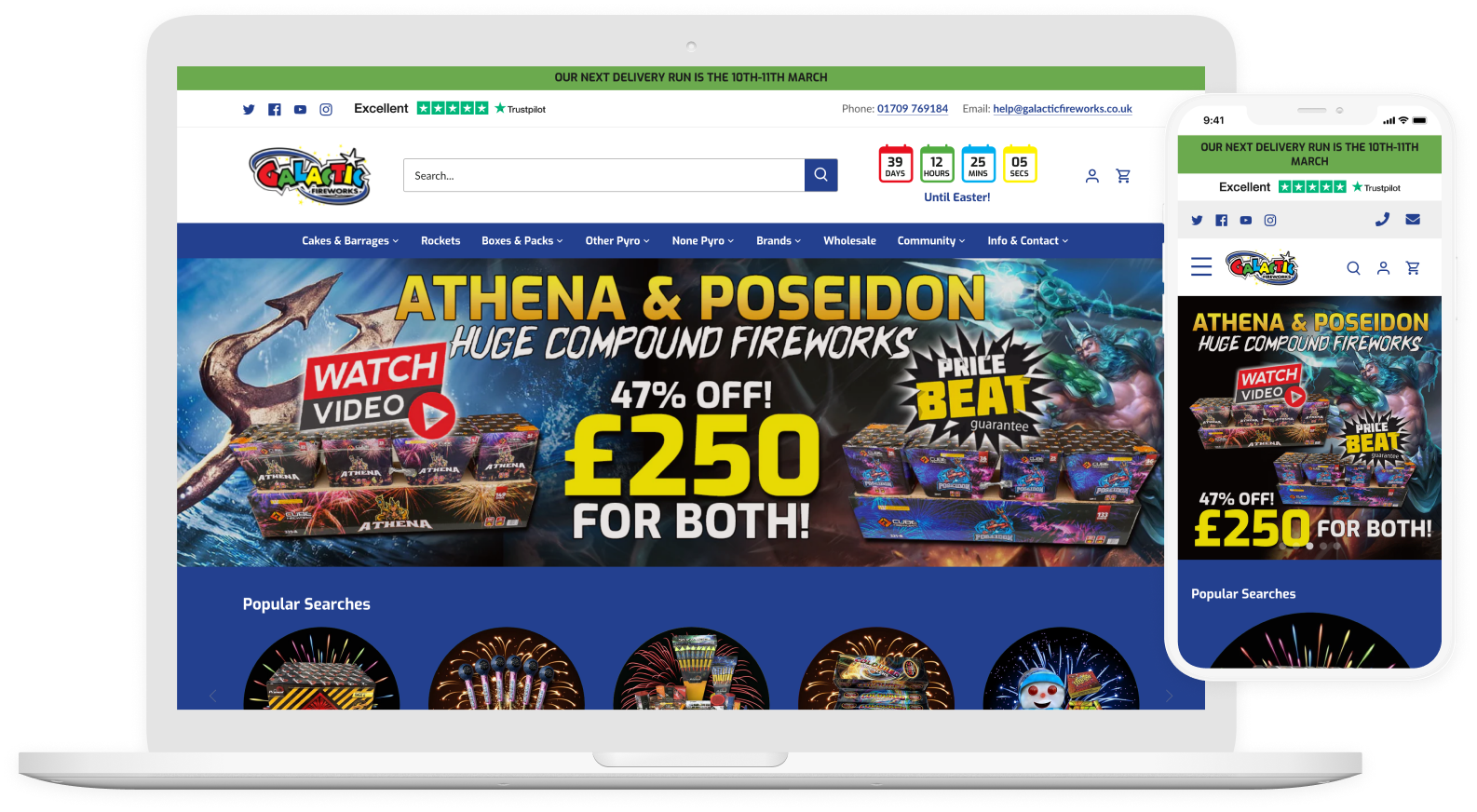 Shopify to cope with demand
Sale day outages are a thing of the past
Shopify was the natural choice, the global platform was well placed to cope with the demands surges that Galactic Fireworks face. 
The Galactic Fireworks site now allows trade customers to order through the same portal as retail customers using Shopify's new B2B Platform. This simplifies operations for Galactic Fireworks, meaning all their sales and data are in one place. 
We've also developed a custom picking & packing solution using the Shopify API that is unique to how fireworks need to be transported, allowing Galactic Fireworks to manage their own deliveries with speed and efficiency.
The Results
43%

Increase in conversion rate
Launching with a bang
A tight 10 week turnaround
When Galactic Fireworks approached us to help them with this project, they were just months away from their sale weekend so time was an issue. Development started in April and the site launched in June, leaving Galactic Fireworks time to familiarise themselves with the new site before their peak period. 
Since the website went live it has had zero outages and has coped with the surge of demand caused by Galactic Fireworks sale weekends. 
The addition of Shopify's checkout experience led to Galactic Fireworks having their busiest ever year.