I'm Insured
I'm Insured is an independent and boutique insurance brokerage that offers comparison tools for specific and hard-to-insure customer demographics.
With an aim to become a more trusted and credible source, our digital PR team were tasked with establishing I'm Insured's link profile, reputation and site traffic with highly-relevant content campaigns and reactive PR.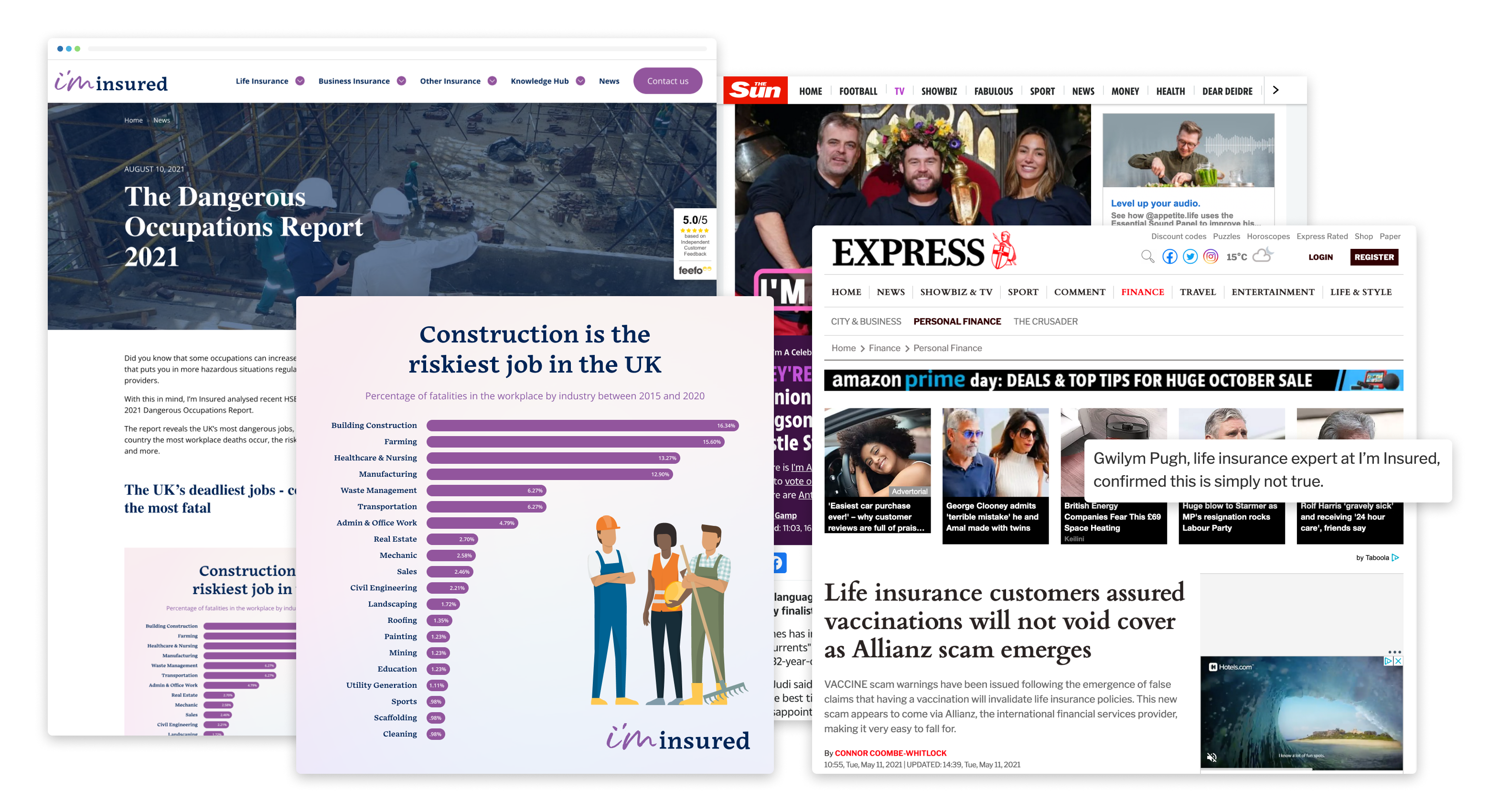 The Strategy
As our client is an insurance broker, we knew we had to be attentive and diligent with the content we were outreaching – offering financial or life advice from a brand can often appear self-serving to consumers.
From this, we knew that we needed to be meticulous with the insurance commentary we were providing and had to be creative in order to attract the attention of national and lifestyle publications. 
Our strategy consisted of setting the SEO foundations, by getting our client ranking for all the right terms, and then bolstering these rankings with a digital PR strategy. We utilised and outreached a range of authoritative and creative campaigns that would target pages, as well as engage target audiences. As a result, we built top-tier links from relevant and high DA publications.
These content campaigns were also complemented by consistent monthly outreach efforts that included expert newsjacking alongside a reactive PR calendar. Ultimately, this showcased I'm Insured as a reliable legal source.
COVID-19 Insurance Scams
Unfortunately, as with most crises, you will find scammers looking to take advantage of a troubling situation.
This was the case during the pandemic, as scammers circulated false claims that suggest having the Covid-19 vaccine will void life insurance policies.
After seeing these false claims, we decided to set the record straight with trusted advice and outreach this information in a newsworthy digital PR campaign. By researching some of the claims and utilising reliable guidance from our client, we were able to successfully establish I'm Insured as a trusted legal source, all while obtaining high-profile links. 
Our well-planned outreach strategy targeted journalists and publications reporting on this, from this we built 43 links and coverage from target publications including Which?, This is Money, Daily Star and Good Housekeeping.
I'm a Celebrity Trial Risks
Upon the launch of 2021's latest series of I'm a Celebrity Get Me Out of Here and in a bid to diversify Digital PR content, we outreached a reactive campaign relating to the risk factors of the tv show's infamous trials. 
By manually researching potential hazards that could take place in the trials, and then calculating the risks in the HASpod risk assessment calculator we were able to rank the severity and likelihood of the trials' hazards. 
This creative approach was a success with publications as this piece obtained 30 links and coverage in target publications such as The Mirror, Sun and Metro.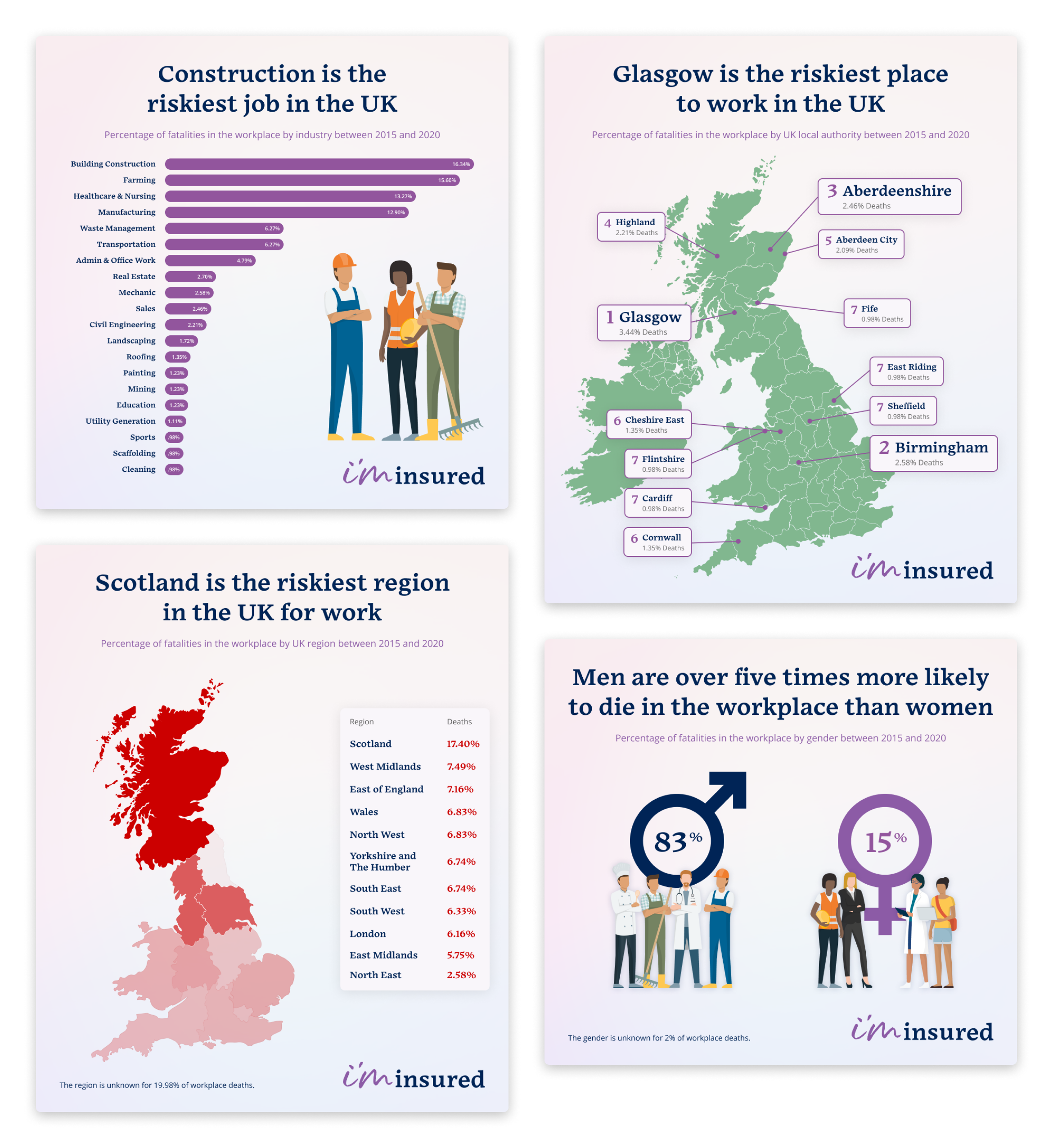 Expert Comments and Reactive Outreach
Alongside our larger campaigns, we planned in a monthly calendar and consistent monthly outreach strategy made up of 2 - 3 pre-planned and reactive stories. From insurance advice, to creative data pieces, this approach sustained a continual stream of links from major charities and publications including Mind, Daily Express and Your Money.