Outside
Outside is an independent family-operated retailer specialising in outdoor clothing and equipment, boasting over 100 brands across walking, running, camping and more.
As the pandemic transformed Outside into an online-only retailer, online sales performed fantastically. However, as lockdown eased and brick and mortar stores opened back up a dip in online sales was predicted.
Our paid media team took on the challenge of stabilising this dip and maintaining online sales performance for 2022.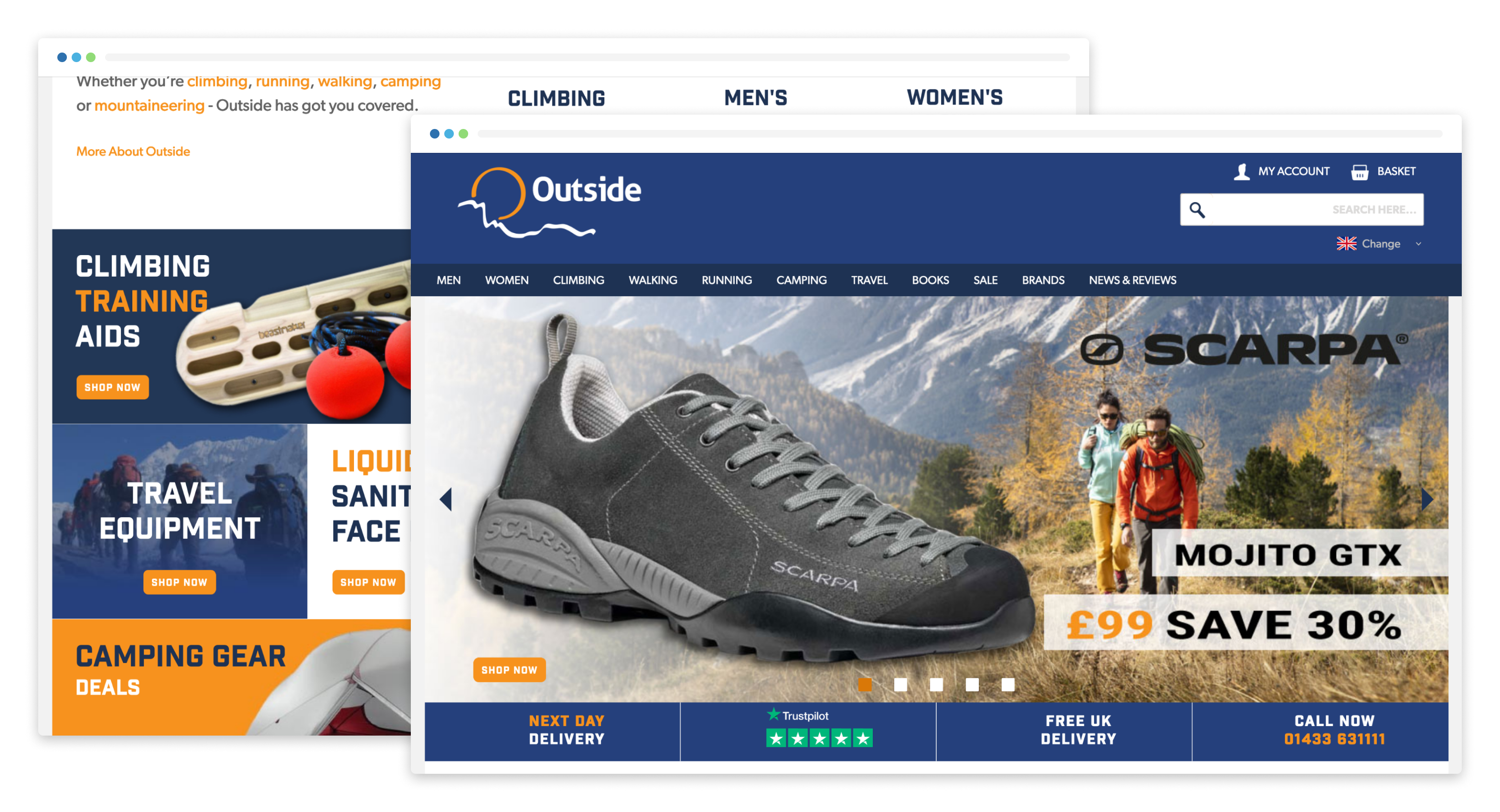 The Strategy
Previously, Outside's primary focus had been their brick-and-mortar stores, outselling the online store and being the hub for sales and engagement. As a developing online retailer, the promotion of the online store was a new venture for Outside optimisation was at the heart of our strategy.
Optimising their Google Merchant Centre feed was the top priority, ensuring that the most relevant products were displayed for each query. We combed through their catalogue ensuring that the correct values were assigned to each product and that optimised product titles clarified that to both Google and its users.
Lastly, we adopted Performance Max campaigns for Outside. Using Google's latest campaign type which is now the default replacement for all standard and smart shopping campaigns we were able to maximise the efficiency of ad campaigns, reaching and effectively targeting more customers throughout the Google ecosystem. In adopting this approach we also revisited their asset library ensuring they have a wealth of assets to lead effective campaigns moving forward, without penalty or quality reduction.
Performance Max
Adopting Performance Max campaigns ahead of the enforced switch meant Outside was primed for the switch, armed with the assets and examples needed to transition to this campaign type permanently.
This ensured we were implementing a strategy that considered the future of Outside and its paid media efforts, achieving results now and working hard in the future with similar campaigns and goals.
Access to a wealth of customers throughout the Google ecosystem meant Outside could successfully target them where they were, bringing their products to customers as they searched.
Google Merchant Centre Optimisation
As a developing e-commerce player, Outside had overlooked multiple areas of their merchant centre and how this was impacting the capabilities of their paid advertising.
Optimising their product feed started with assessing the issues, which varied from categorisation errors to title issues and missing values.
Our team got to work combing through their entire product feed, ensuring that all value fields were filled correctly and all titles and descriptions were optimised with key terms and phrases.