Responsive Search Ads For Google Ads - An Introduction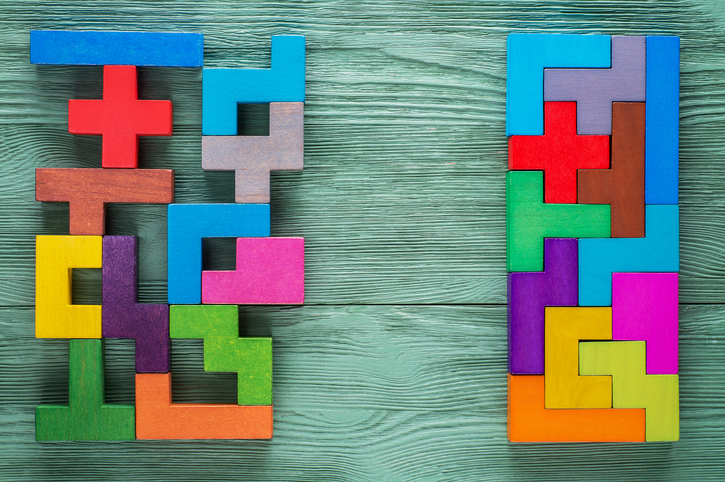 Since the humble days of standard text ads, Google has gone into overdrive with updates to their ad formats. Over the last couple of years, we've seen huge changes in the way ads appear, how big they are, their positions on the page, and ultimately, how much information they are able to offer. 
The latest update looks to be making ads bigger and more detailed than ever. This is great news for advertisers who know how to take advantage of it.
WHAT ARE RESPONSIVE SEARCH ADS?
Responsive Search Ads, introduced this year as a beta, offer greater flexibility in your ads, and increase your advertising space quite significantly. 
In a nutshell, Responsive Search Ads offer the following:
Three headlines as opposed to the two offered by Expanded Text Ads

Two 90-character descriptions instead of a single 80-character description

Automatic rotation of headlines and descriptions. You submit a few of each, and Google will rotate and see which works best for you.
A Responsive Search Ad will dynamically serve various combinations of headline and description to find out which works best for your business goals. This, essentially, turns one ad into several.
WHAT DOES GOOGLE SAY ABOUT RESPONSIVE SEARCH ADS?
Naturally, Google is heavily promoting Responsive Search Ads right now, and are making some big promises when it comes to their potential performance.
Responsive search ads let you create an ad that adapts to show more text – and more relevant messages – to your customers. Enter multiple headlines and descriptions when creating a responsive search ad, and over time, Google Ads will automatically test different combinations and learn which combinations perform best.
It sounds great, but how exactly does it work? Let's take a look.
HOW DO RESPONSIVE SEARCH ADS WORK?
If you have access to this feature, you can set your Responsive Search Ads up in a very similar way to your Expanded Text Ads.
Google will request a number of headline variants (you can submit up to fifteen!), and up to four descriptions you would like to use. As always, you will specify your Final URL and Display URL path fields, optional tracking templates and final URL suffixes. You can also test a different URL for mobile users.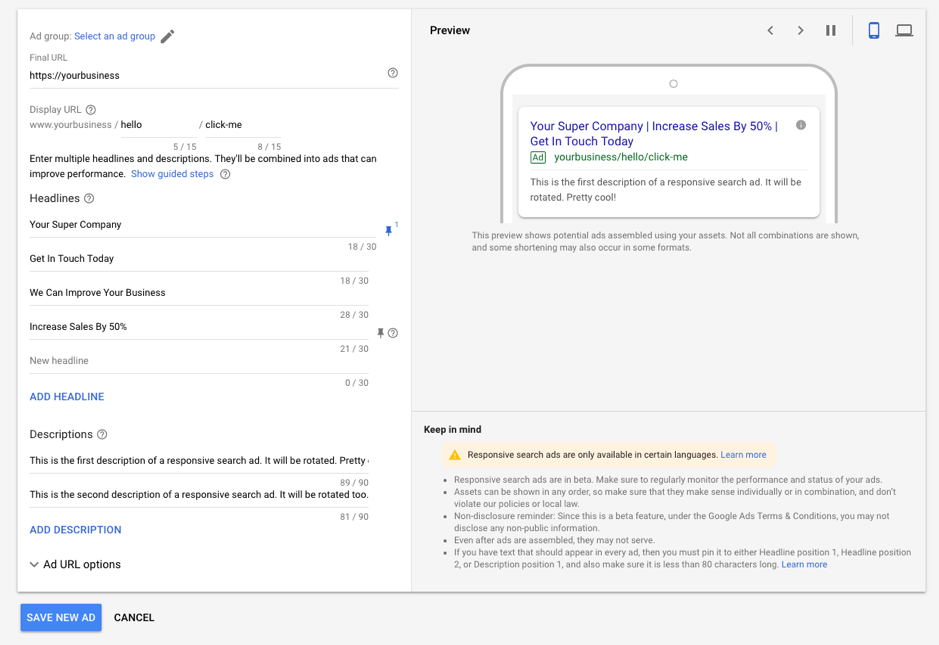 WHY USE RESPONSIVE SEARCH ADS?
Machine learning is, and has been, a huge part of Google's recent updates to Google Ads (or Adwords, as some of us still find ourselves calling it). Responsive Search Ads are another example of this in practice. 
LESS MANUAL SPLIT TESTING
Responsive Search Ads appear to be discouraging manual split testing of ads. Your existing ad strategy will likely involve three ads per ad group, with ongoing rotation of new creatives to gradually optimise based on what works best. Responsive Search Ads aim to automate this process, reducing time spent and (hopefully) delivering greater results. 
GREATER AD SPACE
Responsive Search Ads take up more space in the search engine results pages (SERP) than Expanded Text Ads, and significantly more than Standard Text Ads. This is probably Google's way of encouraging you to adopt the new feature.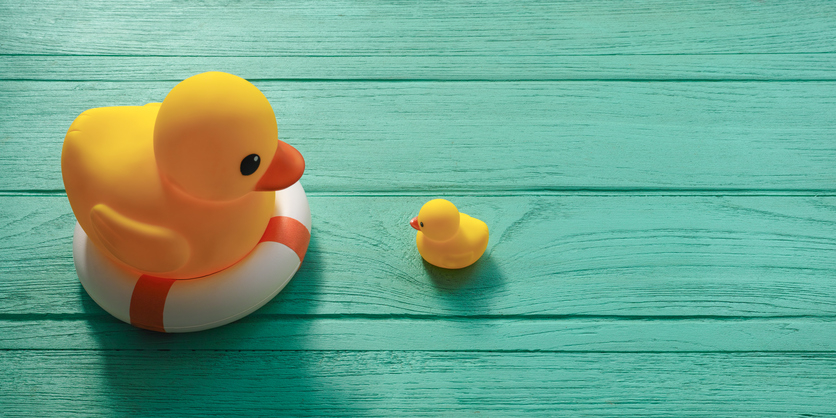 Greater advertising space means: 
Responsive Search Ads in a strong position will push the lower ranked competition further down the page.

They also allow you to display more key selling points in a single ad, which can improve click-through-rates and ultimately contribute to your quality score.
WHAT ARE THE DRAWBACKS?
Responsive Search Ads are a very new tool, so there is very little data available to demonstrate whether they are better or worse for your business goals than your Expanded Text Ads or Dynamic Search Ads. That said, there are some factors you should be aware of:
YOU ARE RELINQUISHING MORE CONTROL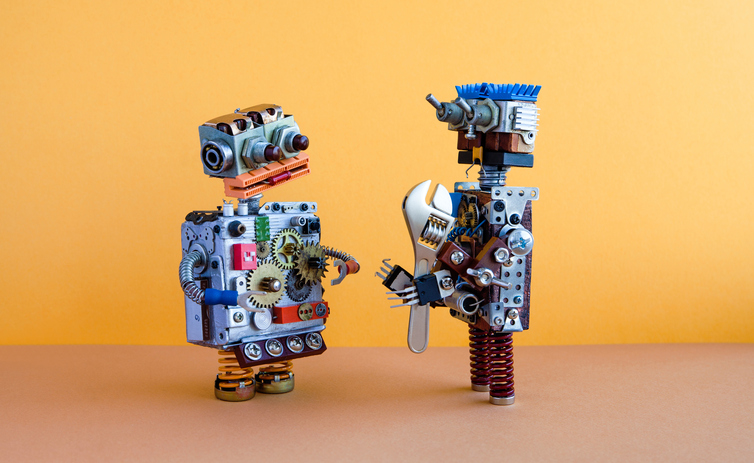 As with all machine learning, by using Responsive Search Ads, you are relinquishing some control over how exactly your ads will appear. If you are very particular about having a very precise message on every ad, you might be apprehensive about handing the reins over. 
You can, however, control some of this through the Responsive Search Ads pinning system. See below for more information on this.
THE ADVANTAGE MAY BE SHORT LIVED
Google is pushing machine learning quite heavily and will therefore be encouraging more and more advertisers to use Responsive Search Ads. This means, over time, more and more advertisers, including your competitors, will be using them. They may even make them mandatory.
It is here that the increase in ad size may become an issue. If more and more ads are taking up more space, competition will become stronger and sustaining a strong position may cost more. Similarly, larger ads mean your ads that aren't ranked highly will be pushed further down the page than previously. 
In competitive markets, the fight for the golden top of page position will become more challenging.
PINNING HEADLINES IN RESPONSIVE SEARCH ADS
With the new ad format, you get a nice feature which lets you pin certain components to a certain position within the ad. 
Responsive Search Ads allow you to pin a particular creative to a position – meaning it will only ever show there.
For example, you may wish to always keep Calls to Action at position three, so they round off the headlines with a clear direction. 
You may also have mandatory disclaimers or other legal information that must display – pinning helps ensure they always show as required.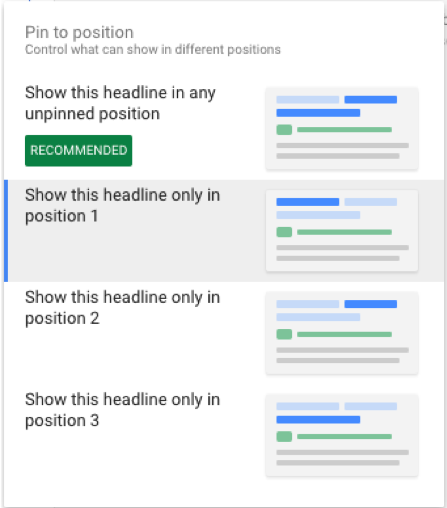 ARE RESPONSIVE SEARCH ADS STILL IN BETA?
Yes, as of the date of this article, Responsive Search Ads are still in beta. This means they may not be available to all Google advertisers. To see if you have been selected for the beta, you can simply log into your Google Ads account and attempt to create any new ad in any campaign. If you are eligible for Responsive Search Ads, you will see them as an option. 
SHOULD I TRY RESPONSIVE SEARCH ADS?
In short, yes, you probably should. Like with Expanded Text Ads, if this beta is successful, Google is likely to push advertisers towards making Responsive Search Ads their default ad format. If this is the case, it's better to get on board sooner rather than later.
If you are eligible to use Responsive Search Ads, we certainly recommend giving them a test and seeing how they perform compared to your existing ad set up.
If you require expert support with your next Paid Media campaign, check out our Paid Media services today.

RELATED ARTICLES
Last updated 23rd November 2018