Why User Reviews Are Important & How to Get Them
According to recent studies, 90% of people are influenced by reviews when making purchasing decisions online.
The presence of genuine user reviews on a website helps to build trust in companies and their products; and consequently customers are more likely to make a purchase.
It can be difficult for companies in certain industries to attract reviews and when they do receive them it tends to be when something has gone wrong. However, it doesn't have to be this way!
The following is a short guide to the different types of reviews an online business can look to acquire, the benefits of gaining them and how to acquire them.
DIFFERENT TYPES OF USER REVIEWS
There are 2 main types of online user reviews:
PRODUCT REVIEWS
Product reviews tend to be displayed within a product's description and customers can usually submit a review on a retailer's website or via a third-party service.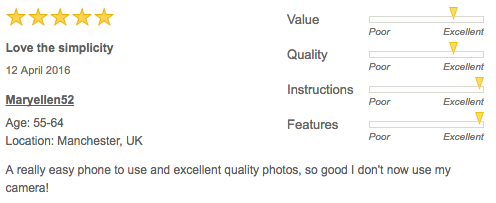 COMPANY REVIEWS
Company reviews tend to be collected by third-party services such as Trustpilot or Feefo. Company reviews may also appear on a company's social media profiles, a company's Google My Business profile or on websites such as Yelp. Some industries have specific third party review services; for example, our client, Acclaimed Family Law, has been voted one of the top 50 solicitors in the UK by users of VouchedFor.

THE BENEFITS OF USER REVIEWS
According to Reevoo, the presence of user reviews on a website can contribute to a 4.6% increase in conversion rates and an 18% uplift in sales.
User reviews help to create unique, fresh content for your website. This user-generated content will be written in the words your target market are likely to use when searching for your products. Therefore, adding user reviews to your website may contribute to an increase in highly-relevant organic traffic.
If implemented correctly, user reviews can also help to increase click-through rate (CTR) from both the organic and paid search results.
Structured data can be used to encourage the search engines to show product review snippets in the organic search results.

Seller ratings can also be used as an ad extension in your paid search adverts. An increase in CTR will contribute to an improvement in your Quality Score, which will lower your cost-per-click and help to increase your return on investment.

HOW TO GAIN REVIEWS
You should make it as convenient as possible for your customers and clients to review your products or services.
The majority of customers won't leave a review unless they are prompted to do so; therefore, it is important to prompt customers to leave a review at the optimum moment. You can do this by sending them an email once enough time has elapsed for them to properly use the product or experience the service.
Some customers may require additional motivation in order to write a review. You could offer customers an incentive to leave a review e.g. entry into a prize draw or money off their next purchase.
It is worth taking the time to screen your email list and remove customers that might not have had the best experience. Be careful when doing this as it may contravene the terms and conditions of third-party review services.
IMPACT OF NEGATIVE REVIEWS
Many businesses are reluctant to offer customers the ability to review their products or service due to the fear of receiving negative reviews.
But bad reviews aren't necessarily a bad thing:
Negative reviews can help to identify a problem with a product or an area for improvement in your service offering. Fixing these issues is likely to make your product/service more attractive and has the potential to save you lots of money from processing returns.

Most consumers won't trust companies with 100% positive reviews and may think they aren't genuine.

Certain studies even suggest the presence of negative reviews may actually improve conversion rates!

By providing prompt and courteous replies to negative feedback, you can demonstrate how well your company deals with problems to potential customers.
So there you have it, adding user reviews to your website has the potential to build trust in your products and services, increase search engine traffic, improve conversion rates and improve overall customer satisfaction. All-in-all, a winning combination.