Sheffield DM Summer Line-up and Headline Sponsors Confirmed!
August's biggest-ever Sheffield DM conference is really taking shape now, with the announcements of the full speaker line-up and headline stage sponsors.
Thursday 31st August will see hundreds of agency, in-house and freelance marketers flock to Sheffield's Octagon Centre for the event organised by our marketing team, which features a full day of expert talks and panels across SEO, PPC, Social, Digital PR, marketing strategy and more.
The event has already won the backing of a first wave of sponsors including Sitebulb, Diginius, clockworkTalent, Whyy? Change, Peek & Poke and unLTD, with the venue upgrade permitting far more sponsorship opportunities.
Introducing: the LensGo Main Stage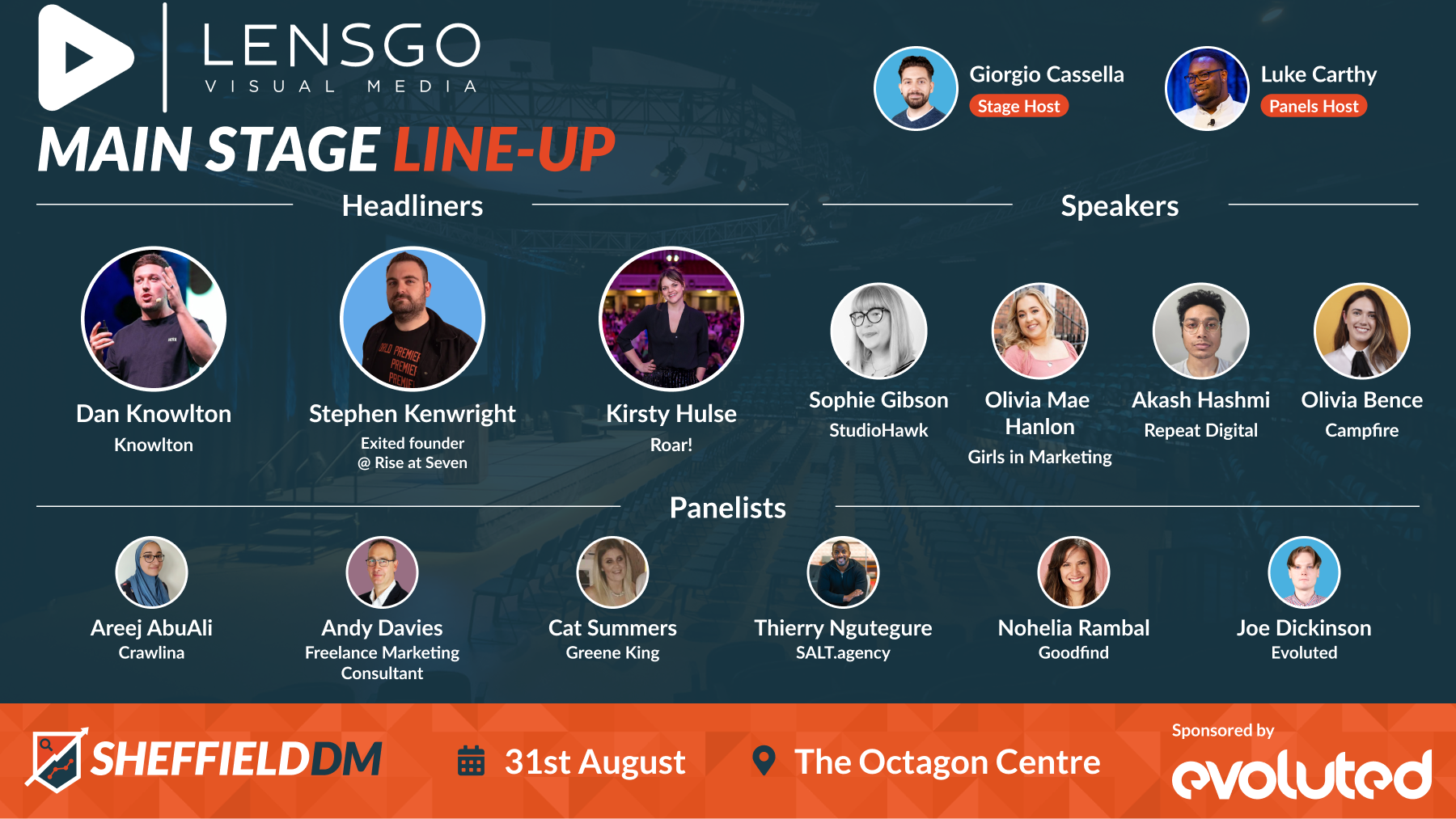 Putting their name to the Main Stage as headline sponsors are LensGo Visual Media, who have supported Sheffield DM's smaller evening meetup events for over a year by providing high-quality videography and photography.
The LensGo team works with a variety of local and national organisations including Sheffield Wednesday FC, Sheffield Council and the Football Association. They'll be capturing all the Sheffield DM action again on both stages on 31st August, allowing attendees to watch back all talks and panels.
"We're thrilled to join forces with Sheffield's most successful marketing meetup for its biggest event yet," says LensGo Director Stuart Turner.
"South Yorkshire boasts an abundance of creative and talented digital marketing professionals, and we are proud to be part of the super-sized summer event. Through our content creation prowess, we aim to expand the Sheffield DM audience and take this partnership to new heights."
Introducing: the Trustpilot Paid Media Stage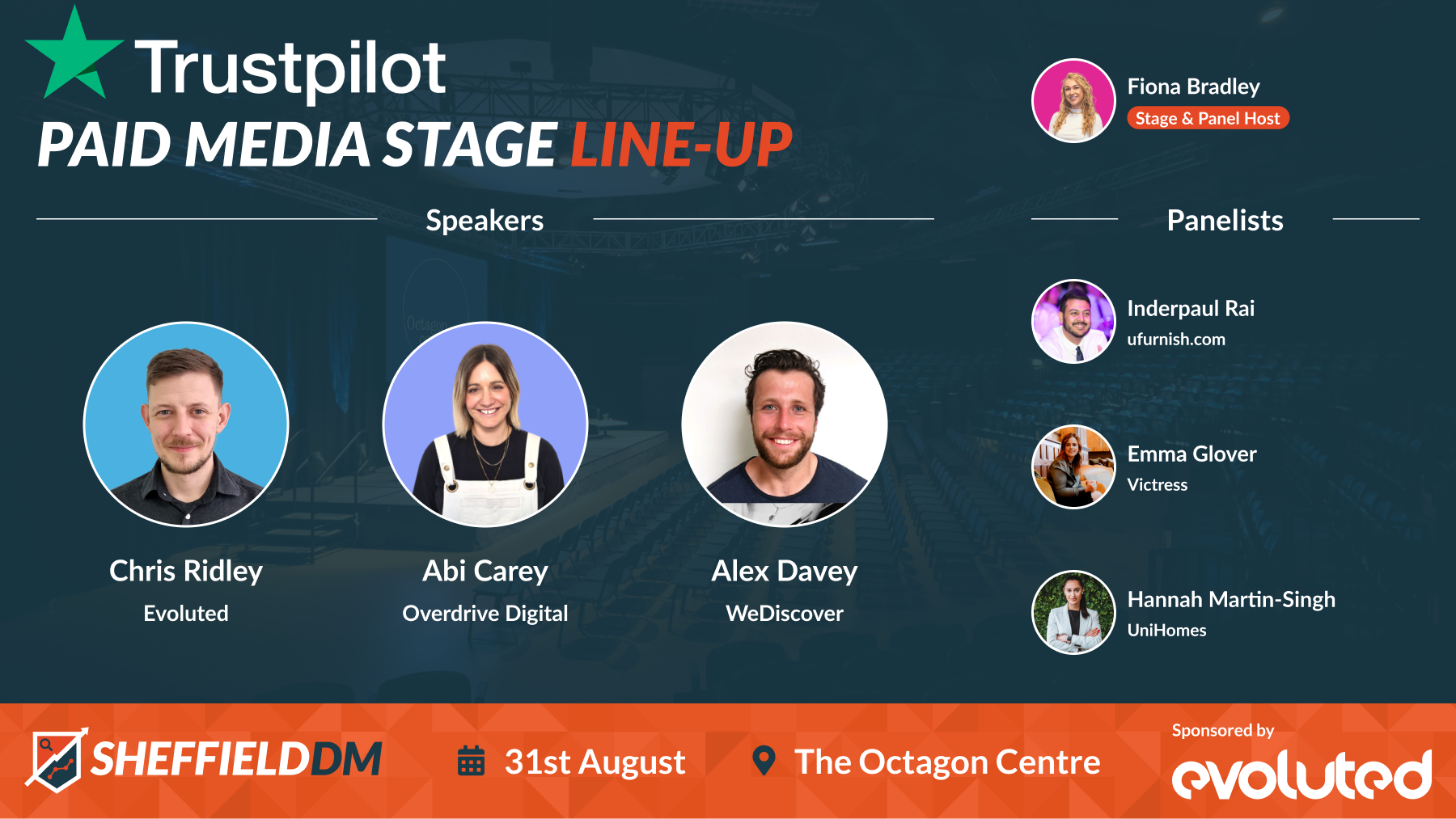 Reviews giant Trustpilot have taken up the mantle of Paid Media Stage headline sponsors.
The leading platform for transparent and trusted customer reviews, Trustpilot provides boosts to SEO, conversion rates and customer experience by connecting companies with consumers in an honest way.
"I can't thank the Sheffield DM team enough for letting us play a small part across the day," says Graham Wilkinson, Trustpilot's Senior Partner Manager.
"We were very keen to support the community and facilitate what will be a fantastic day of networking and learning.
"It'll be great to connect and listen to talks by some of our amazing industry partners, such as Overdrive's Abi Carey, on the Trustpilot Paid Media Stage!"
Trustpilot have also generously donated attendee tickets from their sponsorship package to local professionals from the Sheffield Voluntary and Charity Sector (VCS) network, including Parkinson's UK, SACMHA Health & Social Care and SAVTE, who provide free tuition for ESL learners.
But wait: there's more!
Sheffield DM has also received the backing of additional local sponsors in the shape of Purely.Website and Steel City Marketing.
Launched at the start of this year, Purely.Website offer a professional online presence for all through low-cost domain names, website hosting and email services.
"We're grateful to be involved with such a fantastic event in our home city," says cofounder Gavin Kimpton.
Branded merchandise suppliers Steel City Marketing are helping to take this year's event to the next level in professionalism by generously supplying Sheffield DM-branded delegate bags and notebooks. Their wide product range includes everything from branded umbrellas to staff onboarding packs and awards.
"It's an honour to sponsor such a thriving and exciting marketing event in our hometown!" Steel City Marketing Executive Jennifer Burton comments.
"We are proud to be celebrating this collaboration of forward-thinking marketers and innovation. We felt there was a real synergy with our own ethos, to spark creative marketing ideas and solutions. Each delegate will receive a goodie bag and gift to keep and remember the day by."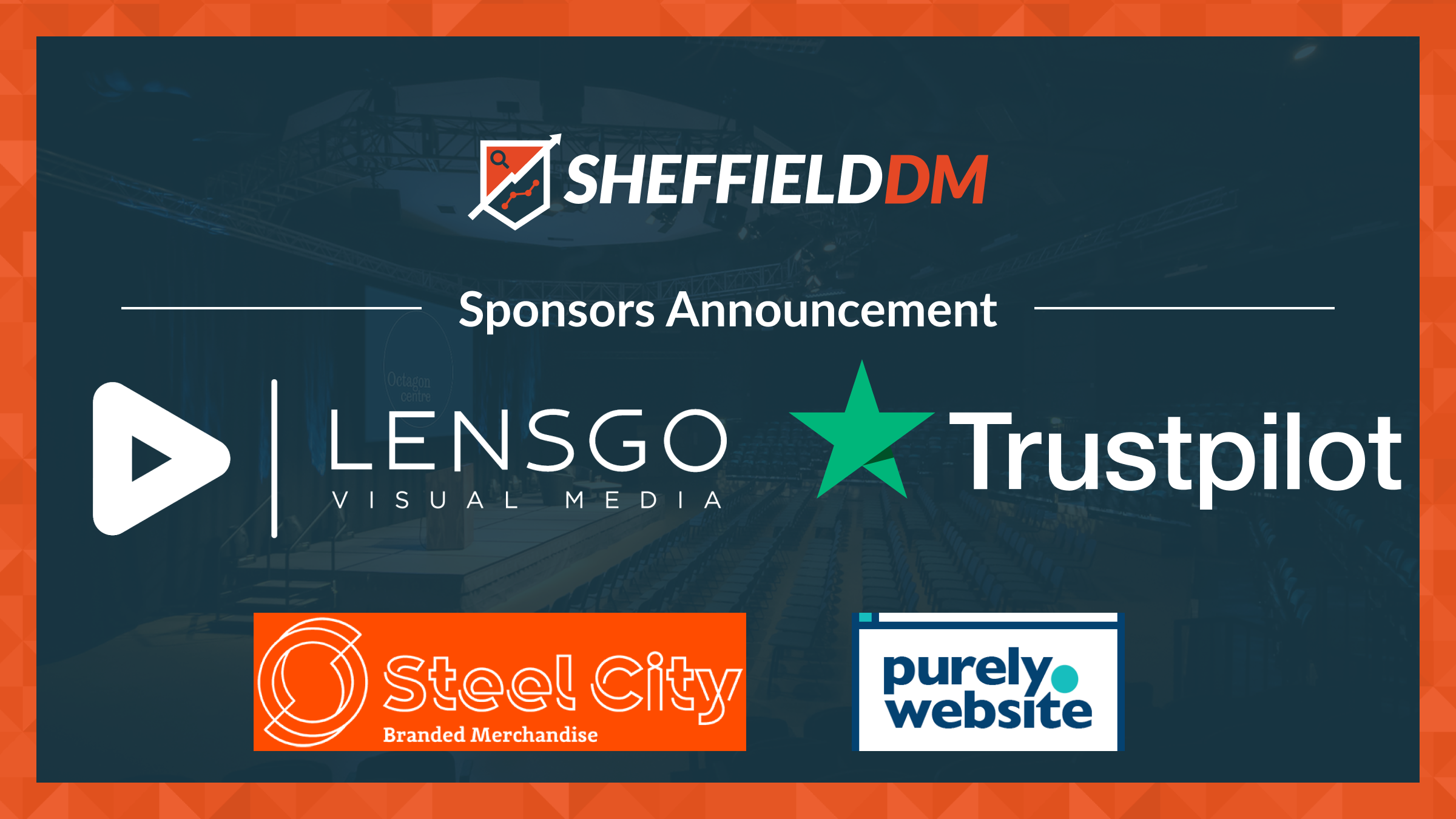 "We're thrilled to have the backing of LensGo, Trustpilot, Purely.Website and Steel City Marketing," says Evoluted MD and Sheffield DM host Giorgio Cassella.
"Their support not only raises the profile of the event but is also invaluable in helping us scale Sheffield DM's organisation and professionalism. We've been really ambitious with this year's event and it means a lot that our group of sponsors have got behind what we're trying to achieve to this extent."
"Making sure our events are as accessible as possible to all marketers is one of our key focuses, so it's wonderful to see Trustpilot's efforts to donate tickets to marketers who work for brilliant causes."
Organisers have also supplied free tickets to the Women in Tech SEO, B-Digital UK and Sheffield Young Professionals communities as recognition for their brilliant work improving representation in digital marketing and providing support networks for underrepresented groups, as well as to the Sheffield Voluntary and Charity Sector (VCS) network to enable charity marketers to attend.
Tickets for the summer Sheffield DM are priced at £100, with discounts available for bulk orders (5+ tickets). Students and charity tickets are priced at £15.
For further event info, agendas and ticket info, head to Eventbrite.