Looking Back on Sheffield DM Goes Large
By now you're hopefully familiar with the bi-monthly Sheffield DM events run by our digital marketing team (if not, you can find out more here), but our last Sheffield DM in particular was a little bit special! 
For Sheffield DM #23 we decided to go all out, boasting a fantastic lineup of speakers, a new venue in Kommune Foodhall in Sheffield and we even turned it into an all-day event. In fact, it was our biggest event ever!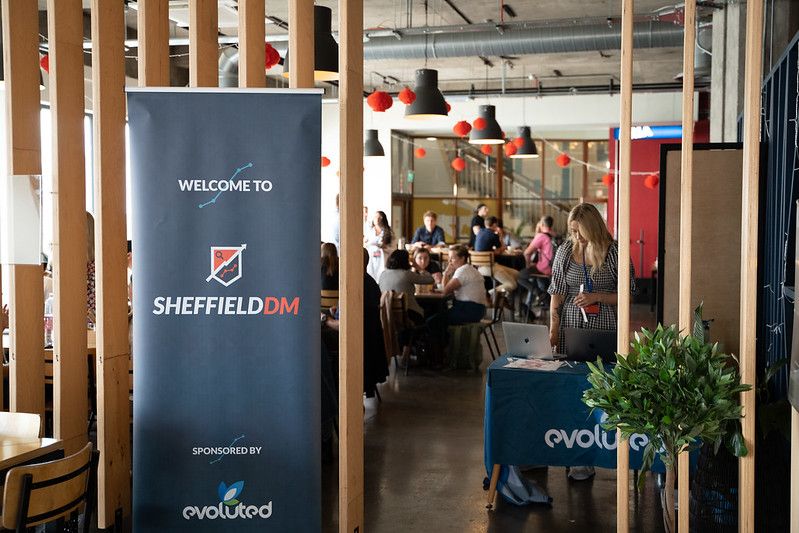 At this Sheffield DM we hosted a record 11 industry-leading speakers during the event, and they all gave the audience some invaluable marketing insights and advice to take away with them.
After an introduction from regular host and Evoluted Managing Director Giorgio Cassella, charting Sheffield DM's growth to date, our first speaker up was Keira Davidson from SALT.agency with her talk on the pros and cons of Shopify for marketers. In this talk, Keira walked us through the evolution of Shopify over the years, things to consider before setting up a Shopify store, as well as some of the benefits the platform can provide. Despite it being her first ever talk, she provided a comprehensive walkthrough of Shopify's functionalities which was extremely useful - she absolutely smashed it out of the park!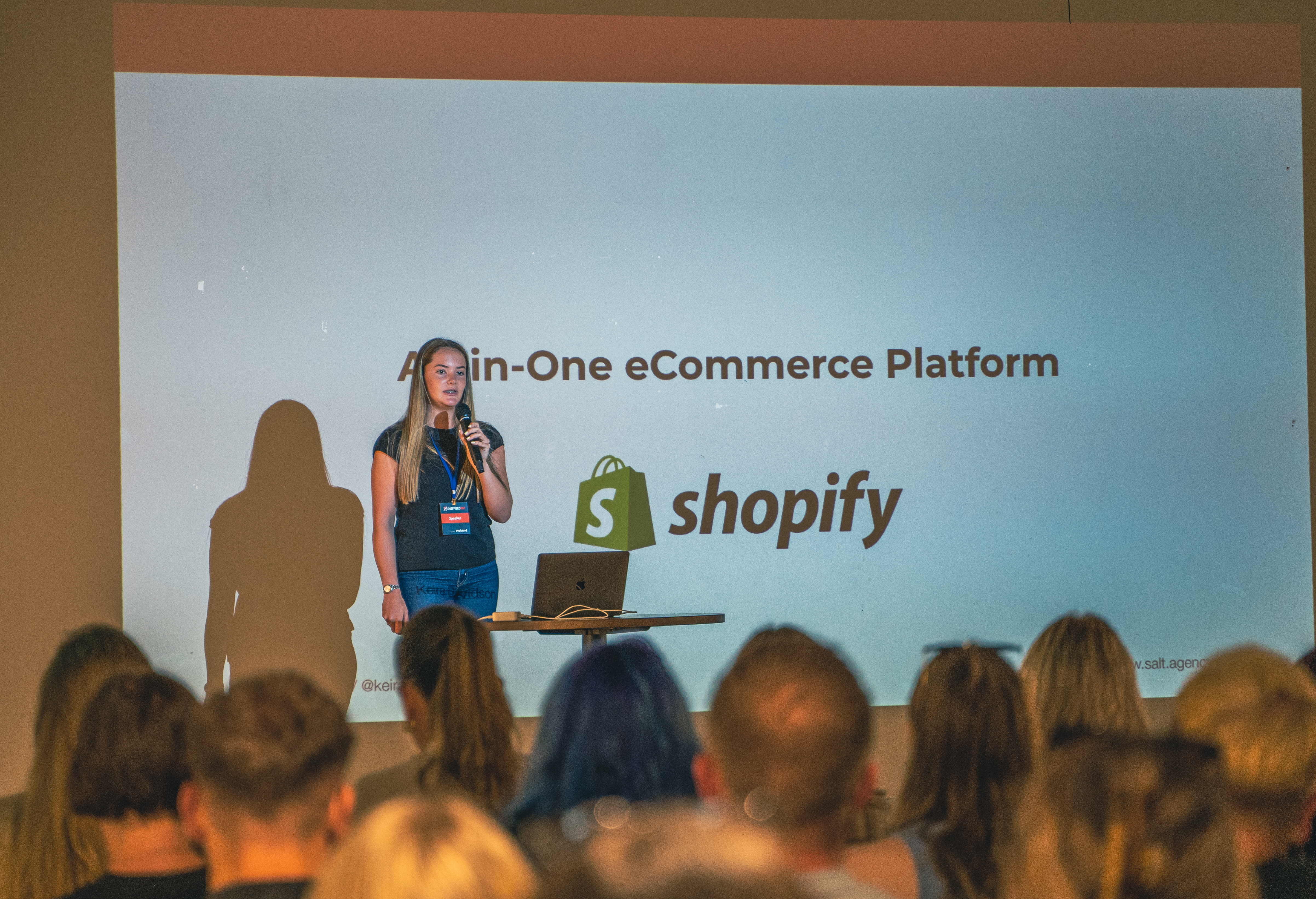 Next up was Lucy Dodds from Evolved Search, with her talk titled 'How To Do Great Content Marketing When You're Short On Time, Money And Creativity'. Lucy raised some great points, such as making sure you don't just judge a campaign's success on it looking flashy and going viral, but also on the business impact it has. 
She talked about utilising data to help drive ideas for your content marketing campaigns, whether that's internal data such as search queries or looking further afield and asking external sources, such as the government, to provide it.
After a short break filled with pastries and cuppas, we returned with a Digital PR panel consisting of Saffron Shergill of Digital Ethos UK, Jasmine Granton of Evolved Search and Beth Nunnington of Journey Further.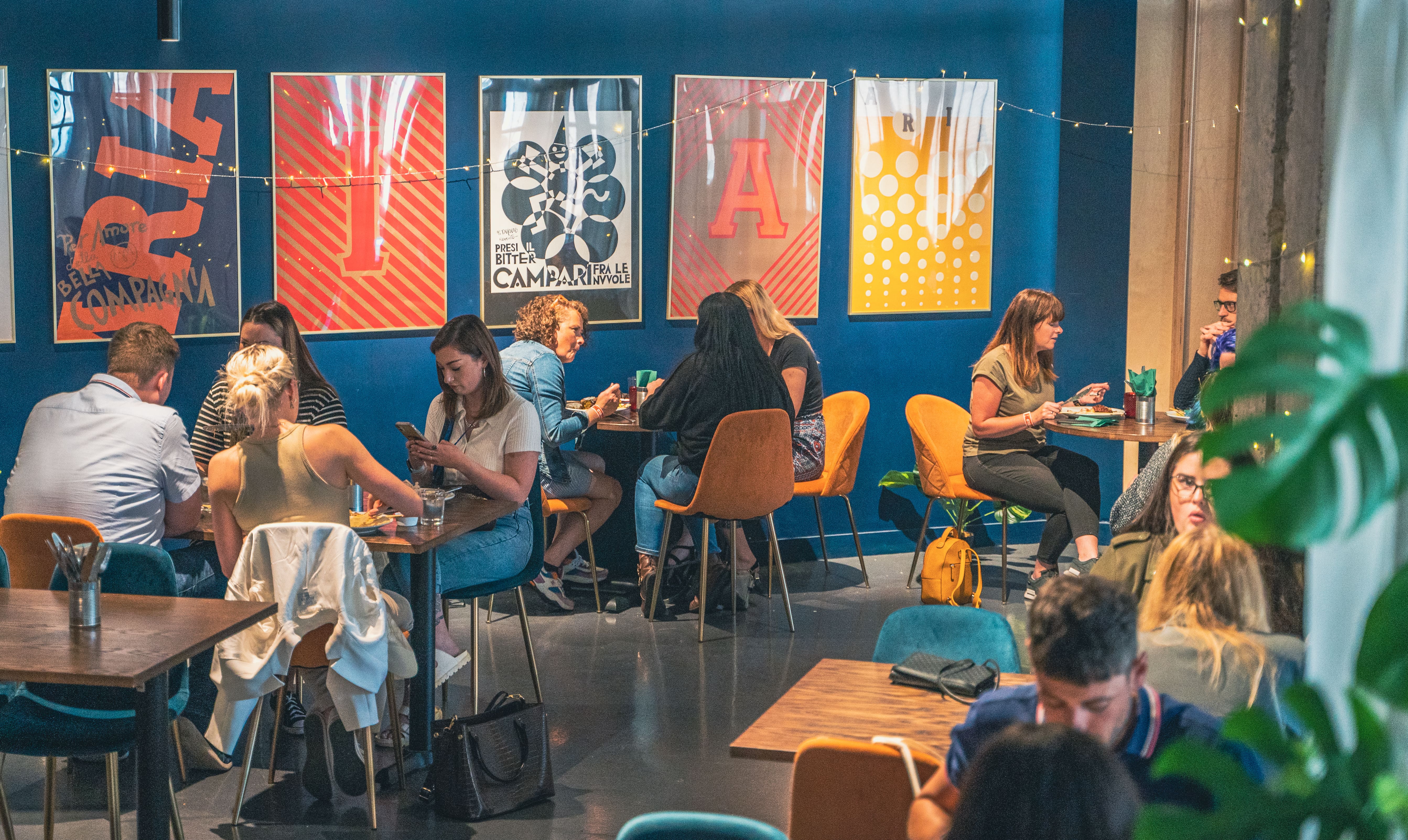 The panel was led by our very own Content Executive Jenn Parker, who did a fabulous job (if we do say so ourselves). In the jam-packed panel, they discussed link targets, the perception of Digital PRs, fake news agendas and thinking ethically, personal branding, careers in digital PR and more. A fantastic effort from all involved, and lots to take away!
Next up was dinner time, and the Kommune team put on an amazing spread of food from their various international vendors. After everyone was fed and watered, and had the chance to do some networking, we got straight back into it with an impressive debut talk from our Paid Media Team Lead Chris Ridley.
Chris talked the room through Google's most recent campaign type, Performance Max, and whether it's the future of Google Ads. Chris did a great job of explaining each aspect of Performance Max campaigns, from audience signals, targeting, the pros & cons, and even provided some insights from Google's Ads Liaison Ginny Marvin.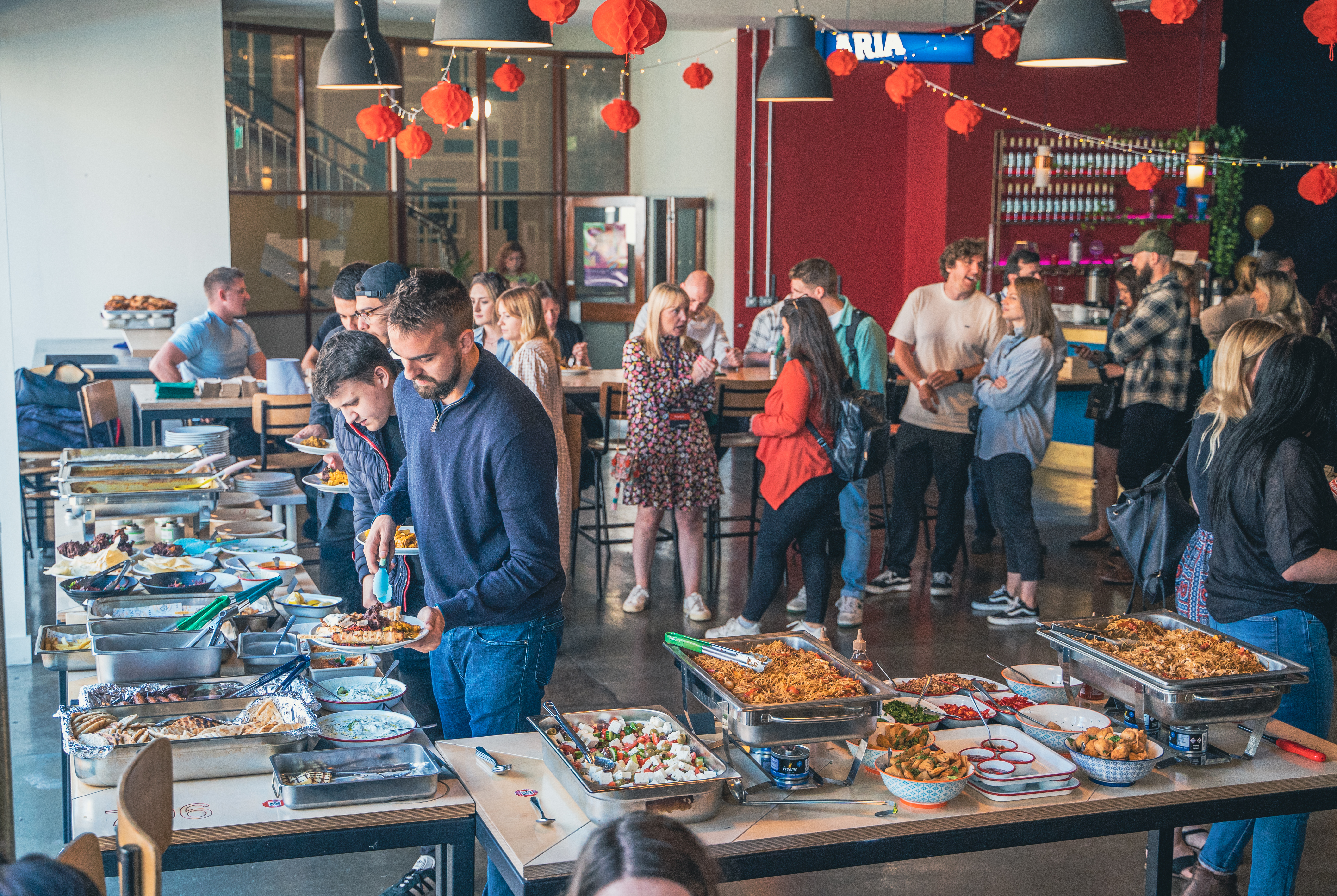 He highlighted that Performance Max campaigns are easy to set up, but hard to manage due to data limitations and a lack of control over where your brand can appear. Rest assured though, with Chris' guidance everyone came out of the talk equipped with some great tips and tricks on how to get the most out of this campaign type.
Jazveena Sahota from Slate took to the stage next, with her talk on TikTok marketing, titled 'Brands Are Killing It On TikTok - What The Tok Is Going On?'. Jazveena's talk had it all, from great examples of brand's TikTok videos that worked really well, information on how brands can utilise the platform to help drive interest, traffic and even conversions, as well as tips on how the audience could use organic content on TikTok for paid campaigns. 
Another break later, and it was time for our second panel of the day, this time on diversity and inclusion. The panel, led by Reji Yates from Rise at Seven, also featured Thierry Ngutegure of Journey Further, Re:signal's Khushal Khan and Saffron starring in her second panel of the day!
This panel covered a range of important topics, such as ensuring you reach a diverse audience when hiring, sharing resources, how to avoid tokenism, how to be a diversity and inclusion ally and more.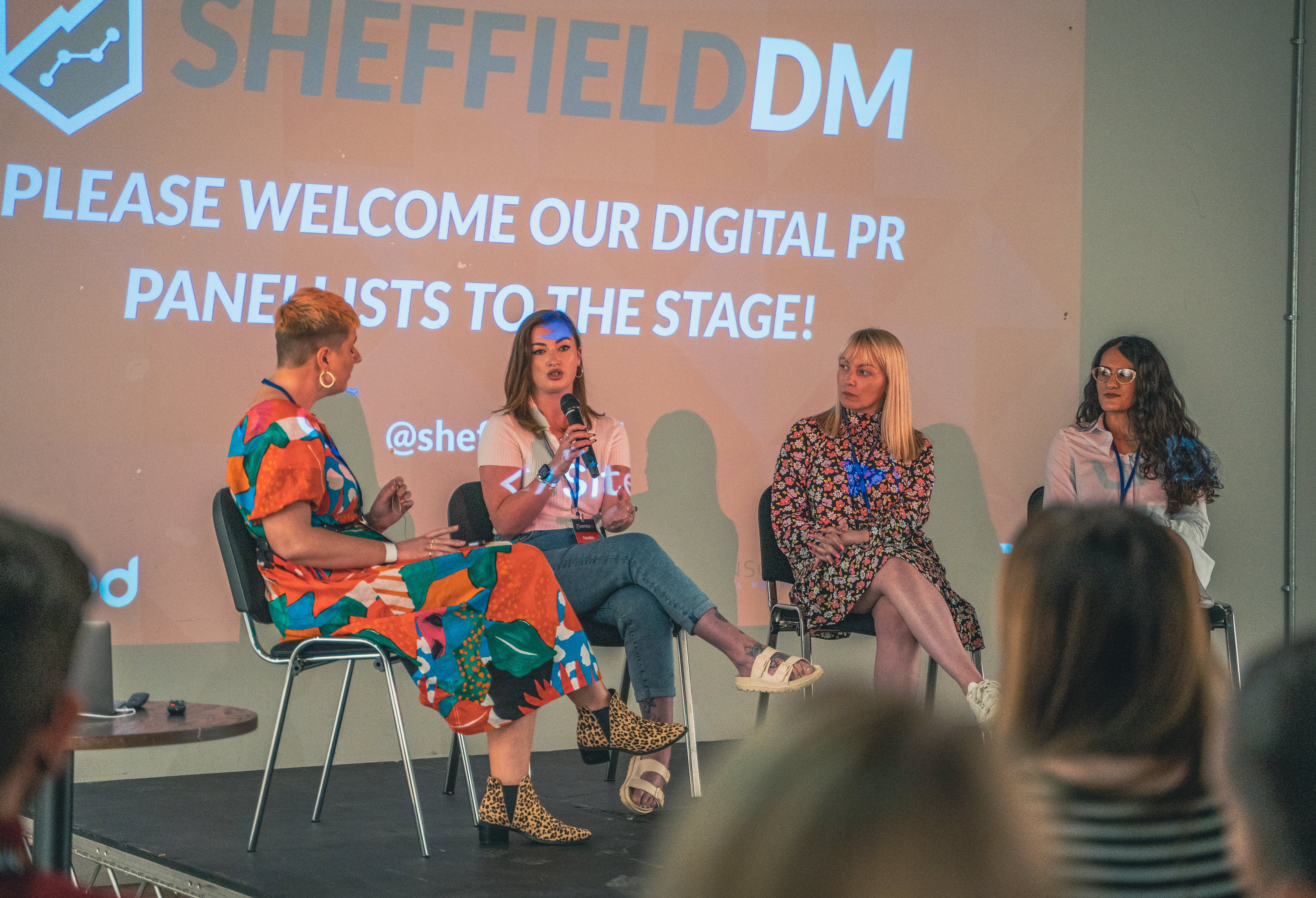 Last but by no means least, keynote speaker Andi Jarvis from Eximo Marketing delved into the psychology behind marketing in his fascinating talk titled 'The Science of Persuasion'. Andi stressed the importance of focusing on things that you can control, on marginal gains to beat your competitors, and also how scarcity, uncertainty, social proof and reciprocation can bring benefits for companies if used correctly.
Phew - after all of those speakers you probably thought that was the end of the day. Cue the after party! Sponsored by Sitebulb, after the event everyone had the chance to gather for some networking, a free drink and some time to reflect on the day.
Talking about reflecting on the day, we received some really great feedback from attendees, which paid testament to the hard work our team had put into the event to make it all run smoothly.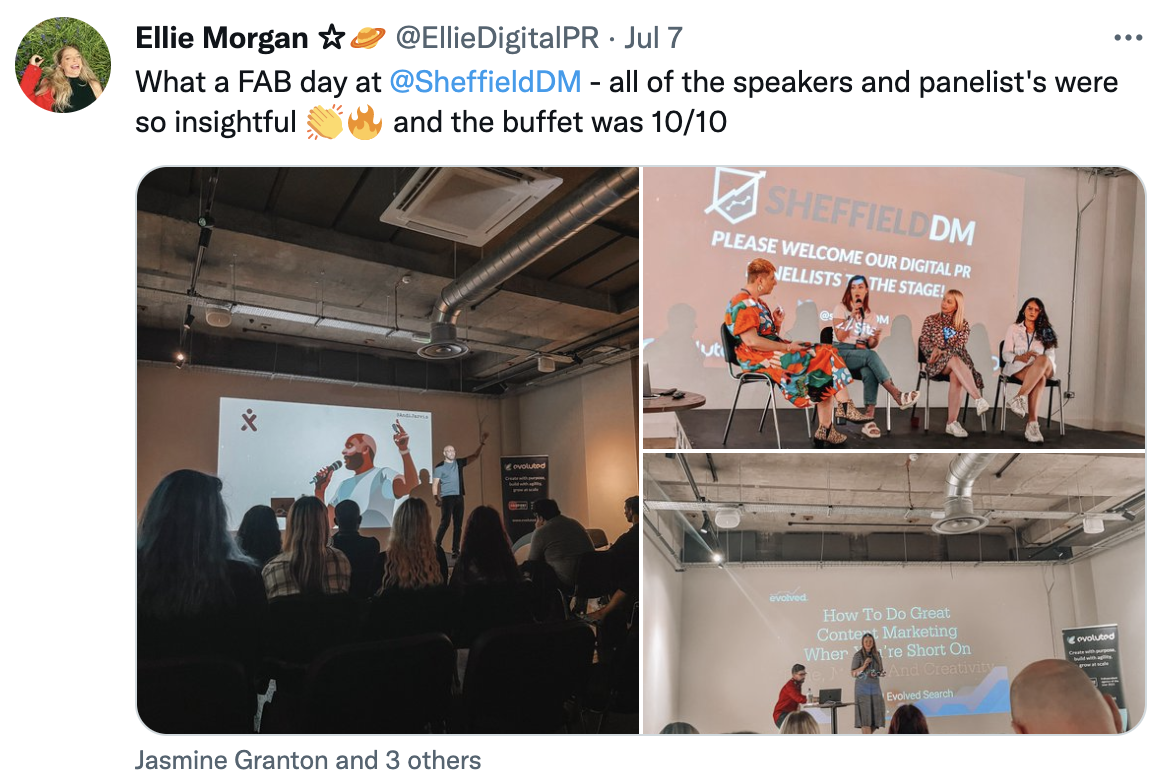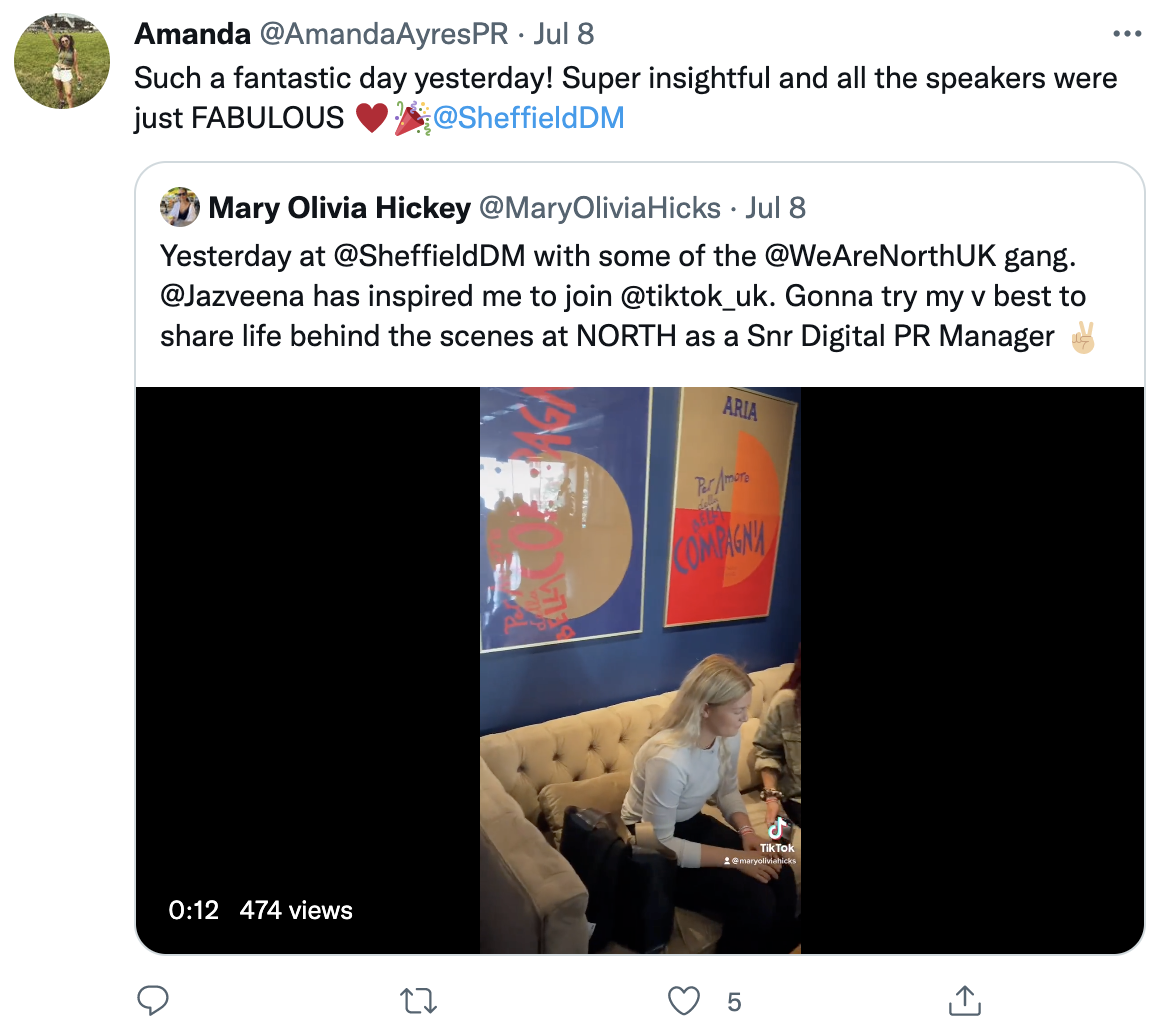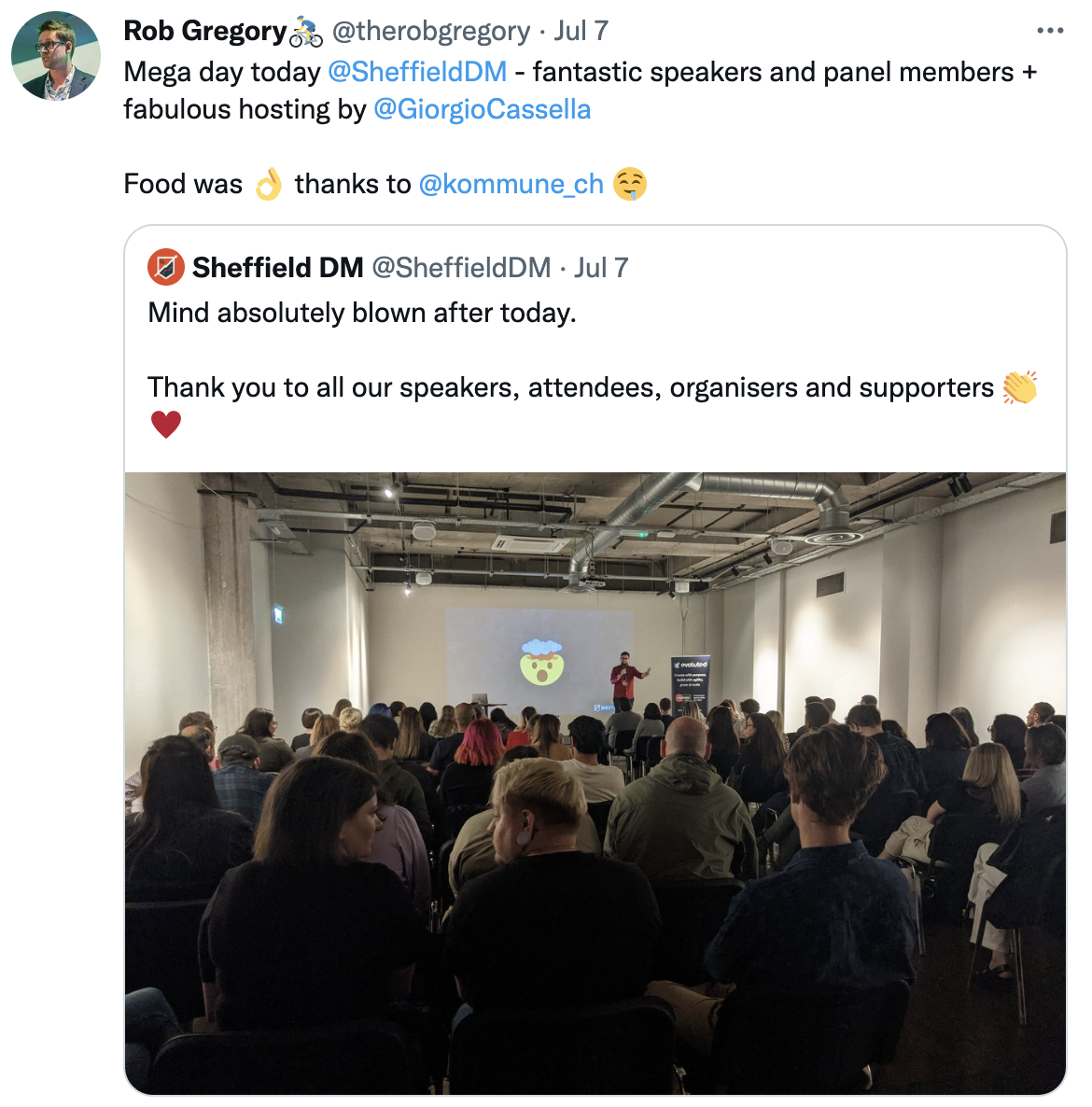 If you have FOMO from missing out on this event, do not fear! 
Encouraged by the success of this event, we're already planning future Sheffield DM events of a similar scale. In the meantime, we're heading back to our regular evening format for our next Sheffield DM event, which will be on Thursday 29th September at The Showroom Workstation in Sheffield. 
However, we do have some exciting new additions to the event which we will be revealing soon, so keep your eyes peeled and be sure to book a ticket when they come out soon!
In the meantime, why not sign up to the Sheffield DM newsletter to be the first to hear details and speaker line-ups for future events?