Barbie Unboxed: Reimagining Barbie & exploring her popularity throughout time
With the highly anticipated release of the upcoming Barbie movie, starring Margot Robbie and Ryan Gosling, you could say we really are in a Barbie world right now.
Barbie fever has taken hold in the run up to the film's premiere and Barbiecore has become a hot trend with people around the world who are embracing some of the doll's most iconic looks.
But with over 60 years in production, how many of Barbie's most famous looks were actually influenced by the trends of the time? Utilising AI, we have reimagined how Barbie may have appeared if she had closely followed the most popular beauty and fashion trends of each of the past six decades.
Why has Barbie never changed her brand appearance?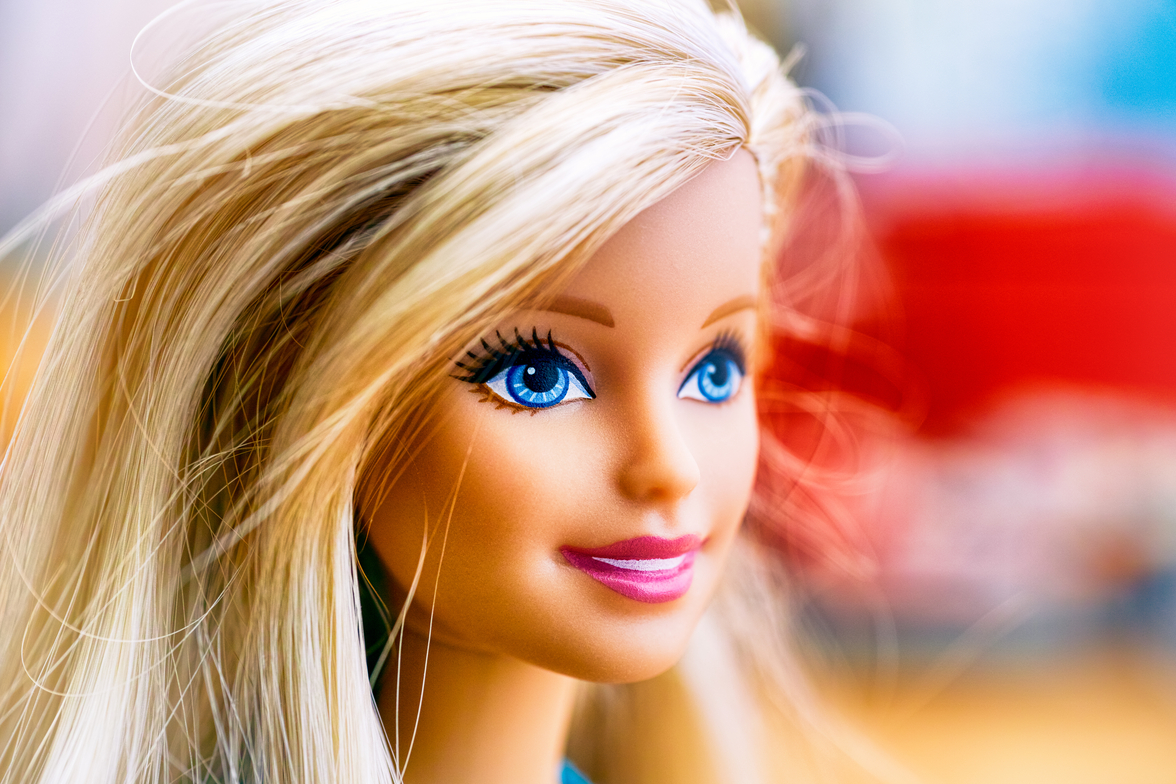 While it can be argued Barbie has evolved to reflect fashion and societal changes by embracing different hairstyles, skin tones, body shapes and career paths, her overall design and branding have remained relatively consistent. 
Her brand image, which draws feelings of nostalgia and familiarity, could be why her appearance has stayed similar throughout her 64-year history. 
Now, our Design and Digital PR teams have joined forces with AI to reimagine what Barbie could have looked like if she followed beauty and fashion trends as closely as a Vogue reader. 
Here were the results…
Real-life Barbie: How she could have looked if she followed real-world fashion trends throughout her 60+ years
We compare the actual Barbie dolls of the time period with our AI alternatives
1950s
Credit: Mattel / Evoluted
Released in 1959 to a worldwide customer base, Barbie is officially a child of the 50s. And although the swinging 60s were just around the corner, on her release, the original Barbie was scantily dressed in a monochrome swimsuit and sported large gold hooped earrings.
Instead, AI and the Evoluted team's reimagined version of Barbie in the 1950s is somewhat more conservative. 
In the 50s, it was widely assumed that women's primary roles should centre around marriage, homemaking and motherhood. Research university, VCU claimed long-flowing traditional dresses were the norm, while a feminine hourglass silhouette was highly popular. You would often see a woman of that period sporting a dress with a narrow waistline and a full skirt paired with an apron. 
The idea of a career for women was not as widely encouraged or accepted, and the prevailing belief was that a woman's place was in the home. Our AI Barbie portrays what a doll of that time could look like if she followed the fashion trends of the time.
1960s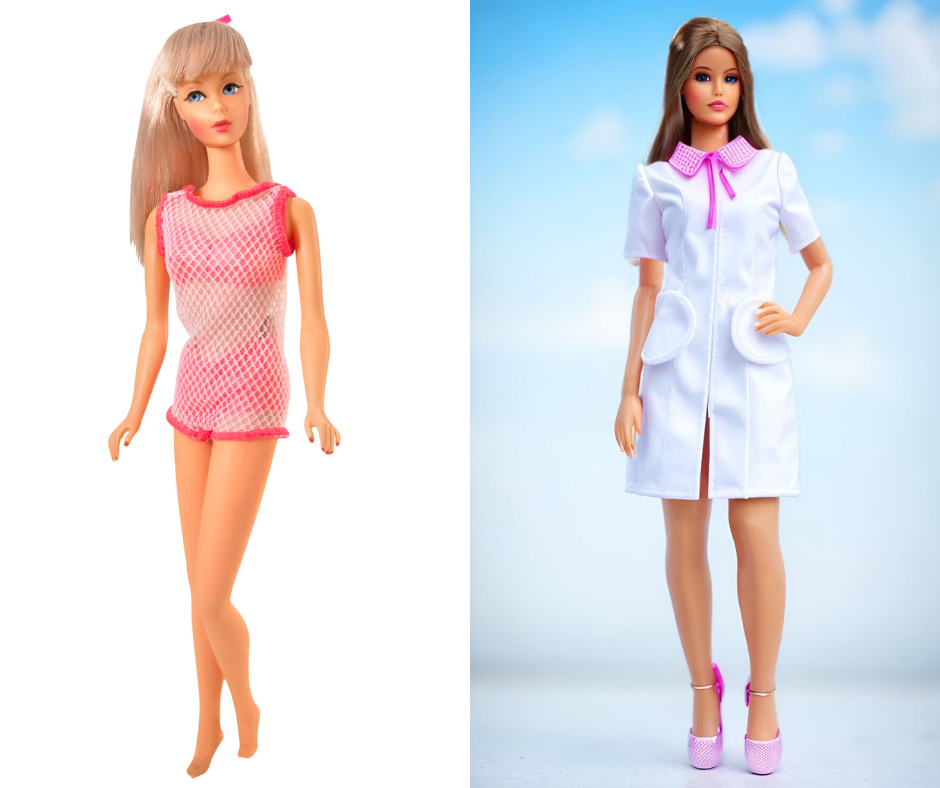 Credit: Mattel / Evoluted
The itsy bitsy bright swimsuit is probably best associated with Pamela Anderson in the 80s hit show Baywatch, but did you know another famous blonde sported it first?
That's right, in the 60s, one of Barbie's signature looks was a rather risque hot pink swimming costume. Although the swinging 60s saw lots of fashion rules go out of the window, many women were still drawn to more modest fits. 
That being said, mini skirts, shift and A-line dresses and heels were hot in demand in the 60s. Our 60s version of Barbie shows her sporting a brunette beehive, a simple white shift dress with a 60s staple Peter Pan collar and Mary Jane style heels.

1970s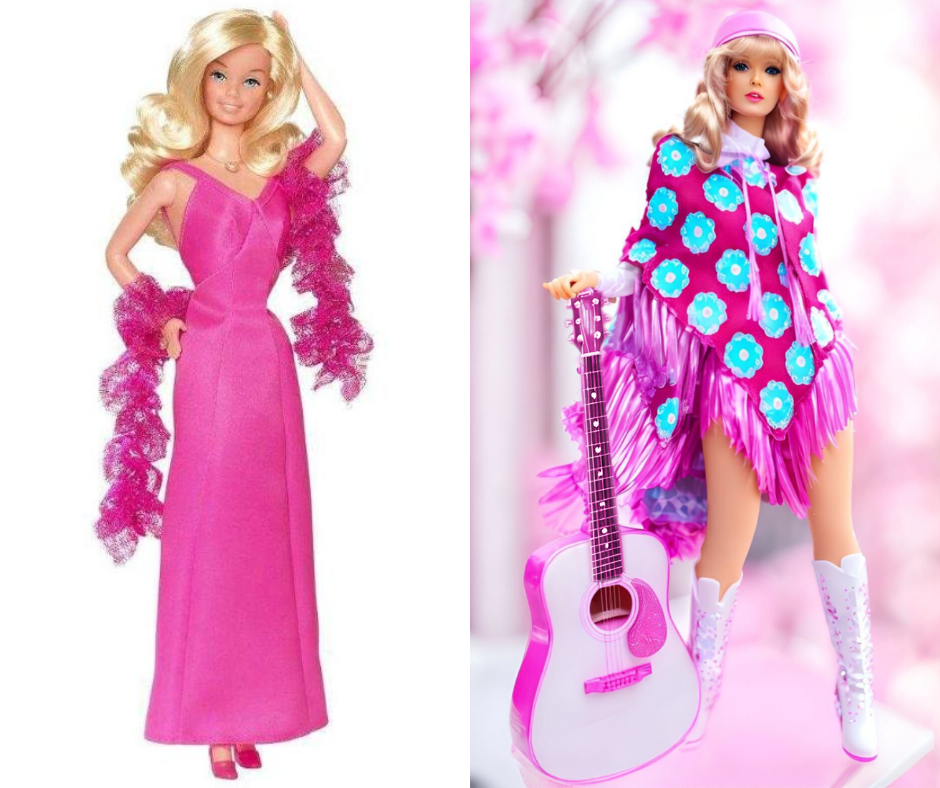 Credit: Mattel  / Evoluted 
Blue eye shadow was all the rage in the 70s and that's one beauty trend Barbie adopted during this period. The rest of her style is high-glam and consists of her signature hot pink coloured dress, paired with a feather boa.
Our interpretation of Barbie differs, however. As the 70s epitomised a decade centred around music, our doll embraces a mix of disco glamour and bohemian freedom with knee-high lace-up boots, a hippie-style floral poncho and a silk head scarf. Accessories aren't sold separately either, as our Barbie pairs her look with a pink guitar. 
1980s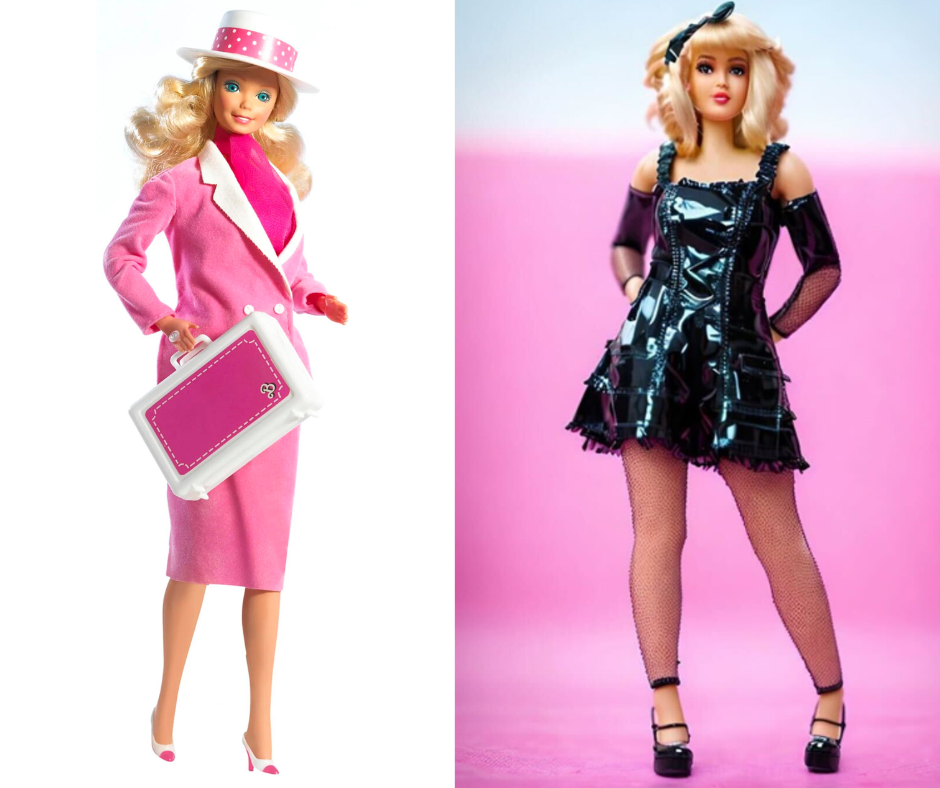 Credit: Mattel / Evoluted 
The 80s was notorious for its bold fashion choices. From oversized accessories to bulging shoulder pads and neon athleisure, it's hard to pinpoint just one look from this decade of bold style trends. 
The actual Barbie wears her famous power suit, which was heavily influenced by the increasing presence of women in corporate workplaces during this decade. Our AI Barbie, however, has been influenced by the punk and new wave subculture, which significantly impacted 80s fashion. 
She sports all the signature fashion elements of the 80s with her leather dress, fishnet stockings and short choppy haircut which was largely adopted by those who embraced the edgy and rebellious style.
1990s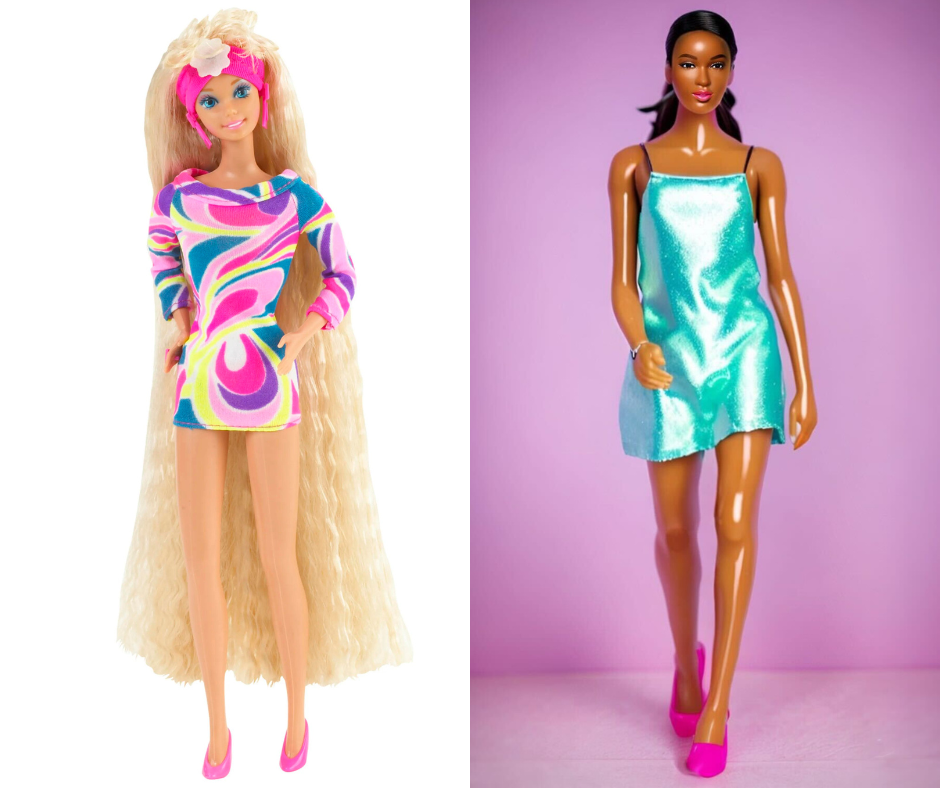 Credit: Mattel / Evoluted
Brit pop, the PlayStation and Friends weren't the only key ingredients to the 90s, as there were some pivotal fashion and beauty trends that emerged during the decade too. 
Unlike 1991's Totally Hair Barbie doll that donned Rapunzel-length hair and 80s-style retro attire, our AI Barbie represents a more familiar face of the 90s. 
Inspired by the grunge movement and popularised by 90s icons, Kate Moss and Rachel from Friends, slip dresses became a wardrobe essential and that's the outfit our doll is rocking. The slip dress is paired with some platform stilettos, which became a popular trend among women, thanks to the Spice Girls donning similar shoes. 
2000s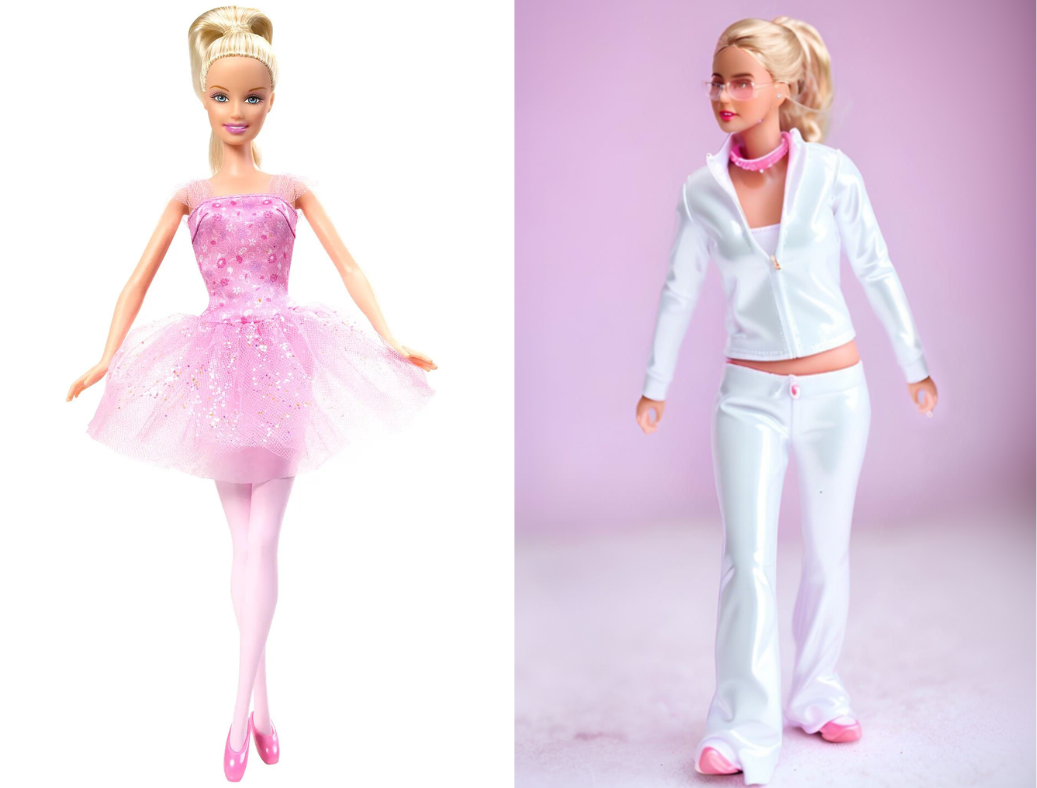 Credit: Barbie Media / Evoluted 
Pop princesses defined the 00s, such as the iconic trinity of Britney, Christina, and Beyoncé, who topped the charts while influencing the fashion for women everywhere.
Diamante crop tops, tinted shades and ultra-low-waisted jeans were all the rage during the early Millennium. But Barbie was donning a ballerina outfit. 
However, our AI Barbie is a testament to the time with her velour tracksuit, trainers and pink-tinted shades. 
2010s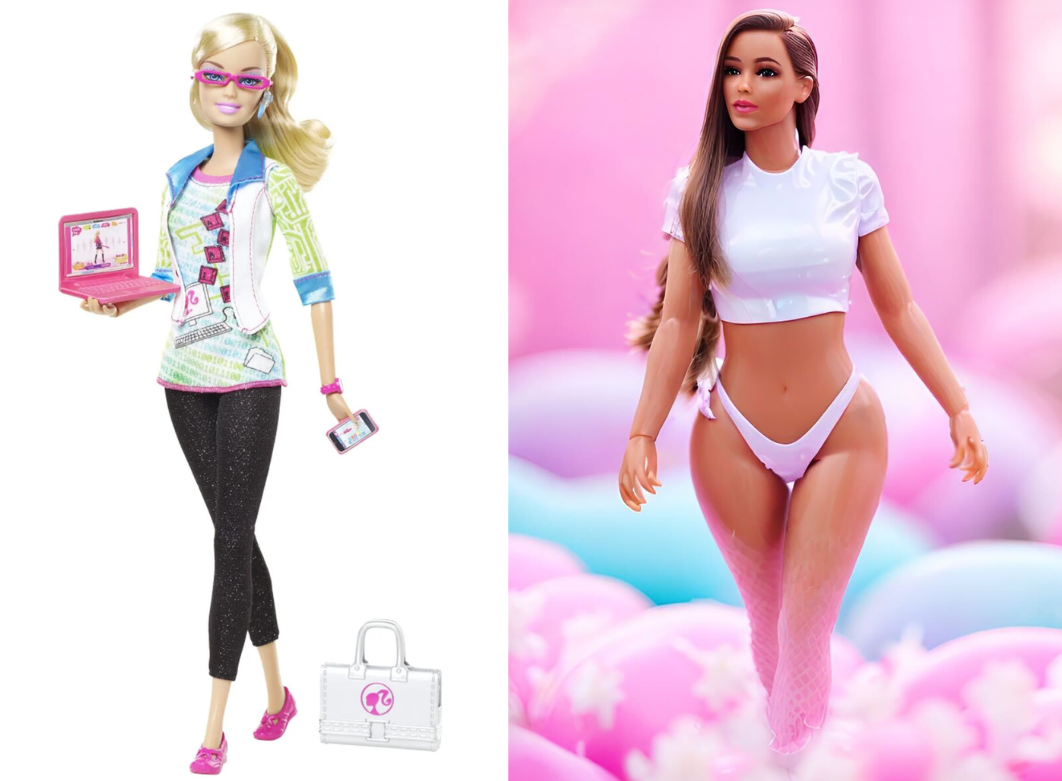 Credit: Barbie Media / Evoluted
There was no family more influential on fashion and beauty trends than the Kardashian-Jenners during the 2010s. In line with Instagram culture, women of the late noughties lapped up what the sisters were wearing. 
Plump pouts, tiny waists and big butts were the trends of the decade and ultimately make-up and clothing that enhanced these features were all the rage. High-waisted bikinis, bodycon dresses and long, sleek hair were just some of the aesthetics we all adopted from the clan. 
Now, our AI Barbie has adopted these traits too with her enviable curves, Mediterranean tan and plump lips. 
2020s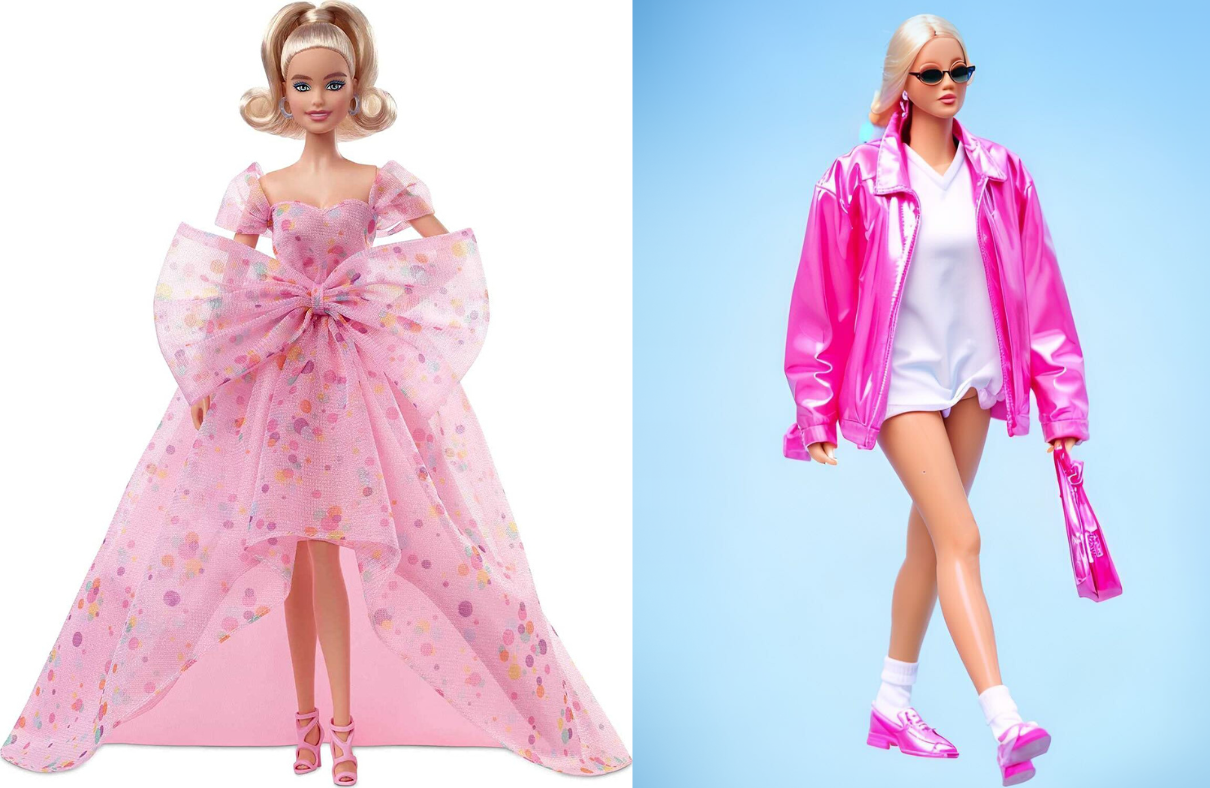 Credit: Mattel / Evoluted
Gen Z has already banished the Millennial skinny jeans from their wardrobes, and empowered the minimal clean girl aesthetic, thanks to the rise of the beauty trend on TikTok. 
Recognised as the generation focused on sustainability, there has also been a resurgence of preloved fashion as apps like eBay, Vinted and Depop have taken the generation and fashion world by storm. 
Taking inspo from the 90s and early noughties, oversized tees, low-rise jeans, crop tops and teeny-tiny handbags are essential in the current fashion climate. Our AI Barbie embraces this style with her simple make-up, brogues and socks combo, oversized leather jacket and tiny glasses and bag. While the current Barbie sports a princess-style dress.  
Like the princess dress, Barbie is synonymous with the colour pink. Now, with the release of the Barbie film on the horizon, this rosy hue is high in demand partly due to the film release and the girly Y2K trends that have been favoured in 2023.
Barbie-core has got us all tickled pink 
With Barbie paving her own way when it comes to fashion, how is she influencing us now after her resurgence in popularity during the much-hyped film publicity?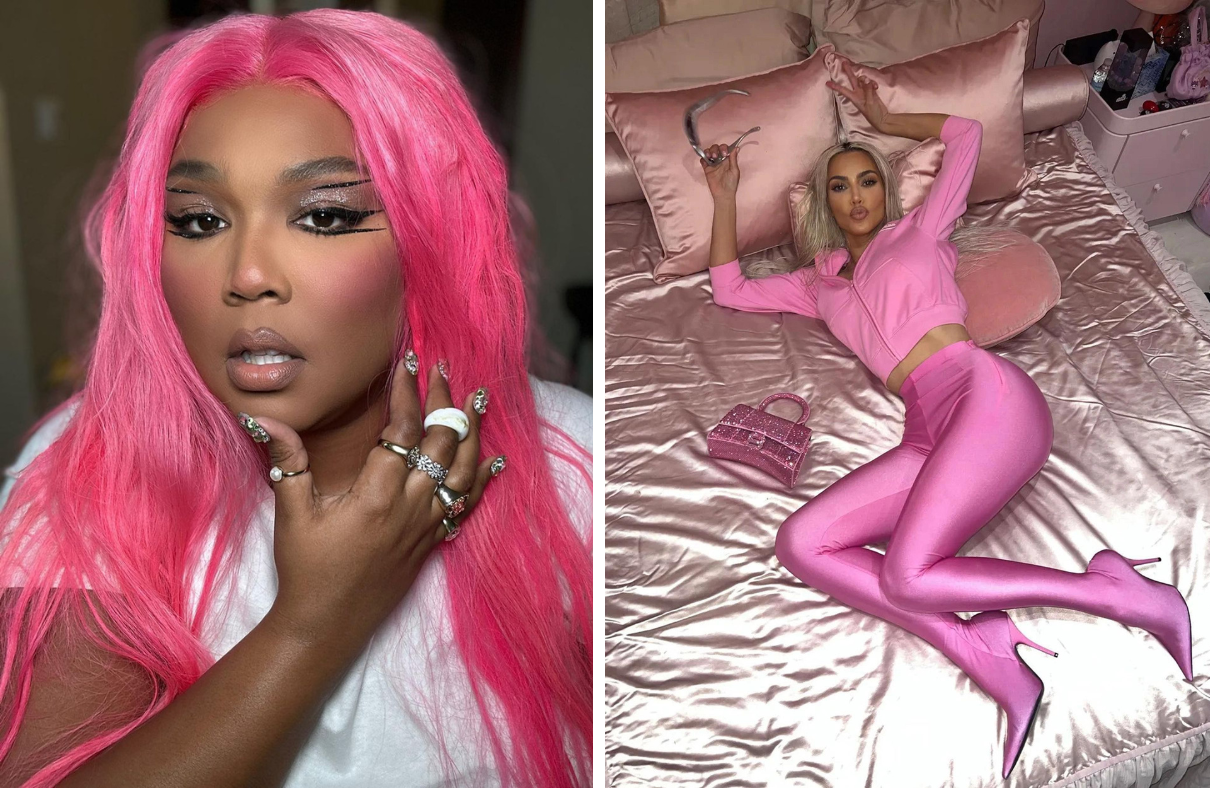 Instagram: @lizzobeeating / @kimkardashian
In light of the upcoming release of the "Barbie" movie on July 21st, the world has become obsessed with Barbiecore. Vibrant, bold and unapologetically feminine styles have taken hold, particularly outfits with bubblegum and hot pink hues. 
Celebs like Kim K, Lizzo and Anne Hathaway have all embraced the playful and girly style - think minidresses, tiny handbags, glitter and platform heels. Now, we normies are adopting the trend too as people have been having Barbie-themed hen dos, birthday parties and night outs. 
71% rise in people having pink-themed parties & 900% rise in Barbiecore Pinterest outfits
There has been a remarkable surge in the popularity of pink-themed parties, with a staggering 71% increase in the number of people searching for "pink decorations" to recreate this vibrant and fun-filled theme. 
Pink has become a go-to choice for various celebrations and gatherings in light of the new Barbie movie coming out. From birthdays to bridal showers, this rise in pink-themed parties showcases a growing trend of embracing the Barbiecore trend.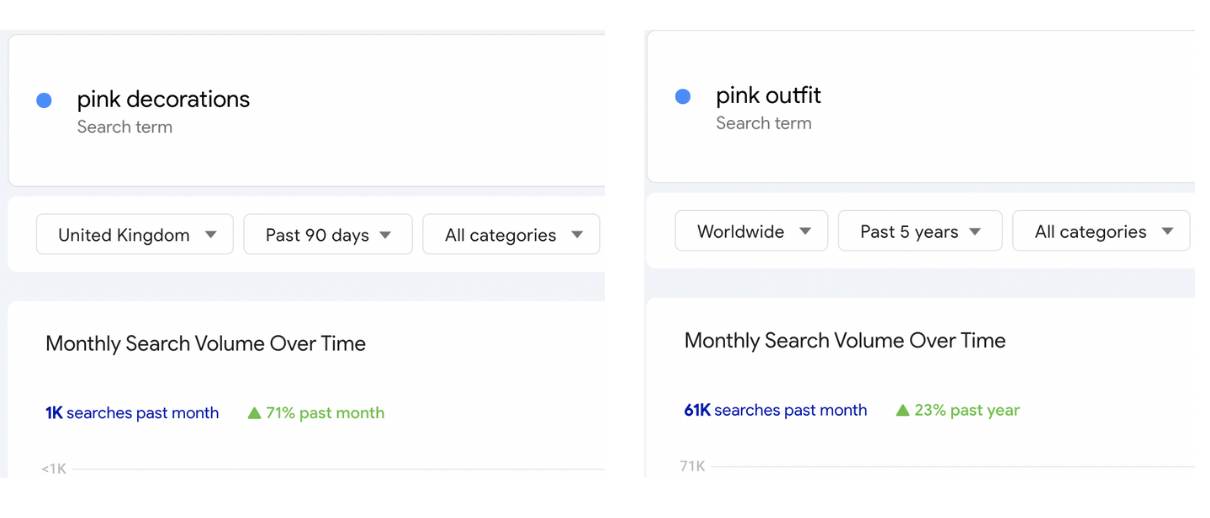 Credit: Mattel
In line with this trend, Barbiecore-inspired outfits have witnessed an incredible 900% rise in popularity on Pinterest and a 23% rise for "pink outfits'' on Google in the UK. This fashion movement, drawing inspiration from the iconic Barbie doll, exudes a sense of vibrant nostalgia and unapologetic femininity. 
The surge in pink-themed parties and Barbiecore outfits exemplifies how popular culture and Pinterest play a pivotal role in shaping and inspiring our fashion choices and event-planning endeavours.

Why is Barbie still just as popular now?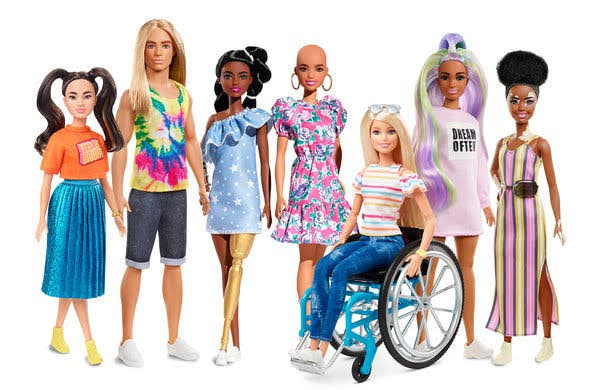 Credit: Mattel
From controversial sex doll origins in the 50s to a business gal makeover in the 80s and a hit song named after her in the 90s, Barbie remains a cultural icon. Now, a blockbuster film about her solidifies her historical influence.
Despite her popularity, Barbie hasn't failed to stir up controversy either though. When she first burst onto the scene, there was contention surrounding her debut as her invention was based on a sex doll that Barbie creator, Ruth Handler, had seen in an adult store. 
In more recent times, her real-life measurements as a 6ft, 100lb woman with a 39" bust, 18" waist, and 33" hips have caused people to label Barbie as 'unrealistic', distorting young children's idea of beauty, skin tone and body shape. 
But where there is controversy, there is discussion, and Barbie's ever-constant appearance on TV and in the news has reinforced her position as a cultural icon. 
Now, in a bid to appeal to a wider audience and promote a more positive image, leading global toy company Mattel has expanded their range of Barbies to now include dolls with a broader range of features. In 2020, their 'most diverse doll line' yet featured an array of more skin tones, hair types, disabilities and body shapes than ever before.
In a time where inclusivity has never been more important, it was not only morally essential for Barbie to reinvent herself, but it was also critical for the brand to stay relevant and appeal to what will arguably be our most conscious and empathetic generation yet.
This slight reinvention throughout the years, paired with her brand history and cultural importance has made it so Barbie is just as relevant to consumers today as she was when she was first released. 
Conclusion
Using AI technology to showcase Barbie's potential evolution through past and recent trends has shed light on the impact trends could've had on the world's most recognised doll. 
Despite having changed her style only slightly over the years, Barbie hasn't failed to stay as relevant as she was when she was released back in 1959. 
With the release of Greta Gerwig's Barbie coming out at the end of July, there has also been a revival of discussion around Barbie which created a rise in popularity for Barbiecore as a trend. The film serves as a catalyst, fueling the popularity of Barbiecore by reigniting interest in the iconic doll and her timeless appeal. 
One thing is for certain, from childhood to adulthood, Barbie will still be in conversations for generations to come. 
Our talented Design & Digital PR team is focused on developing creative, results-driven digital PR campaigns and activity to help you boost search visibility and brand awareness. If you think we can help you, get in touch today.
Methodology 
Using AI app Photoleap, the design team at Evoluted merged the artificial intelligence visuals to reimagine Barbie throughout history. 
The team also used Google and Pinterest trends to see the rise in search volume for the Barbiecore trend.
Fashion history and trends:
50s: https://news.vcu.edu/article/Does_the_current_embrace_of_1950sinfluenced_fashion_reflect_broader 
60s: https://fashionhistory.fitnyc.edu/1960-1969/ 
70s: https://en.wikipedia.org/wiki/1970s_in_fashion 
80s: https://en.wikipedia.org/wiki/1980s_in_fashion 
90s: https://fashionhistory.fitnyc.edu/1990-1999/ 
00s: https://fashionhistory.fitnyc.edu/2000-2009/ 
10s: https://www.lofficielusa.com/fashion/2010-forgotten-fashion-trends-celebrity-tumblr