Keeping Up No More: The Demise of the Kardashian-Jenner Clan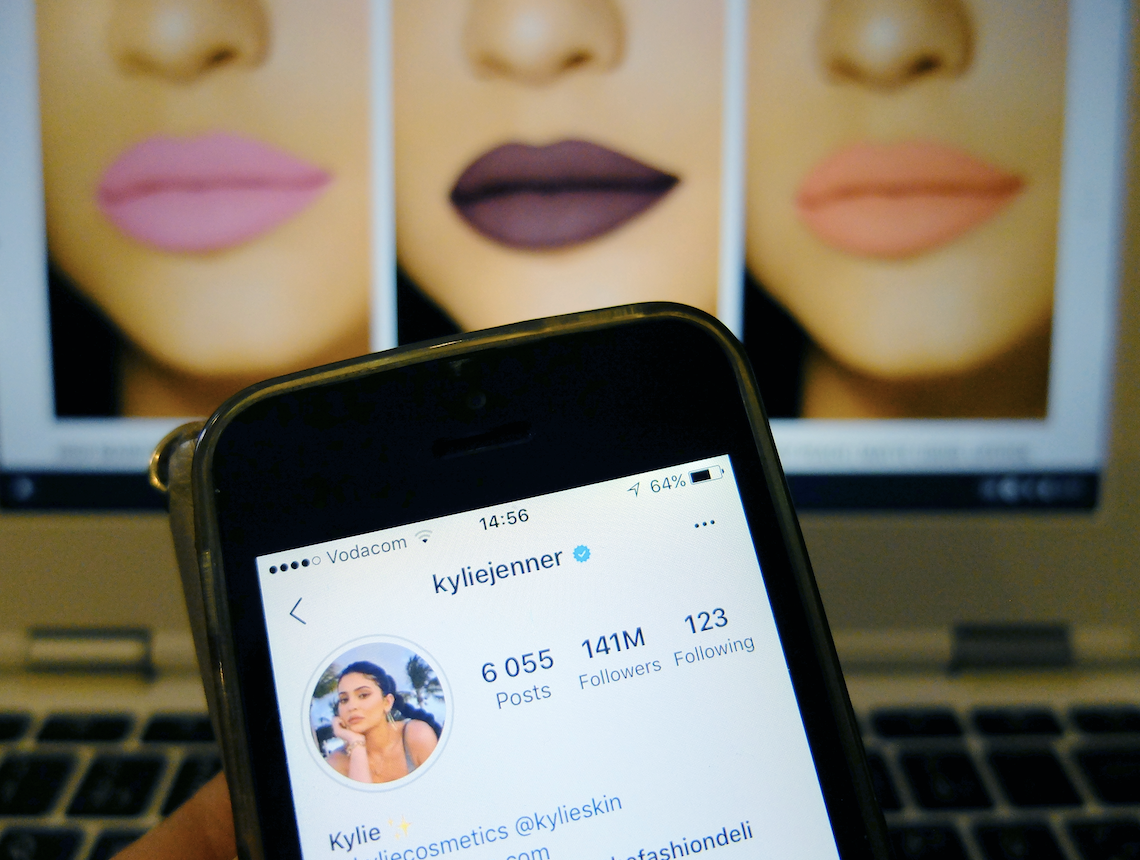 Love them or loathe them, there's no denying that the Kardashian-Jenner family are an entertainment industry powerhouse and have had an enormous impact on popular culture.
From their humble LA beginnings to tabloid and social media domination, the original influencer family have risen to the dizzying heights of fame and fortune. But many argue this isn't because of their talent or business acumen, it's simply the result of being born into the right family.
Although it's hard to imagine 21st-century life without the Kardashian-Jenner clan, plummeting TV viewing figures and dwindling social media interaction suggest the once-invincible family may be losing their significance and relevance. 
Could this loss of popularity be due to their once aspirational luxury lifestyle becoming out of touch and hard to connect with for many viewers in the face of inflation and economic hardship?
Big bums, plump lips & reality TV: How the Kardashian-Jenner phenomenon shaped popular culture
Keeping Up with the Kardashians first hit our screens in 2007, following the lives of the Kardashian-Jenner family and their glamorous lifestyle - viewers couldn't get enough.
From Kim's dramatic love life to Kris's momager antics, the show was a guilty pleasure for many.
In 2010, the fly on the wall-style reality show amassed over 3.4 million viewers per episode because of the show's constant drama and entertainment value. However, by 2020's season 20, viewing figures had dropped by 82%, with under 700k tuning in.
Did viewers grow tired of the show's predictable plot lines consisting of Kim getting upset, Kourtney rolling her eyes and Khloe providing comic relief?
Perhaps audiences finally realised that watching rich people bicker about trivial things wasn't all that entertaining.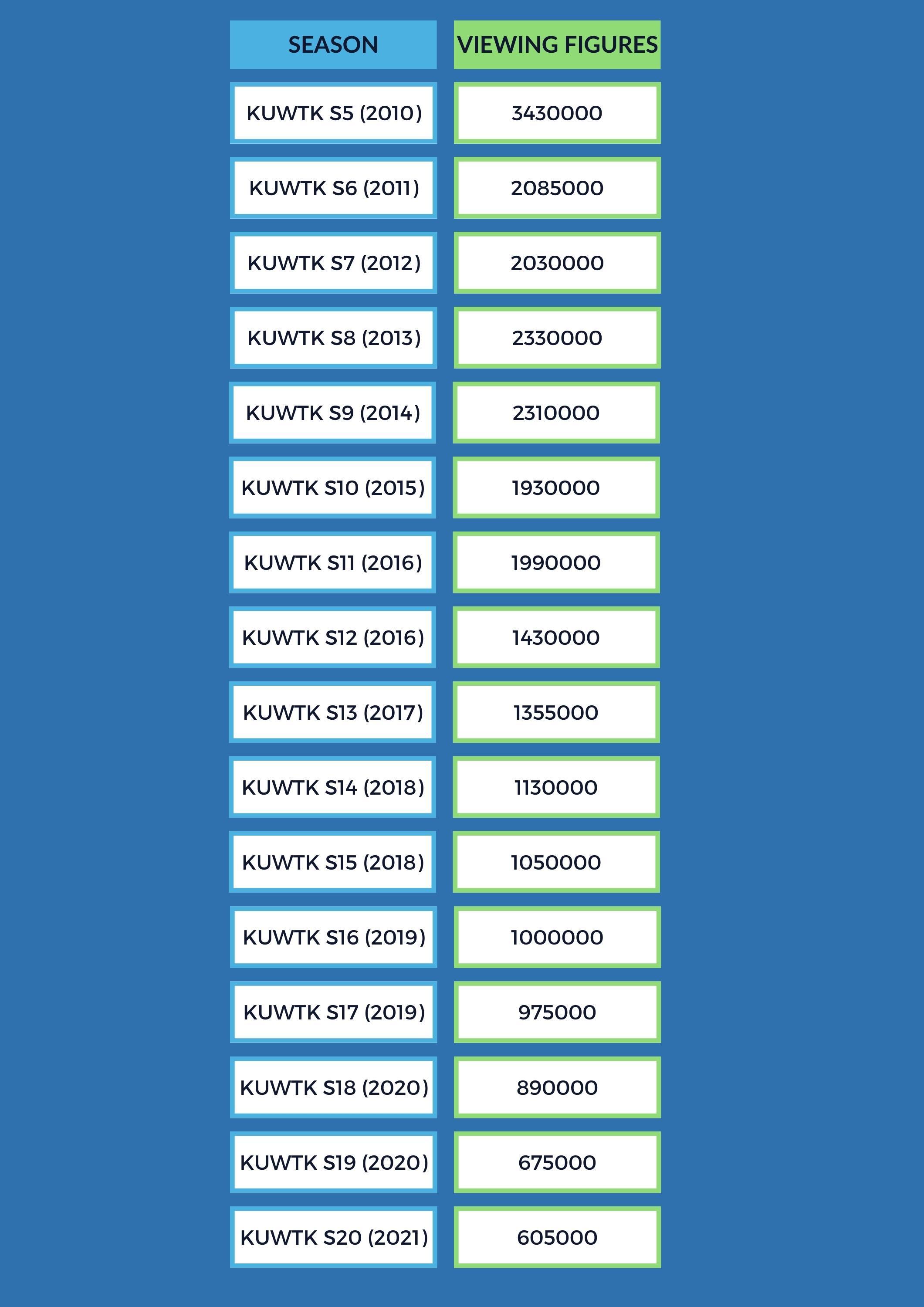 However, it wasn't just the reality TV show that got tongues across the world wagging.
In 2015 Kylie's suddenly plump lips became the speculation of young impressionable teenagers across the world, everyone wanted to know just how she got that juicy pout.
Was it makeup? Was it surgery? The mystery lingered until 2015 when 17-year-old Kylie finally confessed she had indeed had lip fillers.
After Kylie's confession in May 2015, searches for lip fillers increased by 300% in a single day, and have been steadily rising ever since.
Here we can see that between 2013 and 2015 searches for lip filler remained at a slow and steady pace, but after Kylie's admission we can see a spike, followed by a fairly steady increase.

In fact, searches for lip filler grew by 53% in 2015 to 2023, compared to 2008 to 2015.
Lip filler, which was once seen as an invasive treatment reserved for the rich and famous, suddenly became accessible to everyone.
Many wanted to emulate the youngest Jenner's signature look and aesthetic clinics across the world started offering the treatment.
Fast forward eight years, and having filler injected into your lips is almost as common as getting your nails done. 
Unlike the rising trend of lip filler, Kim Kardashian's famous BBL look is losing popularity. A decade ago, Kim K made the bubble butt popular, but trends are constantly shifting, and now a more natural look is in style. 
Kim has had to adjust to these changing beauty standards, with tabloids recently speculating about her shrinking behind. 
Searches of Brazilian butt lift spiked in April 2016 and have decreased ever since, with searches dropping by 76% from 2016 to 2023.

Kindness wins the social media game: Selena Gomez surpasses Kardashians in followers
Once upon a time, the Kardashian-Jenner dynasty ruled social media, amassing billions of followers and gaining off-the-chart engagement rates.
But it seems their reign has come to an end, with their social media presence taking a nose-dive.
Is this because they're lacking authenticity or are they just seen as boring compared to other celebs?
Meanwhile, stars like Selena Gomez, who can actually connect with their followers and keep it real, are seeing follower counts and engagement rates skyrocket.
In 2021, Kylie earned the title of the most followed woman on Instagram with 290 million followers. However in February of this year, Selena dethroned Kylie - surpassing her by 24 million followers.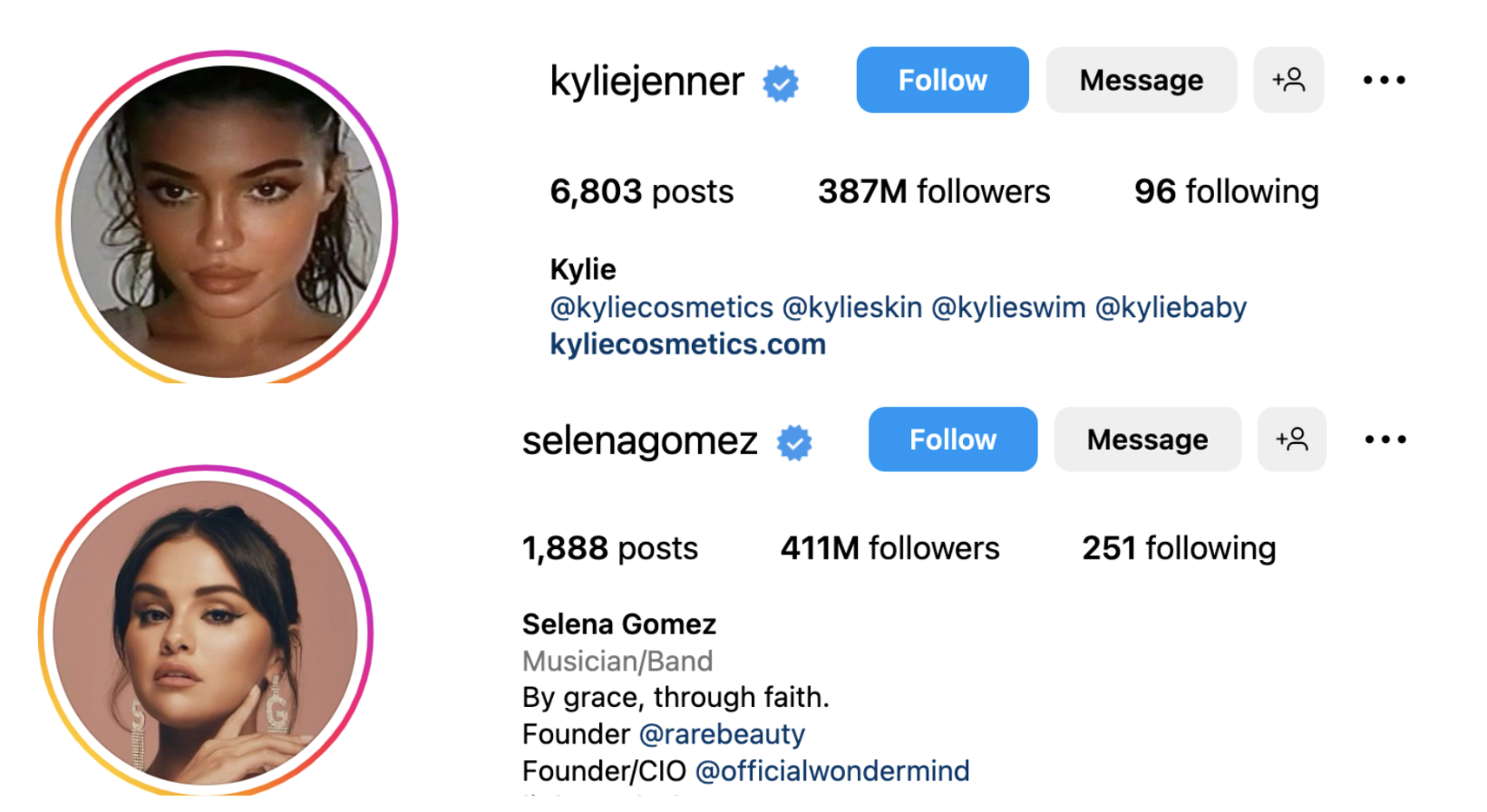 Similarly, sports stars like Ronaldo and Messi have slowly overtaken the original influencer family when it comes to social media followers.
The footballer's followers clearly admire their talent, dedication and the hard work they have put in to reach the top.
| Instagram Profile | Followers | Average Likes per post | Average engagement per post |
| --- | --- | --- | --- |
| Ronaldo | 567.8M | 10.0M | 1.61% |
| Messi | 447.7M | 9.0M | 1.77% |
| Selena Gomez | 411M | 7.7M | 2.49% |
| Kylie Jenner | 387M | 6.9M | 1.58% |
| Kim Kardashian | 350.3M | 2.1M | 0.59% |
| Khloe Kardashian | 299.6M | Switched Off | Switched Off |
| Kendall Jenner | 281.5M | 3.8M | 1.34% |
| Kourtney Kardashian | 216.7M | 1.8M | 0.76% |
Recent data shows that Selena Gomez, Lionel Messi, and Ronaldo have higher engagement rates on Instagram compared to the Kardashian family, outperforming them in terms of likes, comments, and shares.
This highlights the power of authenticity and a strong personal brand in driving engagement on social media.
On average Kim Kardashian's engagement rate sits at 0.59%, meaning Selena Gomez's engagement is 167% higher.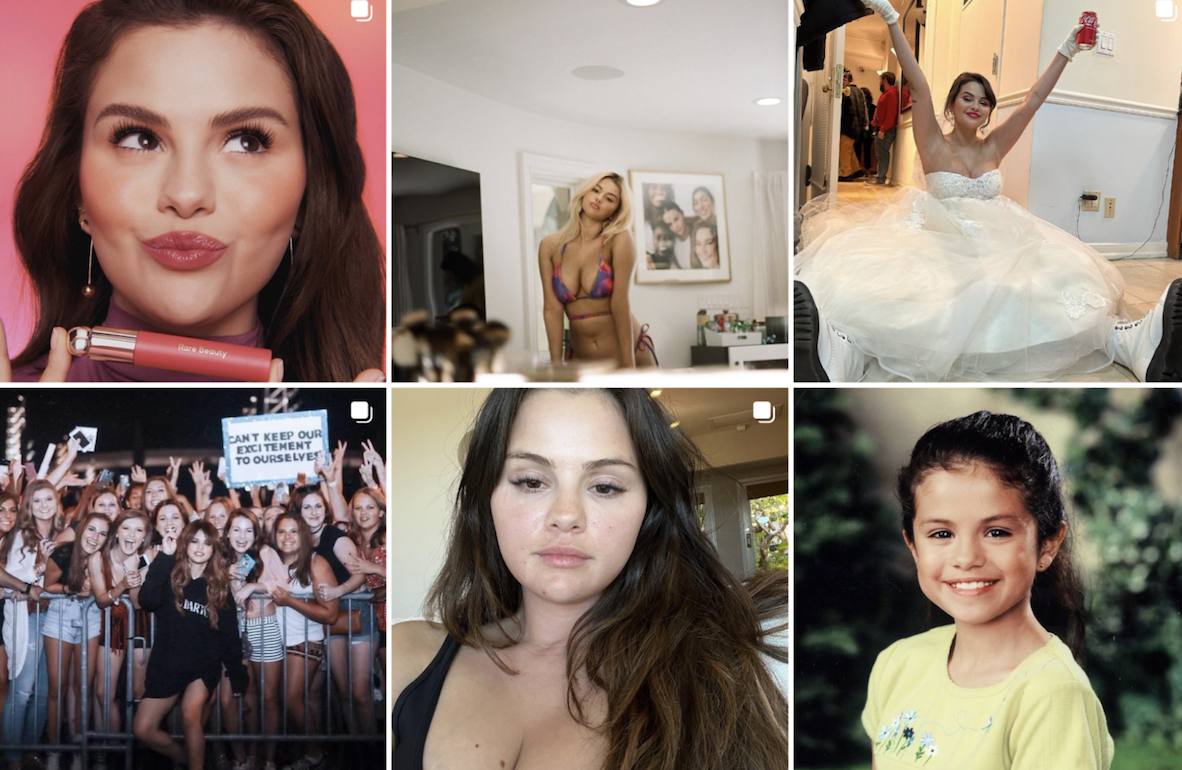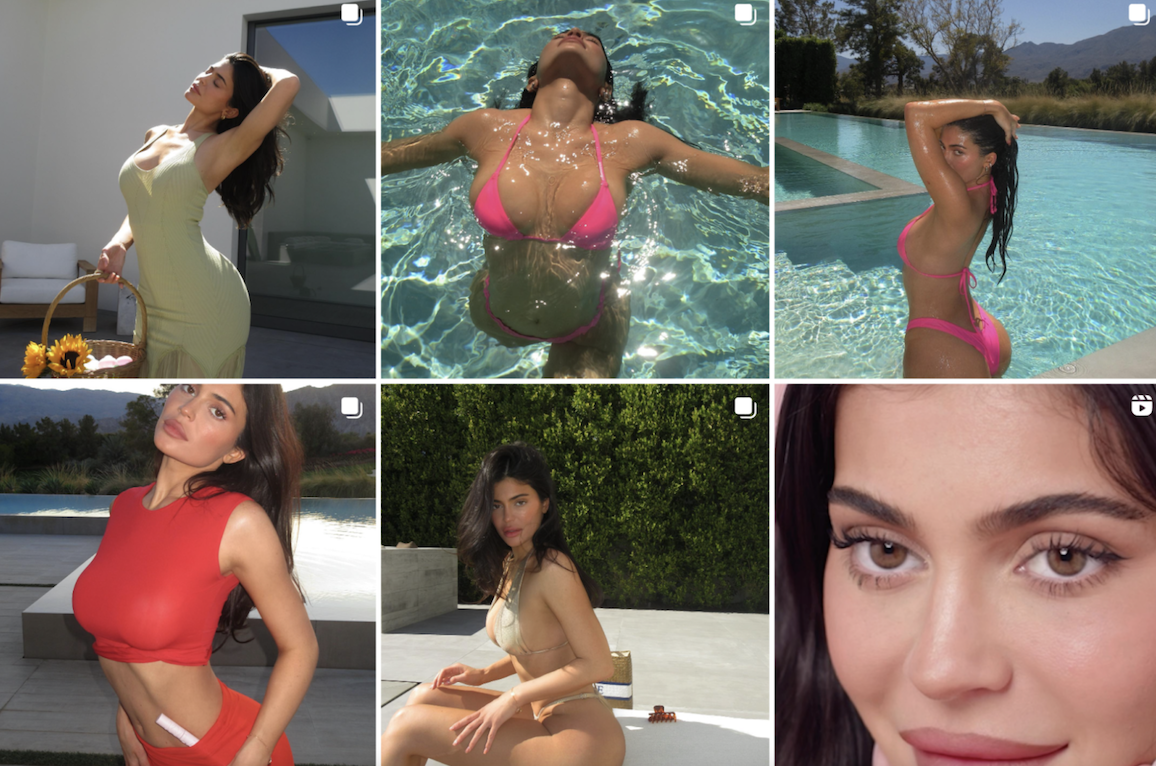 @kyliejenner Instagram

While the Kardashian clan may be known for their sultry and steamy content, Selena's wholesome and down-to-earth approach seems to have won over the hearts (and likes) of Instagram users.
Gen Z are no longer interested in the heavily edited and perfectly polished lifestyles of the original influencer family. Instead, they crave authenticity and relatability, which is why they're flocking towards more unfiltered influencers who aren't afraid to show their flaws and imperfections.
Kim K's St. Patrick's Day Pub Crawl: An attempt to stay relevant?
It seems like Kim K has finally caught on to the fact that the younger generation is over her luxury lifestyle.
Recently Kim swapped private jets and Cristal champagne for a black Hackney cab and a pint of Guinness as she did the unthinkable: a pub crawl in London. But was she just doing this in an attempt to show the world that she's just like us? Many Twitter users seem to think so.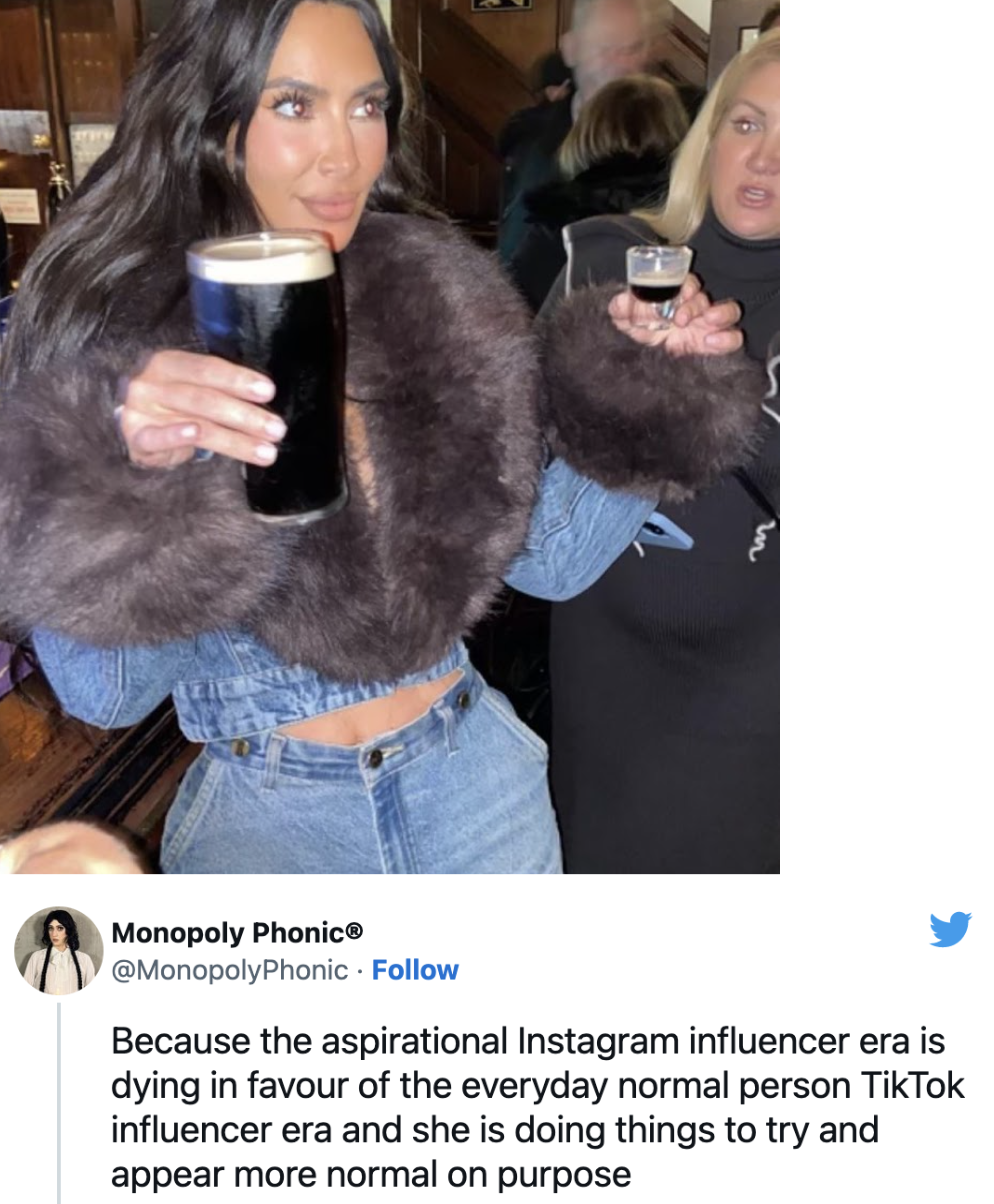 Comedian, Celeste Barber, who is also in her 40s like Kim, has been able to win over audiences with her self-deprecating humour and unfiltered personality - often 'recreating' filtered snaps from celebrities like Kim with her own authentic twist.
The main difference with these two women is their relatability. While Celeste has built her brand on being authentic and showing the messy, unfiltered side of life, Kim's brand has always been about perfection and unattainable beauty standards.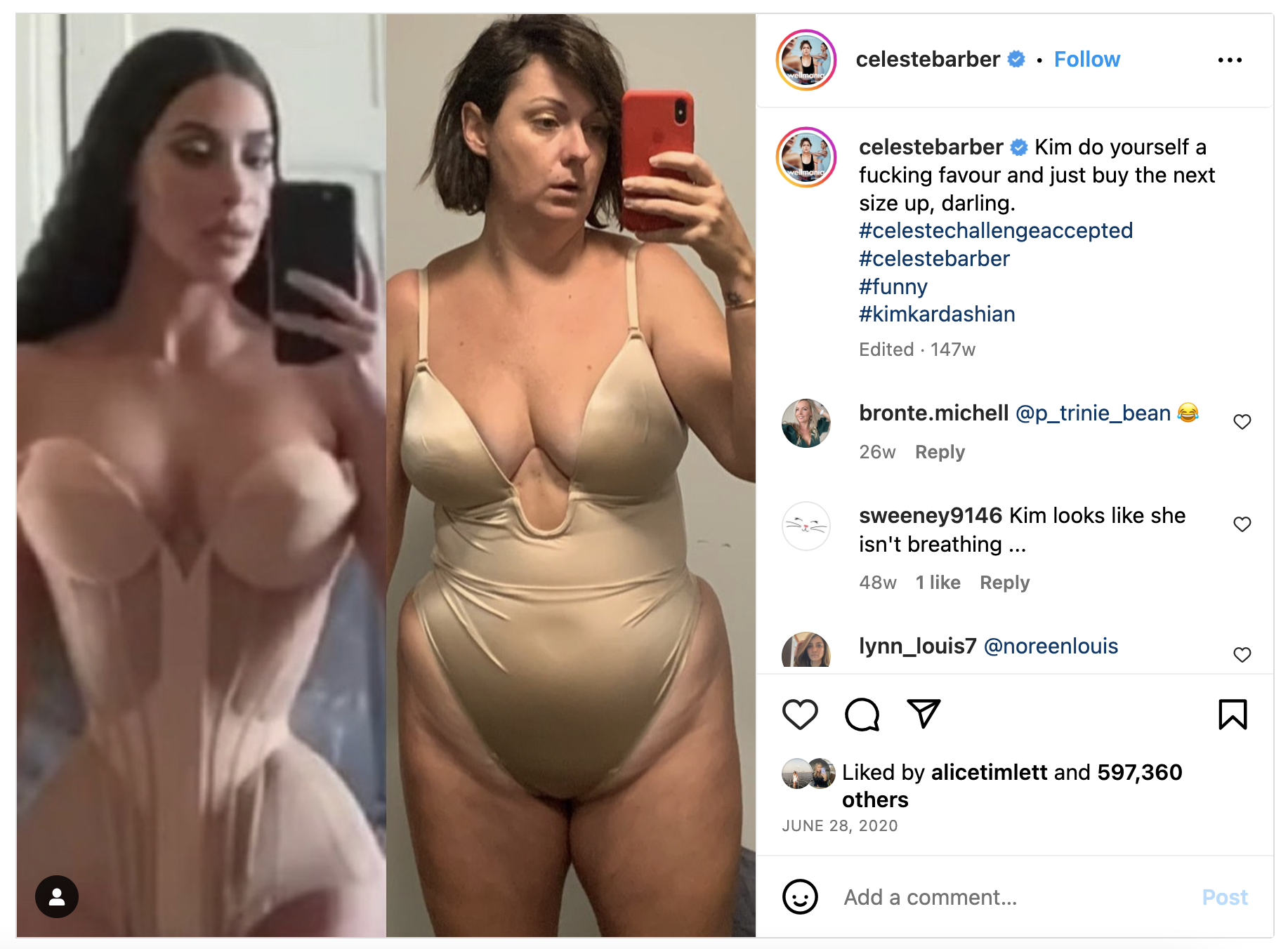 From breaking the internet to breaking hearts: Kardashian news sentiment takes a dive
The Kardashians have managed to rub many people up the wrong way recently, resulting in a sharp decline in public perception. Whether it's Kim's ill-advised Marilyn Monroe dress at the Met Gala or Kylie's private jet travel news, sentiment towards the famous family has taken a nosedive in recent months.
Kim strikes again: Marilyn dress raises eyebrows and tempers at Met Gala
When Kim Kardashian stepped onto the red carpet at the 2022 Met Gala wearing a vintage Marilyn Monroe-inspired dress, controversy quickly followed.
Many accused the reality star of attempting to grab attention in an undignified way, arguing that her choice of attire was insensitive and out of touch. 
Prolific fashion designer Bob Mackie has designed clothing for Cher, Barbara Streisand and Elton John and he drew the original sketch for the famous gown in 1962.
Bob deemed the 2022 dress debacle a mistake, telling Entertainment Weekly the dress was made for Marilyn and nobody else should ever be seen in it.
Things went from bad to worse when Kim revealed she had crash dieted to lose 21 pounds in order to fit into the 60-year-old dress, Kim was branded out-of-touch by health and fitness experts for promoting unhealthy and unrealistic body standards.
While the Kardashian clan is known for pushing the boundaries of fashion, this outfit choice missed the mark and may have contributed to her speculated frosty relationship with the Met Gala's organiser and Vogue editor Anna Wintour.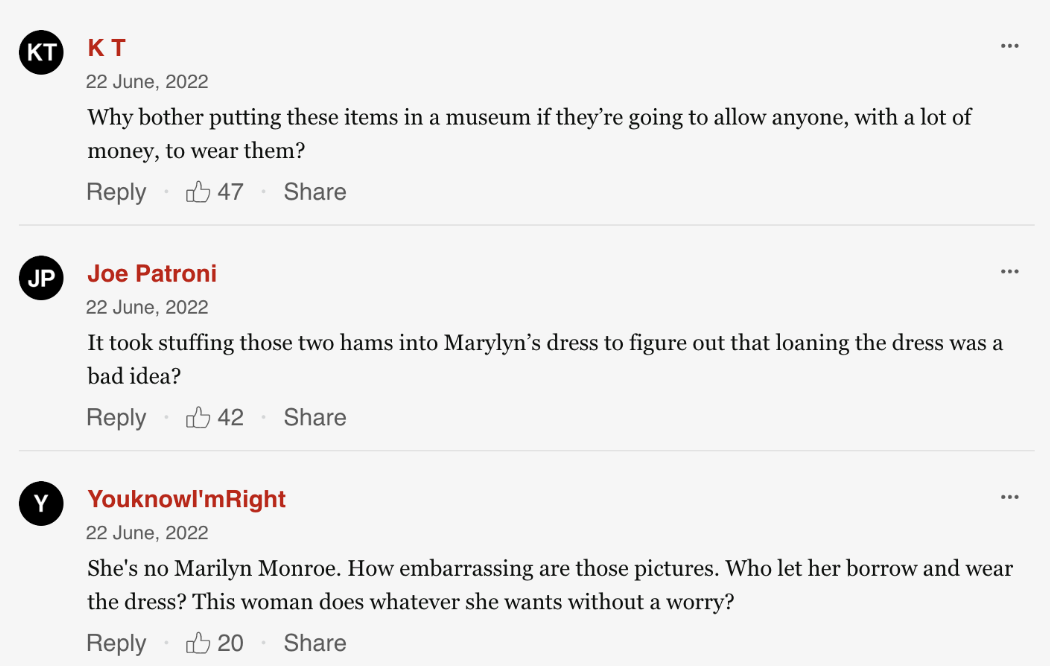 Jet-setting Jenner:  Kylie's 17-minute private jet flight sparks controversy 
As the younger generation becomes increasingly aware of their own environmental and climate impacts, Kylie Jenner's ostentatious displays of wealth have only served to distance her from her once-adoring fan base.
For most of us, flying first class is the ultimate luxury experience that they dream about, but Kylie takes luxury to a whole new level by flying in her $72 million jet. Her jet features private chefs who whip up gourmet meals from the Kylie Air menu, top-shelf liquor and generous lounge areas for passengers to relax in.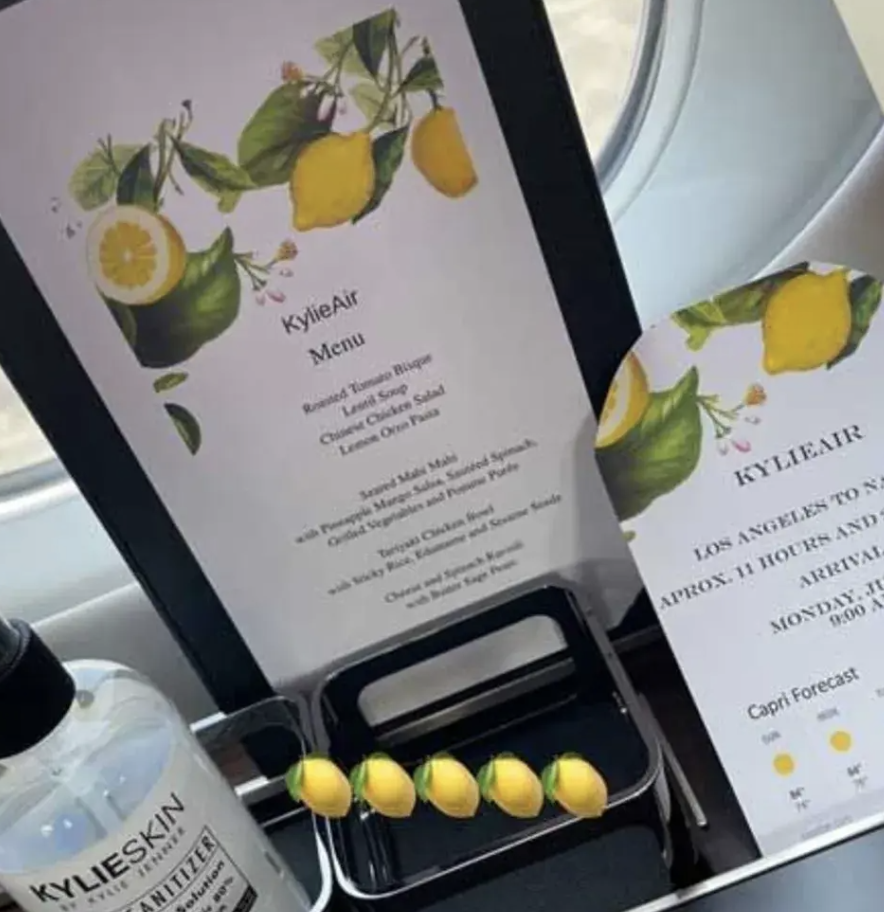 While a 17-minute private jet ride may seem like a luxurious convenience to some, for those concerned about the environment, Kylie Jenner's controversial flight only added to the ever-growing carbon footprint problem.
The unnecessary flight from Camarillo to Van Nuys would've taken just 40 minutes in a car and created a fraction of CO2 into the atmosphere, leaving many to wonder if her pursuit of glamour and convenience is worth the cost of a liveable planet.
Kardashian brand fatigue: How oversaturation hurts credibility
Have the original influencer family finally lost their influence? Many people have become disillusioned with the various brands and businesses associated with the Kardashian family.
We've seen makeup empires, clothing lines, tequila brands and even an app, so it's easy to understand why people struggle to keep up with the Kardashians. 
Followers of popular culture feel like the Kardashians are more concerned with making money than offering quality products.
In the age of TikTok, reviews are not only instant but can be detrimental to brand credibility, and while some may argue that any publicity is good publicity, it's hard to ignore the impact that these negative reviews can have on the Kardashian family's reputation.
Nobody wants to spend their hard-earned cash on an under-whelming lip gloss, especially when it comes with a Kardashian-sized price tag.
From hot to not: TikTokers say Kylie Cosmetics is in its 'flop era'
Kylie Jenner's Lip Kits were once the talk of social media, but now it seems like their reputation is finally taking a hit. 
TikTok users are particularly critical of the marketing behind the products, with one user criticising the brand for only attracting one-time purchases due to its cheap and cheesy branding.
Kylie's Lip Kits may have undergone some changes since their initial release, but people still haven't forgotten the original kits that were known for being drying and crusty.
On the other hand, Selena Gomez is winning over fans in the beauty world with her makeup line Rare Beauty.
In fact, Rare Beauty's search volume has increased by 262% over the last year with over 585,000 searches this month alone, while Kylie Cosmetics yearly search volume has declined by 5% with just 46,000 searches this month. This makes Rare Beauty's monthly search volume 1171% higher than Kylie Cosmetics.


Kylie Cosmetics search data

Selena has always been passionate about loving the skin you're in and embracing your natural beauty, and she's carried that mantra with her makeup brand - calling it 'a brand that's made to feel good in, without hiding what makes you unique' .

Rare Beauty's branding is soft and safe, with a big focus on mental health and positive affirmations. On the other hand, Kylie Cosmetics' branding can come off as more provocative and in-your-face.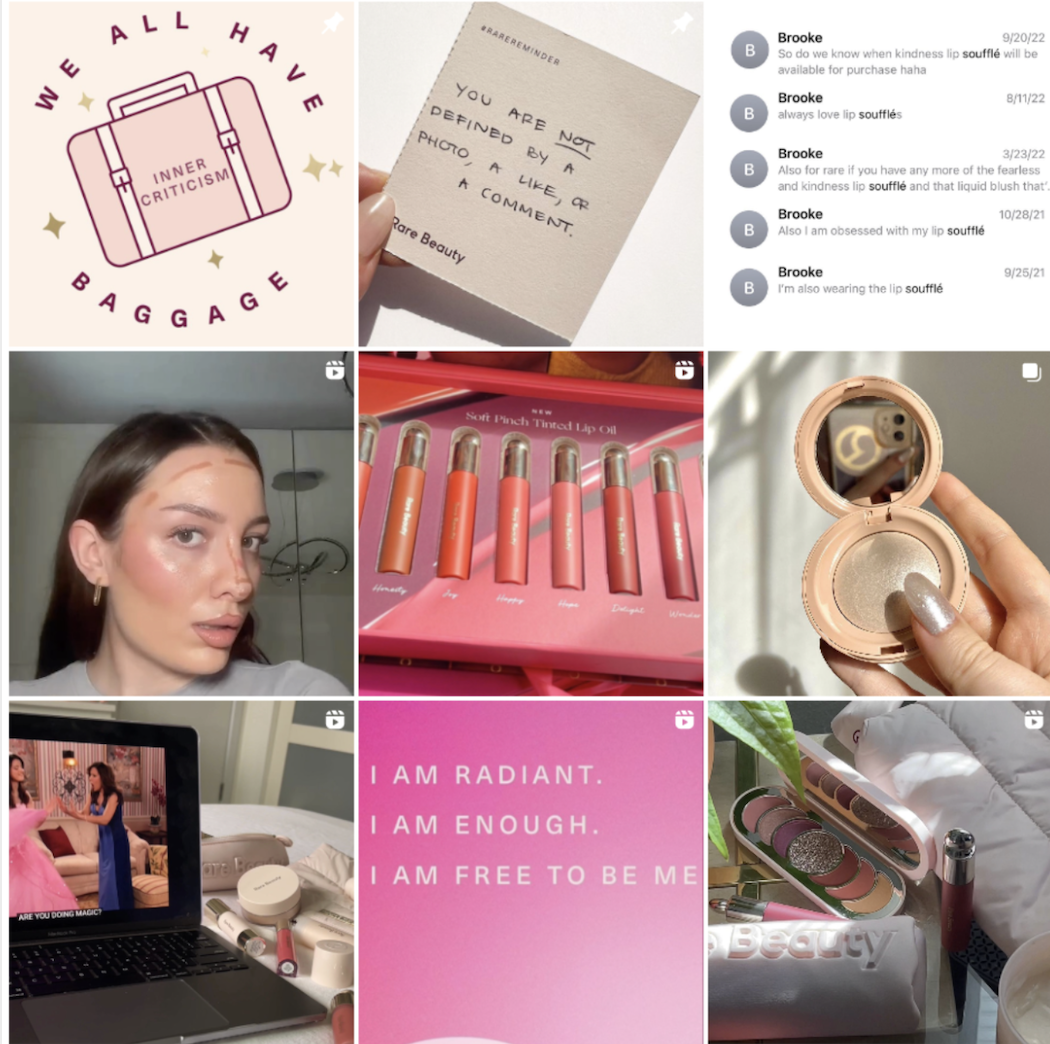 Credit: @rarebeauty Instagram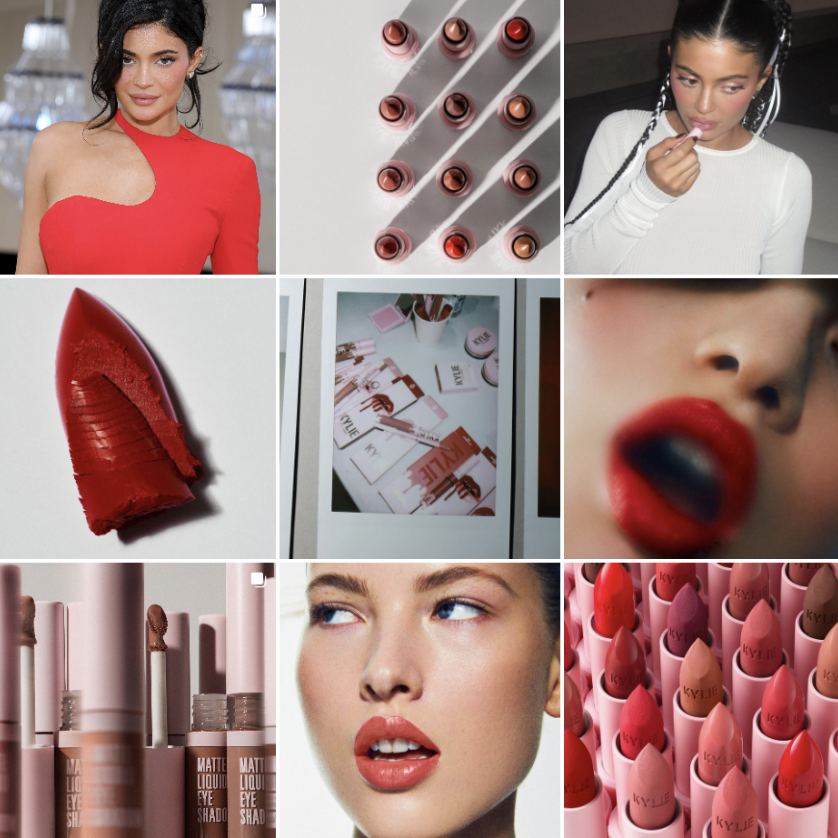 Credit: @kyliecosmetics Instagram
Could the reason Rare Beauty is surpassing Kylie Cosmetics in terms of popularity be down to the change in beauty standards?

While Kylie's brand soared to popularity in 2016 with her signature heavy makeup look, Gen Z, the demographic leading the charge, prefer a more natural and effortless approach to makeup. 
Skimping on Skims: Are unaffordable prices driving customers to dupes?
It's no secret that Skims has taken the fashion world by storm, being stocked in Harrods, Selfridges and luxury online retailers. However, as much as people love the brand's sleek, stylish pieces, the reality is that Skims products can be incredibly pricey, with a bodysuit alone costing £68.
Affordable alternatives that offer the same look without breaking the bank can be purchased from Bershka, Primark, Shein and TikTok shop. With prices starting at as little as £12.99, it's easy to see why fashion fans are looking elsewhere to achieve the same look.
As the popularity of Skims has increased, it's only natural for people to seek out dupes - search data shows that searches for Skims have increased by 91%, but searches for 'Skims dupes' have increased by 351%.

Search Data for 'SKIMS DUPE'

Search Data for 'SKIMS'
Not everyone has the privilege of being able to afford luxury prices, and for many people, Skims is simply out of reach.
Maybe it's time for Kim to come back down to earth and realise that not everyone can spend that much money on undergarments.
There is no denying the significant impact the Kardashian-Jenner family has had on popular culture over the past decade.
But with viewership, followers and relevance falling, the Gen Z audience have swapped the aspirational luxury of the Kardashians for celebrities they can resonate with.
While they may no longer hold the same level of influence they once did, their impact on popular culture will remain undeniable.
Our talented Digital PR team can develop a creative, results-driven digital PR campaign for you, helping you increase brand awareness and boost search. If our study has inspired you, get in touch today.