How to nail your reactive stories
While bigger, hero digital PR campaigns will likely always have a place in your strategy, smaller, reactive efforts will help you gain consistent and relevant coverage and links throughout the year.
Unfortunately just being reactive doesn't equate to digital PR success any more, instead, getting your client covered in press means being proactive instead of holding out for chances to come your way. So, what's the deal with reactive and proactive PR, and how can you get more coverage?
Moving from reactive to proactive PR means looking ahead. It's not possible to guess what is going to happen in the future, but you can keep an eye out for what might get talked about. For example, take a look at the year before's news and see what events and subjects made the headlines. 
That being said, it's not wise to jump on every trending topic. Choose the ones that fit your brand and audience. How? Prepare potential reactive stories ahead of time, offer help to journalists, provide a spokesperson, and have your comments ready. Being proactive means shaping the stories that surround your brand, rather than just reacting to them.
Before we delve into how to nail your reactive digital PR process, we first need to address what it is.
What is reactive PR?
So, what exactly does the term 'reactive' mean when it comes to Digital PR? Whoever your client or expert is, there will be an opportunity to promote them in the press depending on their niche and the newsworthy topic at hand. 
It involves swiftly seizing opportunities for coverage and links in the press when a relevant story or news is published for your client. Unlike proactive digital PR, which involves planned campaigns to reach a target audience with specific messages, reactive digital PR relies on quick responses to news or events, making it sometimes challenging to predict opportunities.
Reactive Digital PR Opportunities  
Let's have a look at some past examples to get you in the swing of things - I've created a handy little table to show you how your client could've gotten in the press over the past year using reactive digital PR. 
| | Sector | Reactive Opportunity | How it was covered in the press | Link |
| --- | --- | --- | --- | --- |
| 1 | Entertainment | Taylor Swift Tour Demand | Taylor Swift UK tickets: Expert tips to help secure yours | https://www.thenational.scot/news/national/uk-today/23604282.taylor-swift-uk-tickets-expert-tips-help-secure/ |
| 2 | Fashion | The Oscars | This is apparently the luckiest colour dress at the Oscars | https://www.marieclaire.co.uk/news/fashion-news/luckiest-dress-colour-oscars-646783 |
| 3 | Food & Drink | The Coronation | Heinz honour King Charles with limited edition coronation themed Kingchup bottles | https://www.yorkshireeveningpost.co.uk/read-this/heinz-honour-king-charles-with-limited-edition-coronation-themed-kingchup-bottles-4118285 |
| 4 | Housing | High Mortgage Interest Rates | Mortgage cost rises: how other countries compare with the UK | https://www.theguardian.com/money/2023/jun/20/mortgage-cost-rises-just-dont-happen-here-how-other-countries-compare-with-the-uk |
| 5 | Automotive | F1 | The real-life supercars F1 racers drive off the track revealed | https://www.thesun.co.uk/motors/23106740/real-life-supercars-f1-racers-revealed/ |
| 6 | Jewellery | The Comeback of Crocs | You can now propose with an engagement ring charm for your Crocs | https://www.mirror.co.uk/news/weird-news/you-can-now-propose-engagement-30430959 |
| 7 | Employment | Viral TikTok Career Trends | How TikTok's 'Lazy Girl Job' trend may negatively impact employees | https://www.indy100.com/tiktok/lazy-girl-job-tiktok-trend-expert |
| 8 | Furniture | Barbie Film Release | This New Furniture Line Achieves the Most Elegant Barbiecore Look Yet | https://www.bhg.com/joybird-barbie-dreamhouse-furniture-collection-7557724 |
| 9 | Marketing | The Nepo Baby Backlash | Kim Kardashian is top 'nepo baby' of all with $1.8B — see who else ranks | https://nypost.com/2023/01/12/top-nepo-baby-is-kim-kardashian-with-1-8b-see-who-else-ranks/ |
| 10 | Music | Eurovision | Songs that could win Eurovision - Data reveals which acts are most likely to win | https://news.sky.com/story/the-songs-that-could-win-eurovision-and-the-novelty-acts-to-look-out-for-12878831 |
| 11 | Children | Molly Mae's Baby | The most popular Disney-inspired baby names revealed | https://www.cosmopolitan.com/uk/reports/a42731679/disney-inspired-baby-names/ |
| 12 | Beauty | Love Island | Searches For Cosmetic Procedures Rise After Love Island Episodes | https://www.bustle.com/wellness/new-study-finds-link-between-love-island-cosmetic-procedures |
| 13 | Travel | Barbie Film Release | Got Barbie fever? Cure your candy-coloured cravings at the world's best pink beaches | https://metro.co.uk/2023/07/26/the-worlds-best-pink-beaches-have-been-revealed-19189371/ |
| 14 | Interior | The Crown Season 5 | Highlandcore is the regal countryside-inspired interiors trend we can't get enough of | https://www.stylist.co.uk/home/highlandcore-interiors-trend/746178 |
| 15 | Cyber Security | Cost of Living Crisis | Cost of living crisis creating opportunities for fraudsters, experts warn | https://www.independent.co.uk/news/business/news/fraud-scam-internet-shopping-deals-b2289963.html |
Keeping a keen eye on the digital landscape is essential for nailing your reactive Digital PR to source an opportunity to shine a spotlight on your client.
Whether it's connecting your client to a viral TikTok trend, a significant pop culture moment or a seasonal event, by spotting those golden moments in the press you can secure media coverage and valuable backlinks.
Being proactive with your reactive digital PR allows you to maintain a consistent presence in the press. By actively planning and responding to news you can achieve steady links throughout the year, rather than just merely reacting and relying on news to occur. 
Five ways to nail your reactive digital PR  
Fortunately, there are some rules you can follow to maximise the success of your reactive digital PR. I've listed some of the key things the team at Evoluted like to incorporate into our reactive stories:
1. [Insert pop culture theme]

Although reactive digital PR isn't often something you can plan for in advance. You can stay ahead of the curve by researching what TV/films or events will likely be talked about in the near future. By having an armour of pre-scheduled content at hand, you can capitalise on the connection between your client and the breaking news.
In the world of pop culture, things move fast, so you need to jump on an opportunity when it arises. Back in January, there was a huge backlash about nepo babies and how common nepotism was within the entertainment industry. Especially thanks to the infamous Vulture article released the month before.  As a marketing agency, we moved fast and used our expertise as data analysts to research which nepo baby was the most successful by taking into consideration the celeb's fame score, net worth, Google searches and social media following.
Unfortunately, this direct link to pop culture doesn't come as easy for other sectors. So, for our health & fitness client, it was best to plan in advance. We knew The Batman was going to be a big talking point upon its release, so we linked our experts with the diets the actors had to undertake for past roles. 
Similarly, our car client isn't an obvious expert for lots of pop culture topics. In this scenario, you need to think outside the box and see what else they can be linked to. Road trips are one topic we have used to connect our motors expert with a pop culture topic. We researched the Bridgerton locations you can road trip around the UK because of the hype surrounding the Netflix period drama. 
2. Use your expertise 

Apart from building links, arguably one of the main purposes of digital PR is to help position your client as a thought leader and expert in their industry. 
Our insurance experts did just that, as we jumped on a story prior to the launch of an I'm a Celeb series, we utilised their knowledge as risk assessors to rank the most dangerous bushtucker trials. 
Also, when it was announced Kim K lost 16lbs for the Met Gala, it provided the perfect opportunity for our health and fitness client to advise on why losing that much weight during a short period was so dangerous. 
Expert fitness advice could also be applied to staying safe when exercising during Ramadan, so we compiled a list of diet and fitness recommendations for a planned reactive story. 
If you want to be better prepared, why not set up a 'client comment archive'? Keep a varied range of expert comments from your clients discussing a range of topics that are often covered in the news. This way, you can readily recycle them when relevant reactive opportunities emerge.
3. Showcase your studies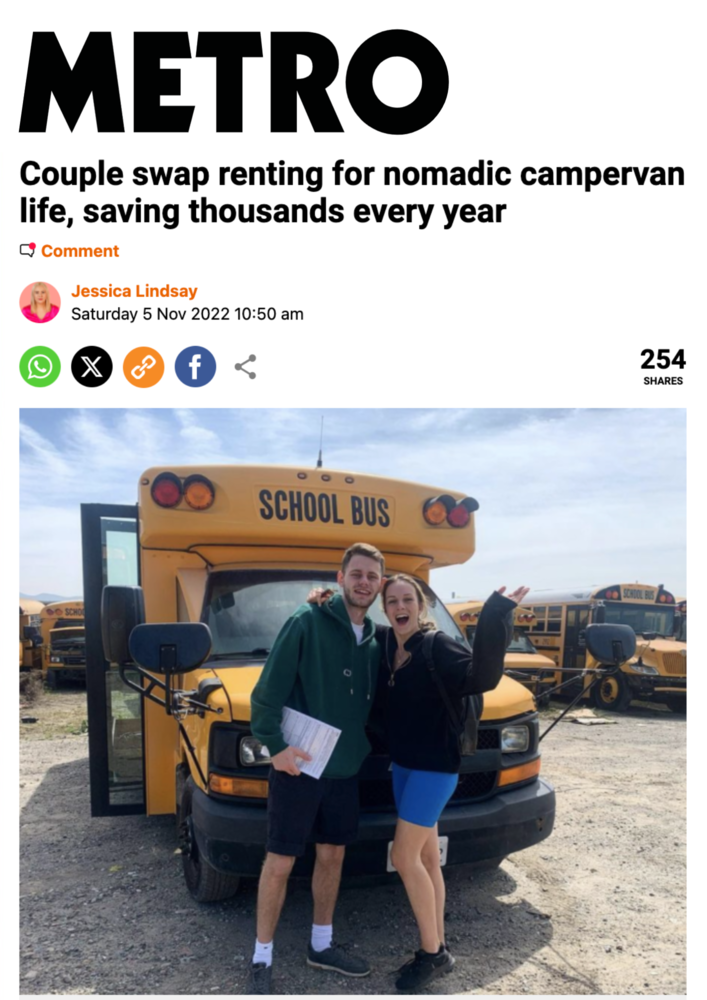 Looking to add more depth to your reactive piece? Case studies can enhance the quality and effectiveness of your article by providing real-world insights. Both journalists and readers like case studies as they allow readers to connect to an issue and identify with the person at the heart of the story. They also offer evidence to support your client's expertise and enhance the credibility of your press release.
Linking your case study with a timely and relevant press release is key. For instance, for our automotive client, we used the ever-relevant topic of the Cost of Living crisis to focus on a couple who had reduced their monthly outgoings by switching their house for a motorhome. This was picked up in the Daily Express and Metro and offered a unique and alternative insight during the crisis.
4. Stay hot, keep cool and season well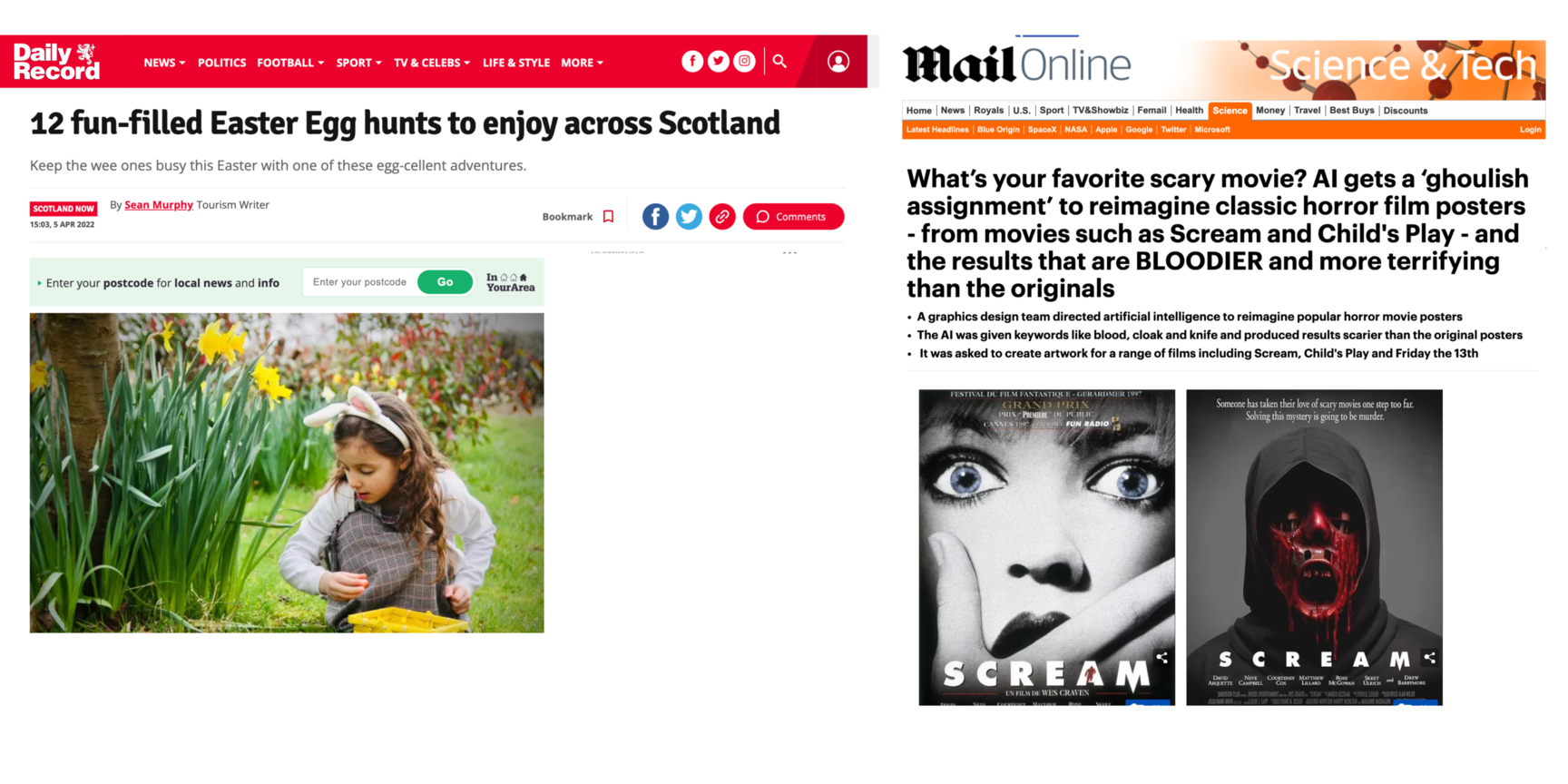 When planning in your reactive PR calendar, it's important to take into consideration world events, holidays, national events and seasons. Not only does this act as a source of inspiration for your ideation sessions, but it also helps you organise future planned reactive stories. 
Everyone in the digital marketing world knows how hard it can be to think of a story that responds and connects to whatever is happening in the world at that given time. Therefore, easing the pressure and planning potential stories in advance in accordance with a season or holiday can lighten your task load. 
To shine a light on Evoluted's creative skills, we used the spooky season to create a visual-led article that reinvented famous horror film posters, utilising AI. This was outreached during Halloween to improve our chances of receiving coverage - and it worked… the story amassed a wide range of coverage in Nerdist, UNILAD, Daily Mail and Bored Panda, among many others. 
For our automotive client, we again used the road trip association to create a reactive story in spring, about the best places to visit for an Easter egg hunt. 
5. Help a reporter out #journorequest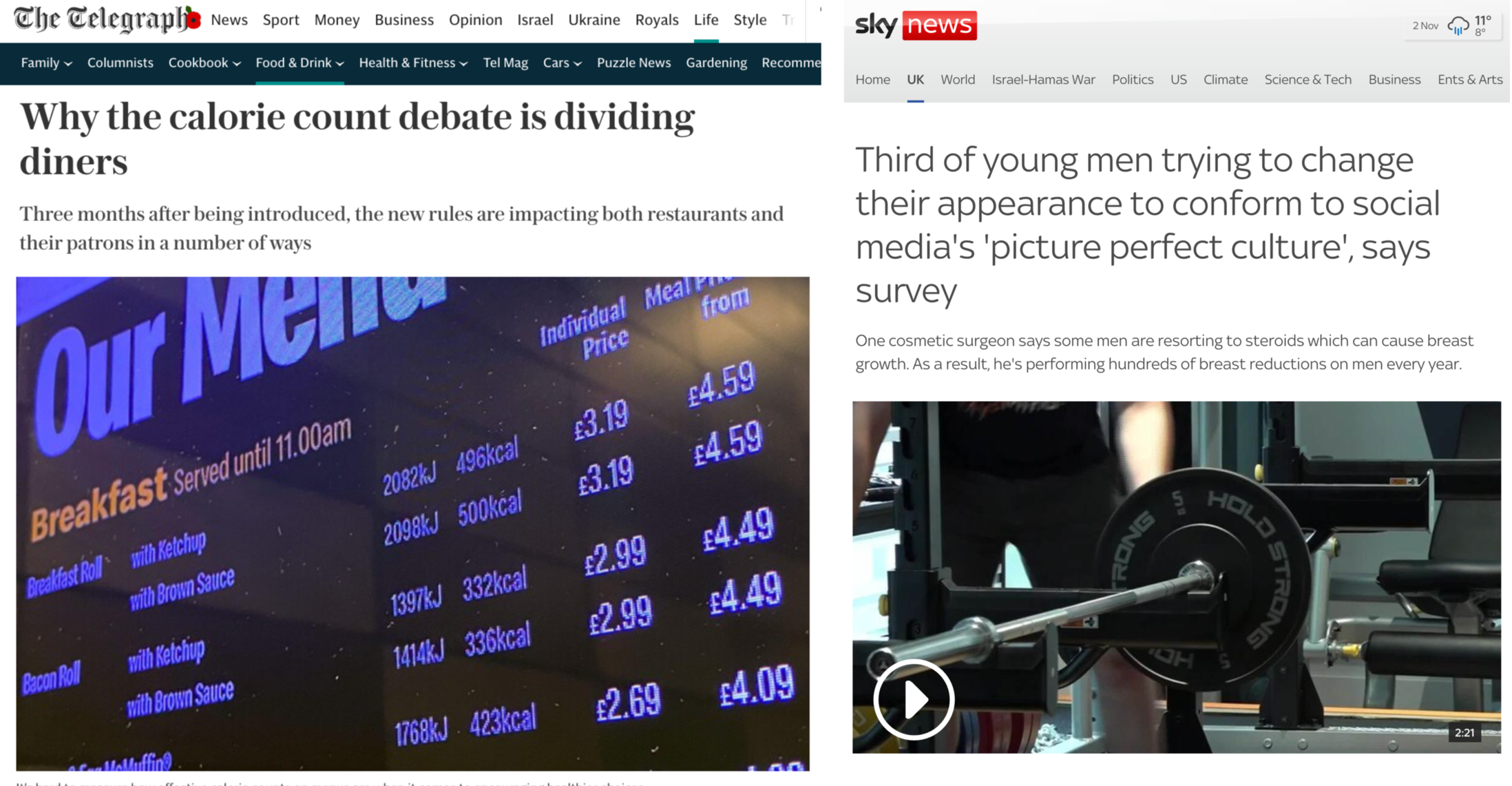 If anyone understands the importance of being reactive, then it's journalists. They are on a tight deadline to react to world news and happenings and might even need the help of the public, a PR or an expert. 
Using Twitter or a Help a Reporter Out (HARO) service you can connect your clients' experts with journalists. These (sometimes) free services allow journalists to submit requests for information on a particular topic, and receive responses from experts or case studies.
Alternatively, sources can sign up for requests on a platform or search '#journorequest' or '#journorequests' on X (formerly Twitter).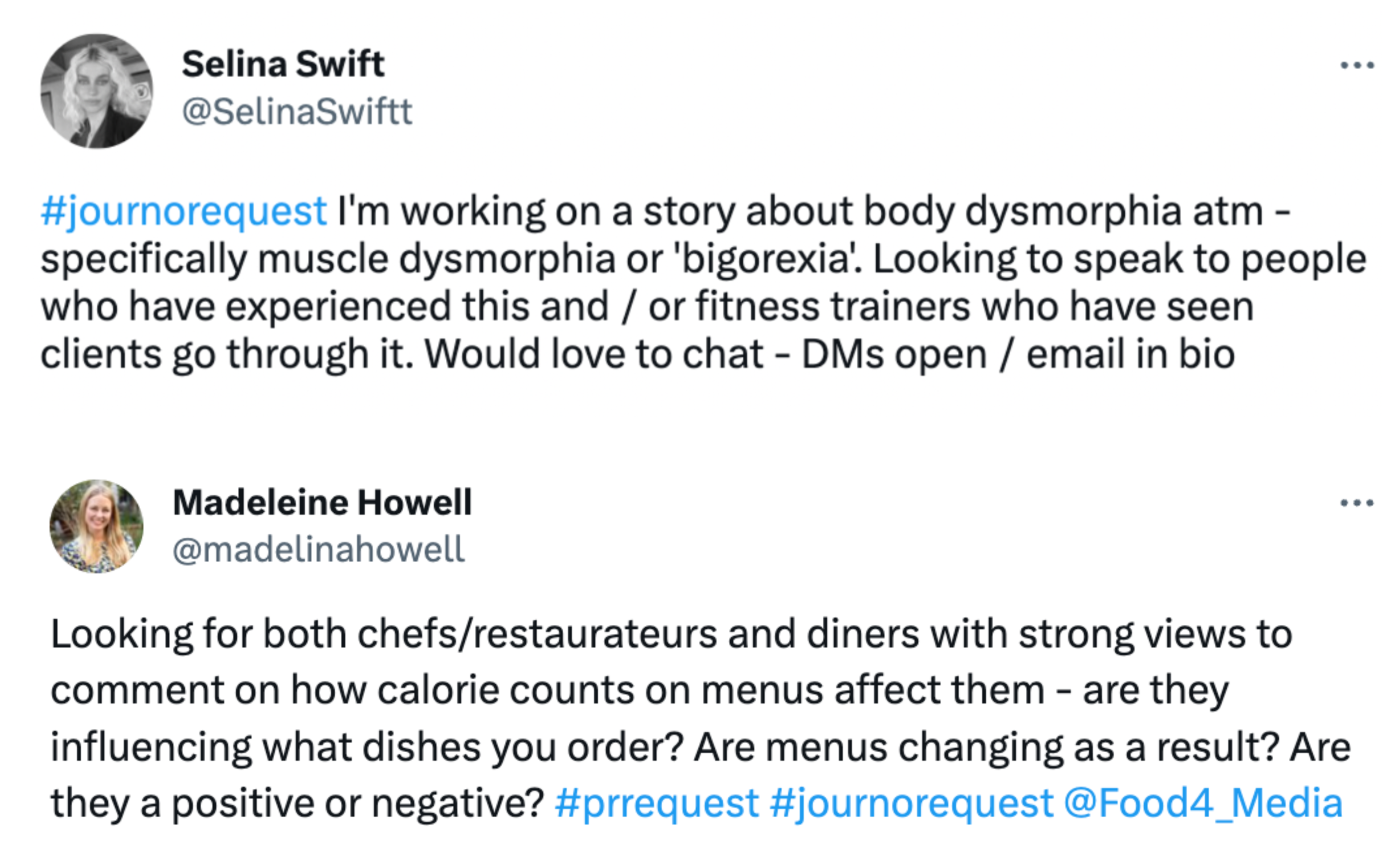 Most digital PRs will know landing a link in a high-profile publication can be tough, so if you can respond to a request and help a journalist from one of these publications, it can help you land some of your best coverage yet. Our client's experts from the fitness industry were able to provide commentary and stats to help journalists from The Telegraph and Sky News. 
In the fast-paced digital age, the significance of reactive stories in digital PR cannot be overstated. News breaks in seconds and trends evolve at the speed of a click, so the ability to craft timely, relevant, and authentic reactive stories is a game-changer for any digital PR strategy. 
Using these highlighted methods for your stories and reactive PR calendar, digital PRs can transform reactive moments into opportunities for coverage and backlinks.
Our talented Digital PR team is focused on developing creative, results-driven digital PR campaigns and activity to help you boost search visibility and brand awareness. If you think we can help you, get in touch today.