How To Optimise Google My Business Listings For Local SEO
For businesses operating within local areas or who have a bricks-and-mortar location from which you serve customers, implementing a Local SEO strategy is a core component to being found.
In fact, with almost 70% of online consumers searching for local businesses on a monthly basis, and 27% conducting daily searches, it's more important than ever as a local business owner to focus on making yourself as visible as possible in local search.
One key step towards success in Local SEO is claiming and verifying your Google My Business listing.
WHAT IS GOOGLE MY BUSINESS
Also known as a Business Knowledge Panel, Google My Business (GMB) is a free listing on Google which displays important information about your business directly in the search results.
Alongside presenting an easy way for you to manage your business's online presence, a GMB listing presents all the important information your customers would want to know when searching for you:
Business name

Business type

Website Link

Address

Opening hours

Phone number

Photos and images

Reviews

Questions and answers

Link to Google Maps

Social media links

And more!
On desktop your GMB listing is visible to the right of the organic and paid search results, but on mobile, it often appears as the top result, even above the usual organic listings.
WHAT ARE THE BENEFITS OF A GOOGLE MY BUSINESS LISTING
Google My Business enables your business information to show in the map-pack in search results, appear on Google Maps, represent your business in brand-name searches, and enhance your ability to rank for keywords which have a local intent.
A well optimised GMB listing also helps Google to learn more about your business, the products or services you provide, and the area you operate in.
The more Google is able to discover about your business, the wider the variety of search results you'll be eligible to appear for.
So it's fairly important!
HOW TO CLAIM YOUR GOOGLE MY BUSINESS LISTING
It's free, quick and easy to get your GMB listing set-up. Simply visit Google My Business, click "Start Now" and start filling in your basic business information.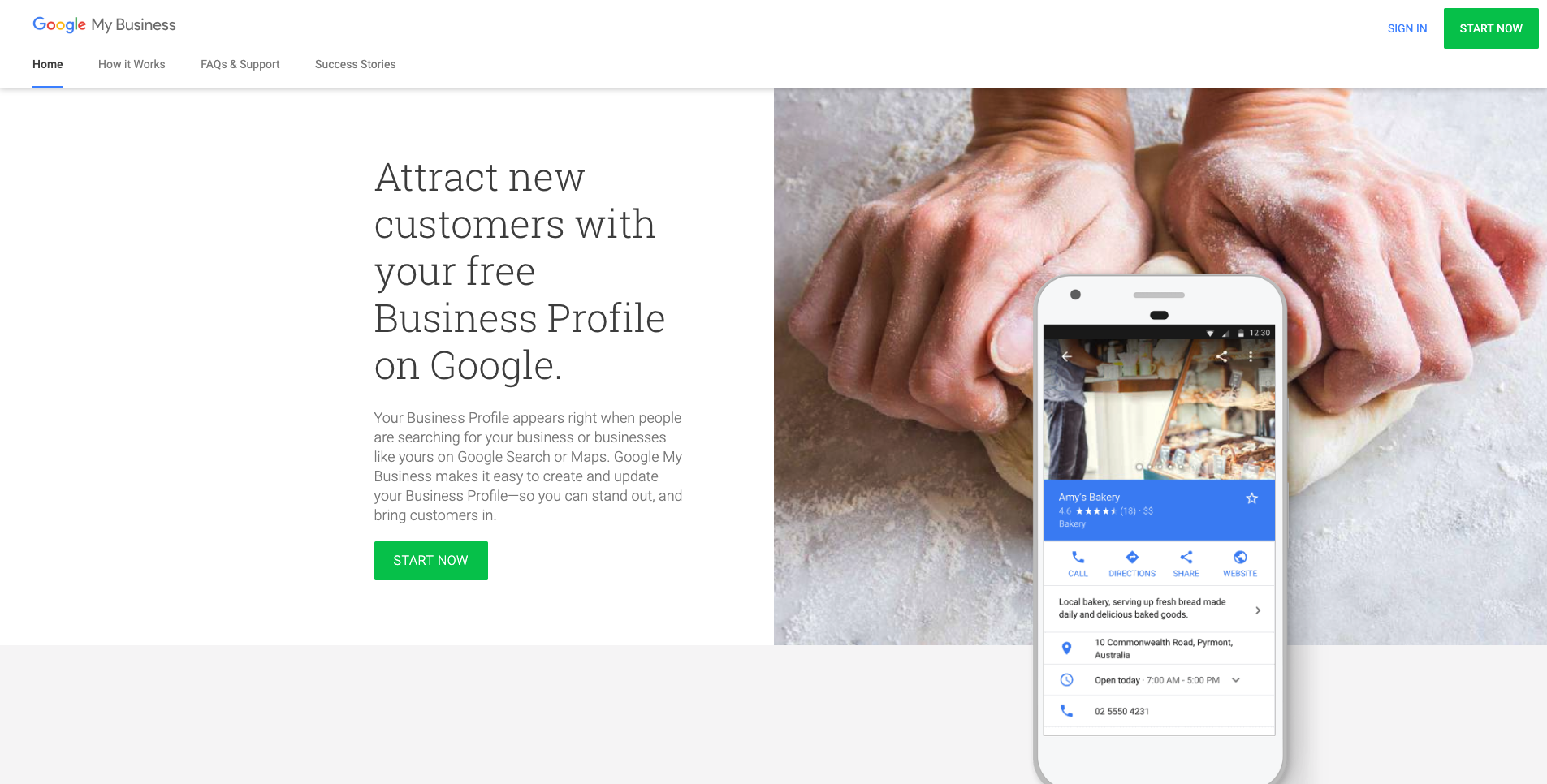 Be aware, that if your business has been visible online for a while, Google may already have created a listing for you. The easiest way to check this is to search for your business name and location in Google and see what comes up.
If a listing already exists, follow the same process as above using the same name you just searched for and you'll be guided through claiming the existing listing.
Fill out all the information you're asked for, being as comprehensive as you can and making sure to keep all your information accurate and grammatically correct.
Importantly, ensure that the information you provide here matches what's provided on your website too, especially your business name, physical address and phone number.
When it comes to picking a primary category for your business, find the category that's most specific to you. This can be difficult in some industries as there are a lot of similar categories to choose from. If you're unsure, search for some of your closest competitors listings and see what they're using.
Finally, you'll be asked whether you deliver goods or services to customers at their location. This option is for businesses who operate away from their physical offices, such as cleaning services.
VERIFYING YOUR GOOGLE MY BUSINESS LISTING
Before your listing can be fully completed, you'll be required to verify with Google that you actually have a business operating from the address provided. This is a security measure used to weed out illegitimate GMB listings, so whilst it adds a bit of extra friction, it ultimately benefits everyone.
Certain businesses will be eligible to verify listings via phone or email, or if you have set-up Google Search Console using the same email address, you may be able to verify instantly.
Often though, verification must be completed using old fashioned snail-mail. Google will send a postcard to your business address within 14-days containing a single-use code which must be entered online to complete the verification process.
HAVING TROUBLE GETTING SET UP?
Get in touch with the Evoluted team and we can take care of the process for you, including setting up and managing your Google My Business listings for multiple locations.
Once verification is complete, your Google My Business profile will be live and visible on the web. To check it simply search for your business name on Google and marvel in its glory!
HOW TO OPTIMISE YOUR GOOGLE MY BUSINESS LISTING
When properly utilised, Google My Business can be an amazing way to represent your brand online, drive customer loyalty, build trust and authority locally and, of course, increase sales.
To really make your GMB profile stand out and steal the limelight away from your competitors in search, it's time to make a few optimisations...
UPDATE YOUR DESCRIPTION
Alongside providing your main business information - name, website, phone number, etc. - GMB profiles also have a field for adding a Description of your business.
Not everyone who finds your profile through search will know who you are, so the Description area provides the ideal opportunity to let potential customers know who you are, what you do, and why they should choose you to satisfy their search.
To update your Description, login to your Google My Business dashboard and navigate to the Info option on the left-hand side.
The most common mistake many business owners make here is writing a single short paragraph just explaining what the business sells.

However, Google My Business allows you to add up to 750 characters to the Description field and we recommend making use of as many of those characters as you can.
Instead use this opportunity to talk about your products and services, core values, history and heritage, or awards that you've won. If you're a service based or B2B business, talk about the type of customers you work with or industries you have specialised knowledge of.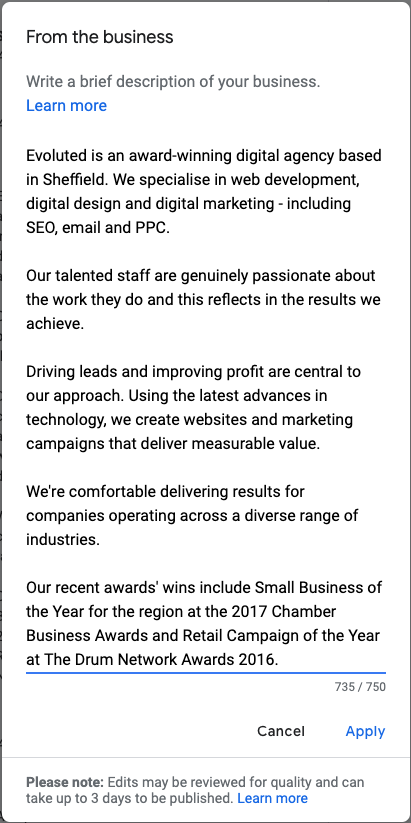 Plus, as with traditional search, you should think about how to include your most important keywords into your Description.

Using your main keywords or search phrases naturally within the Description can help Google in it's understanding of what your business offers and the types of searches you should potentially be shown for.
Extra Tip: Just like with any other content you create with SEO in mind, make sure not to over-stuff your keywords and phrases. Your description should appear natural and primarily be there to help users understand the services you offer.
ADD PLENTY OF PHOTOS
It's cliche but a picture is worth a thousand words and having a selection of well curated photos on your Google My Business profile is a great way to demonstrate trust and authenticity to customers.
The most prominent image on your GMB panel is your Cover photo.
Whenever someone sees your full knowledge panel or clicks on your map-pack listing, they'll see this cover image.

Choose a quality image for this high exposure position, rather than your brand logo. A logo doesn't speak to customers or stand out anywhere near as much as an appealing, high-resolution image which truly encompasses your brand, business or service offering.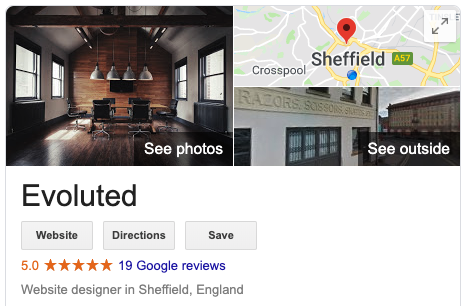 Evoluted's Cover Photo: Our listed building's meeting room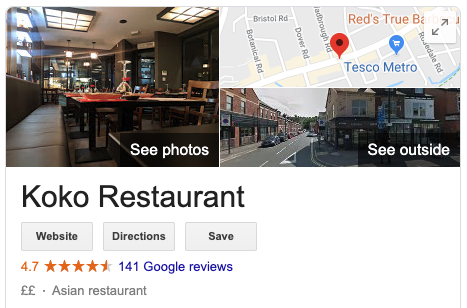 Koko's Cover Photo: A shot of their contemporary Japanese restaurant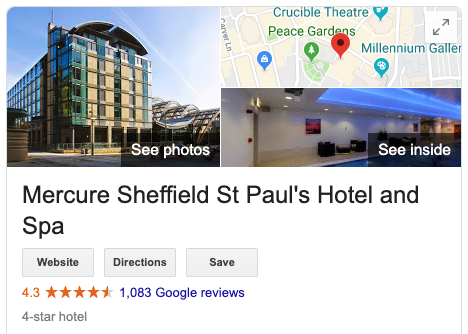 Mercure Hotels Cover Photo: Wide shot of their centrally located modern hotel
Google My Business also provides a series of other positions for you to upload photos into through the dashboard.
These include adding your logo, interior and exterior photos of your business's physical location, your team and any additional photos such as products, photos from awards nights, or anything else you feel would represent you well in search.
Google provide a series of guidelines for formatting photos and images ready for GMB:

Photos should be JPG or PNG files;

The files sizes should be between 10 KB and 5 MB;

Photos should be a minimum of 720px in height by 720px in width;

Photos should be high quality, not use filters excessively or have major alterations, representing the reality of your business.
Extra Tip: Your customers can also add their own photos of your business and their experience, whether that be eating at your restaurant, sharing photos of the clothes they just bought from you, or sharing a snap taken during a coffee meeting. For the right type of business, encouraging User Generated Content creation by asking customers to upload their own photos can really add to the strength of a profile.
USE QUESTIONS AND ANSWERS
To help users find out as much info on your business as they can in search, Google My Business has a useful Questions and Answers section on profiles.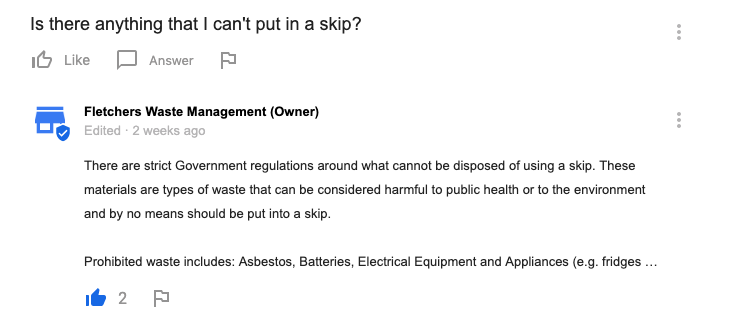 Here anyone can ask a question about your business and you're able to provide them with answers. Those questions then stay on your profile should anyone else have a similar query.
Unfortunately this feature is often overlooked and many questions are left unanswered. This leads to another caveat: anyone on Google can leave an answer to these questions.
That means rival business owners, unsatisfied customers, or people who don't know your business could step in and provide answers if you don't stay on top of things.
Thankfully if you spot someone abusing the Questions and Answer feature, either with appropriate answers, negative comments or just wrong information, you can easily report their answer to be reviewed and removed by the Google My Business team.
How about if no-one is asking any questions?

If you have an existing FAQs section on your website, or have a log of questions commonly asked by customers, just ask them yourself!
Making sure you have a Google account that uses your business name and logo, locate your GMB profile on Google, submit a question, then provide an answer.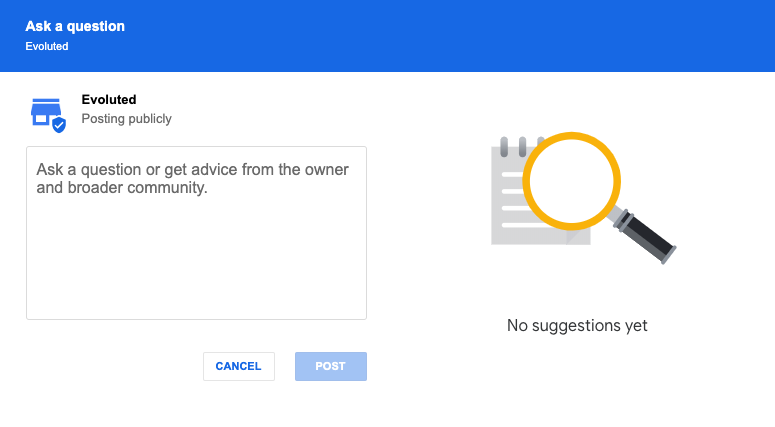 Pick out those you feel would be most useful to someone who finds your profile via search and add them in reverse order, so the question which gets asked last will appear at the top of your Q&A profile.
Whilst you obviously want to get users through to your website as fast as possible to increase the likelihood they convert into customers, answering common questions here first in an almost FAQ like manner helps to show searchers that a) you know what you're on about; and b) can get them exactly what they want.
Extra Tip: If you want to be really cheeky, nothing's stopping you from answering questions users have asked on competitors Google My Business Q&A profiles from your brand account and directing them to your business' alternative options!
COLLECT CUSTOMER REVIEWS
Here are a few good to know tidbits about online reviews for local businesses:
95% of 18-34 year olds check for reviews online before purchasing from a business they don't know;
In fact, almost 60% of internet users would rather find somewhere else to shop than trust someone with a rating below four out of five stars;
For those that cut the mustard, they will then need an average of 11 quality reviews before they can be trusted.
(Source: BrightLocal)
Without even taking into account the impact trust signals like reviews have on click through and conversion rates, it would be an understatement to say that it's more important than ever before to clearly and publicly display reviews about your business, products and services.
Handily, Google My Business allows you to request, respond to and publicly display ratings and reviews about your business right there in the Knowledge Panel.
Even if you use another provider like Trustpilot or Reviews.co.uk to collect the majority of your reviews, you should still make sure to have a good spread available on your GMB profile.
Let's conduct a search for 'gluten-free bakeries in sheffield', it's a clear local search so we get the triple map-pack right at the top of the SERP.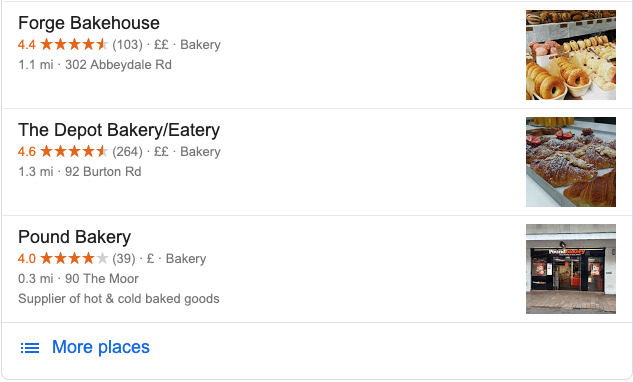 In second place here is The Depot Bakery (who do freakin' amazing doughnuts, by the way) and are boasting a pretty good 264 Google reviews.
Instantly as a searcher we start to develop an element of trust towards the business, "264 reviews and managing to retain a 4.6 overall rating - these guys must be good."
Now if The Depot Bakery used Trustpilot to collect those reviews, they might still have an amazing rating and lots of happy customers.

But in this triple-pack that's helping us decide where to buy doughnuts for the office, we wouldn't see anything, and in fact, they probably wouldn't even rank second in the map pack.
It's incredibly easy to get customers to leave reviews here too. If you service customers in person, just ask them to search for you on Google and leave a review.  
Alternatively, add a button to your website or even on your order confirmation emails, linking customers directly to your GMB reviews page where they'll see a big blue 'Write a review' button.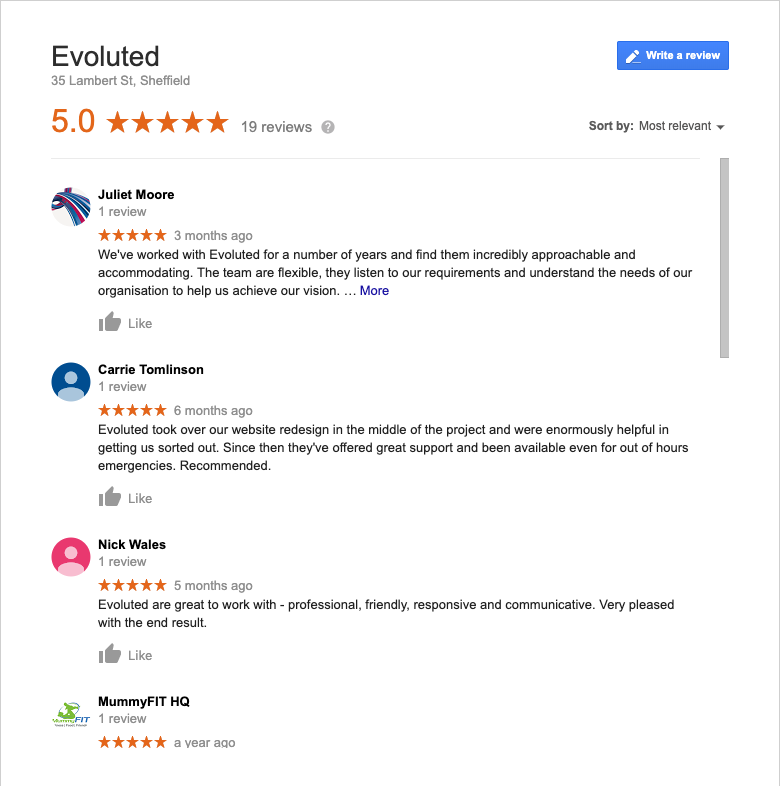 To get the link for this simply conduct a search for your brand name, click the reviews on your GMB profile, and copy the URL of your reviews.
As with any review platform, once the ratings start flying in you need to make sure to respond to as many reviews as possible.
Not only will this help you appear more trustworthy, with a 'real-person' behind the business, customers who leave reviews will feel more valued, and it will help to counteract the occasional negative review that comes through with a well-thought out response.
Finally, on the topic of negative reviews, if you feel a review has been left without justification, you can easily report it by clicking the Flag icon and following the instructions provided.

If you're concerned a review may potentially be fake, we've written a useful guide to help you spot and remove fake reviews.
Extra Tip: Did someone leave an amazing review for you on another platform that you'd love to have on your GMB listing? Reach out and ask them to cross-post it, or screenshot it and add it as a Photo or Post on your Google My Business profile!

SHARE POSTS REGULARLAY
Google My Business posts are the search results equivalent of updating your social media feed and have a variety of uses.
Posts allow you to add a short update along with an image or video, call-to-action, and a link, directly on your GMB listing in search and in Google Maps.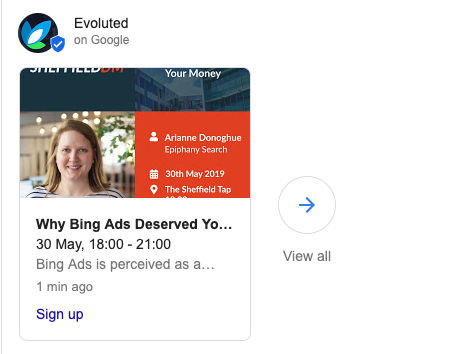 Added posts remain on the knowledge panel for a period of seven-days, after which they're relegated to a chronological feed accessible only by clicking 'View previous posts on Google'
Posts are really easy to add too.
Just login to your GMB dashboard, head over to Posts on the left-hand navigation and you'll be presented with a variety of different post types that can be created: Updates, Events, Offers, and Products.
It's fairly straightforward what to do from here, and you have plenty of freedom to play around and try out different post types and formats. The sky's the limit, but if you're struggling for inspiration here are a couple of example Posts:

Share a snippet, photo and link to your latest blog post

Featured in the news? You can add links to other websites too!

Celebrate the launch of your new product line with a limited time offer

Invite searchers to events you're hosting and keep your lead gen pipeline flowing
Extra Tip: Currently posts only appear on your Google My Business profile, but after shutting down Google+ and putting a new focus on 'Google Discover' it's likely that one day GMB Posts might be visible on users Discover feeds too.
CHOOSE MULTIPLE CATEGORIES
During the Google My Business set-up process you will have been prompted to select a primary category for your business listing. This category defines the main industry you operate in, or services you provide - for example 'Website Designer'.
The category you select has two main benefits:
Your GMB knowledge panel will prominently display your chosen category, helping searchers understand what it is you offer;



Your category will go towards helping Google understand your business as an entity, what it does, and how it is similar to other business entities. Ultimately this will help your GMB listing be shown for a wider array of searches.
The downside of organising your business into categories, is Google My Business includes a 'People Also Searched For' section on the GMB panel.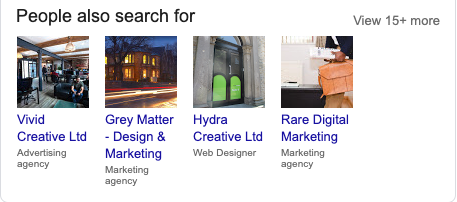 Here they list other local businesses similar to yours and the primary categories that they fit into.
The upside of this is that you can at a glance see who else is likely being visited by your target audience, the categories they're using and how they're setting up their GMB profiles to attract customers.
It can be a difficult process to select the right category. As Google continues to expand their list, many similar categories are appearing. For example, at Evoluted we could choose from either 'Internet Marketing Service' or 'Marketing Agency' or 'Advertising Agency' as our primary category!
Helpfully, Google My Business also allows you to select multiple categories to help describe what your business does. Choose as many that make sense without overdoing it and sending mixed messages about your business.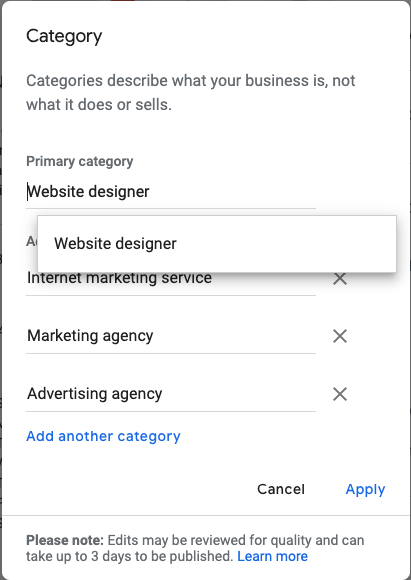 For example, whilst we host many of our clients websites, we chose not to use the 'Web Hosting Company' category as this feels to be more focused towards companies who primarily offer large scale web hosting services.
Don't get too hung up on Categories during your optimisation efforts, but choosing a good Primary Category and a couple of additional, relevant categories will set you down the right path.
Extra Tip: Just as similar businesses can show up on your Google My Business profile, by including yourself in relevant categories you increase the likelihood that someone spots your business on a competitor's profile!
LIST YOUR SERVICES
As a local business, you'll likely have a list of services available. Google My Business has a great feature to support this, allowing you to provide a 'menu' of services directly on your GMB listing.
The feature allows you to itemise your service list into categories, as well as detailing the name, description and price of each item listed.
Of course, the additional benefit of including a list of Services to your GMB profile is the opportunity to further widen your search visibility through individual product and service keywords.
To get started, navigate to the 'Info' tab on the Google My Business dashboard, scroll down a little way and click 'Services'.
You'll now be presented with the Services screen, where you can add a Section (Category) name and the details of your item. Once you've added a name, description and price click the Add button.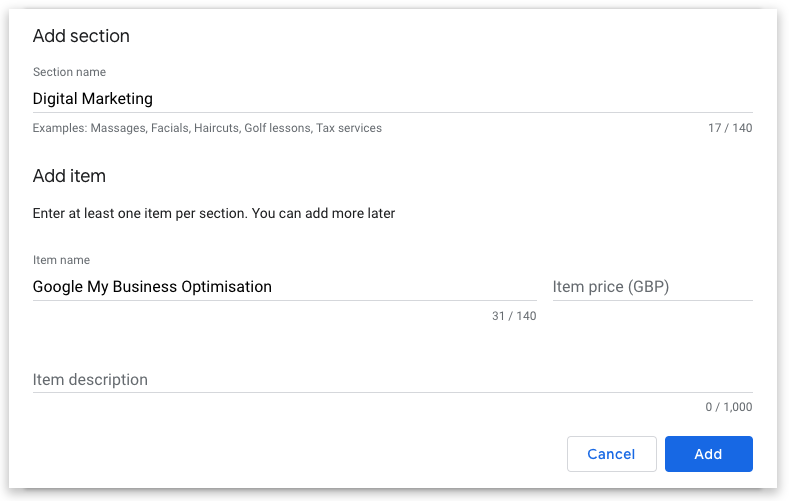 With your first product listed, you'll now have the opportunity to add more items or categories to your Services menu.
Oddly, this information will only be shown to searchers using a mobile device, however it's a great way to immediately engage a potential customer without requiring them to visit your site.
Extra Tip: If you are a food and drink business and have a literal menu, Services will be replaced with a Menu option instead. Unfortunately you'll have to add all your menu items by hand as there's no option to 'upload' a menu yet. However if you're website is laid out clearly, Google may automatically pick up your menu URL and link directly to this from your GMB profile instead.
MAKE USE OF GMB MESSAGING
Customers who reach your GMB listing by search can already make a phone call directly from your knowledge panel, but did you know they can now send you a direct message too?
Messaging is a great way to connect with potential customers, nurture leads and demonstrate outstanding levels of customer service.
Plus with text-based messaging systems now commonly used for customer-liaison, many people actually prefer to send a quick message to a business and await a reply rather than being required to make a phone call.
It's simple to get started with GMB Messaging - head over to either Google Play or the App Store and download the Google My Business app.
Log-in to the app with your GMB login information and follow the directions provided to get started with Messaging.

You can then also set the auto-response message that people will receive after they first send you a message and wait for you to respond.
Also of note, as with the prompt to Phone a business, the option to Message will only be available to users browsing from a mobile device.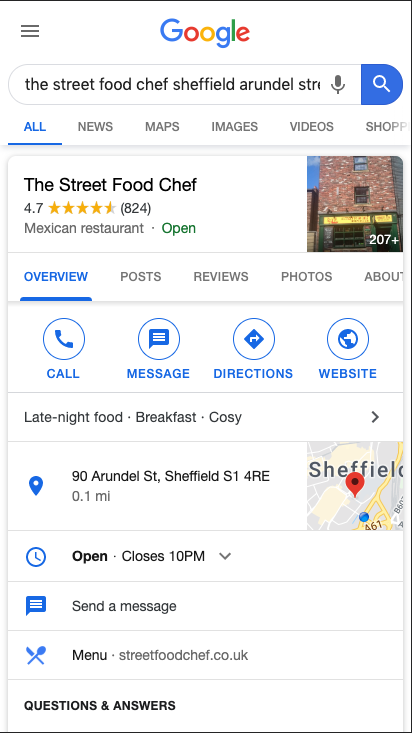 Messaging is a really useful tool for businesses who receive a good number of customer enquiries, however it can become difficult to manage if too many people start to message at once! Multiple users can log-in to the app though, so if you have a customer service team you can set them up with the GMB app ready to respond to any messages which come through.
Extra Tip: Installing the GMB app to use messaging has added benefits! With push notifications enabled you'll also be notified whenever someone asks a question on your listing, or leaves a review, so you can respond in a timely fashion and guarantee a top-quality customer experience.
OTHER TIPS
Whilst these extra tips won't quite be as effective as the rest towards optimising your Google My Business profile to support your local search campaigns, they are useful nuggets of knowledge to stash away for a later date.
KEEP YOUR PROFILE UP TO DATE
Because Google My Business is so closely intertwined with Google's local search algorithm, you can't treat it like a set-and-forget listing.
Keep your profile fresh and up to date by setting regular reminders to check information is accurate. If your website, contact email, logo, phone number or anything else changes, make sure the change is reflected on your GMB listing too.
Even a slight discrepancy between your contact and address info on your GMB profile compared to your website and other listings across the web could impact your ability to be found locally.
Extra Tip: Around holidays, Google My Business will prompt you to add special opening hours to be displayed on your GMB panel at specific times, for example the Easter or Christmas seasons.
TRACK VISITS TO YOUR WEBSITE FROM GOOGLE MY BUSINESS
There's no point putting all this work into creating a beautifully optimised listing if you have no way to track whether your efforts have contributed to your business goals.
You need a way to separate out who's visiting your website from your Google My Business listing!
If, like most business owners, you're using Google Analytics to track metrics relating to your website this is really simple.
All you need to do is add the following URL tracking parameters to the end of your website URL in the GMB dashboard: ?utmsource=gmb&utmmedium=organic
So mybusiness.co.uk will become mybusiness.co.uk?utmsource=gmb&utmmedium=organic
Got multiple Google My Business listings? Add &utm_campaign= to the end of the above and add a unique identifier for each listing after the '='
mybusiness.co.uk?utmsource=gmb&utmmedium=organic&utm_campaign=sheffield
mybusiness.co.uk?utmsource=gmb&utmmedium=organic&utm_campaign=london
Now when you look through your traffic reports in Google Analytics anyone who visited your website through your Google My Business profile will show up as gmb / organic allowing you to separate them out, but still include them within Organic traffic reports.
If you've added a specific appointments URL to your profile you can do the same here too.
Extra Tip: If you use call-tracking you can add a unique tracked phone number to your listings Phone field to see how many calls your GMB listing generates!
KEEP AN EYE OUT FOR SUGGESTED EDITS ON YOUR PROFILE
Many business owners and GMB managers don't actually realise that anyone can suggest an edit to the information you've provided on your profile.
Yes, that includes unscrupulous local competitors.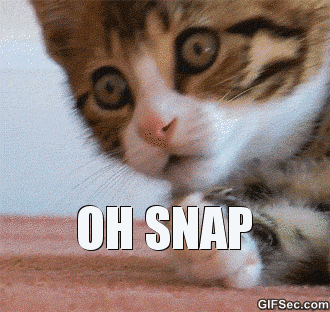 When someone comes across your Google My Business listing, there's a fairly easy to spot 'Suggest an edit' button
Once opened, they can make some fairly large edits too or even suggest that your business has closed!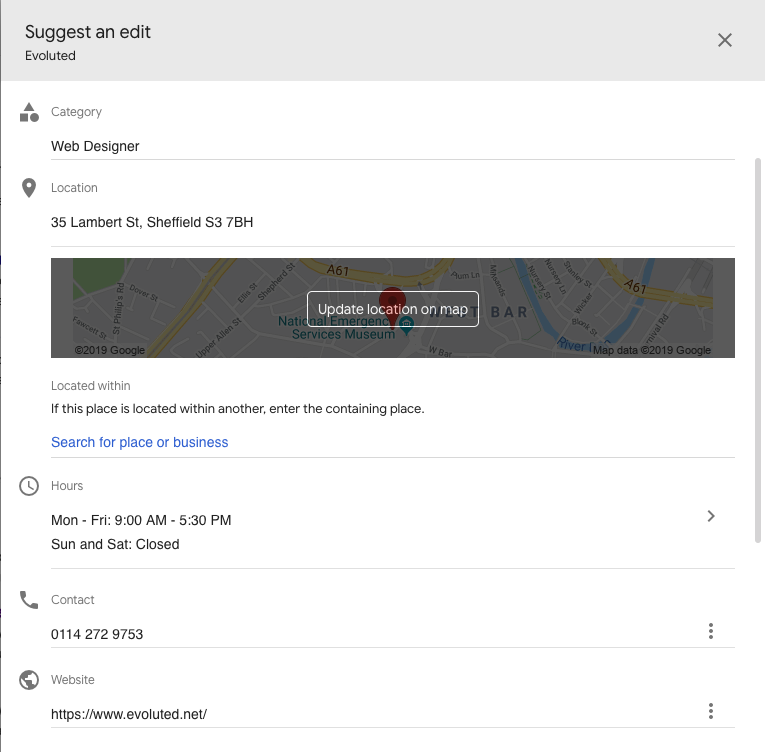 Worse still, although these are called Suggested Edits, any changes made have the potential to be made live without you even knowing.
GMB should send you a notification email whenever something like this happens, but just to be sure set aside ten minutes every so often to do a once-over of your listing, making sure all the info is as it should be.
Extra Tip: This is very different to the 'Answer quick questions' feature on your GMB panel. This is Google's way of building up wider knowledge of your business entity to support a wider number of local search queries.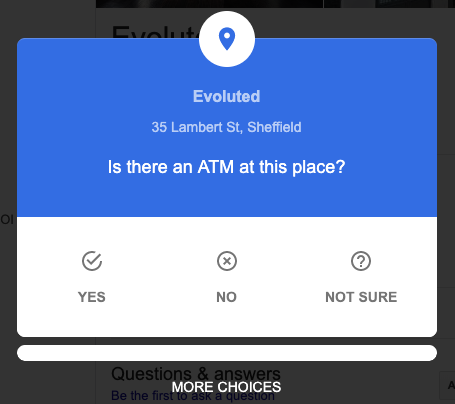 DON'T FORGET ABOUT BING
Bing have their own version of Google My Business, known as Bing Places for Business.
Bing Places has many of the same features of GMB, allowing you to manage your business's reputation and local search appearance across the Bing search engine too.
With anywhere from 10%-plus of searches still being made through Bing (higher for older age groups), it's definitely worth getting in on Bing Places too.

Extra Tip: Even more than Google, Bing likes to pull extra information about businesses onto its knowledge panels from other sources, like Facebook, Trip Advisor, and Yell. Make sure to keep your business profiles on these platforms up to date, with good reviews, photos and content, much in the same way you've optimised your GMB profile!
WHAT'S NEXT FOR GOOGLE MY BUSINESS?
By now I hope you're full of ideas and inspiration to start updating and optimising your GMB profile.
As Google continues to evolve and combine its multiple facets into one centralised search experience, you should expect to see many additional features begin to arrive for Google My Business listings.
Worryingly, it has been implied that Google may start charging business owners for certain new, and even existing, GMB features, essentially making local search become a pay-to-win environment.
Until that happens, keep updating, keep posting, keep optimising and most of all, make sure you provide a fabulous experience for your customers across your own website, and within search results.

Need help with your Google My Business Profile? Get in touch with us today.