The Sheffield DM Summer 2023 Lunch Guide
As Sheffield DM Summer 2023 approaches, we're so excited for what promises to be the biggest event yet. With multiple stages, an upgraded venue at The Octagon, and an incredible lineup of speakers, you're in for an amazing day packed with knowledge and networking opportunities. 
We're kicking off the day with free pastries for all attendees in the morning, along with a variety of hot and cold drinks served throughout the day to keep your energy levels up. However, when it comes to lunch, we'd like to encourage you to explore and support local businesses in Sheffield.
Sheffield has a thriving local culinary scene, but now more than ever, we need to 'use it, or lose it'. Our local businesses create jobs, provide unique products and services, and help maintain the distinct character of Sheffield, so we'd encourage you to please invest in them. 
And remember, "when you shop locally, a small business owner does a little happy dance"...
Local lunch spots for Sheffield DM Summer 2023 event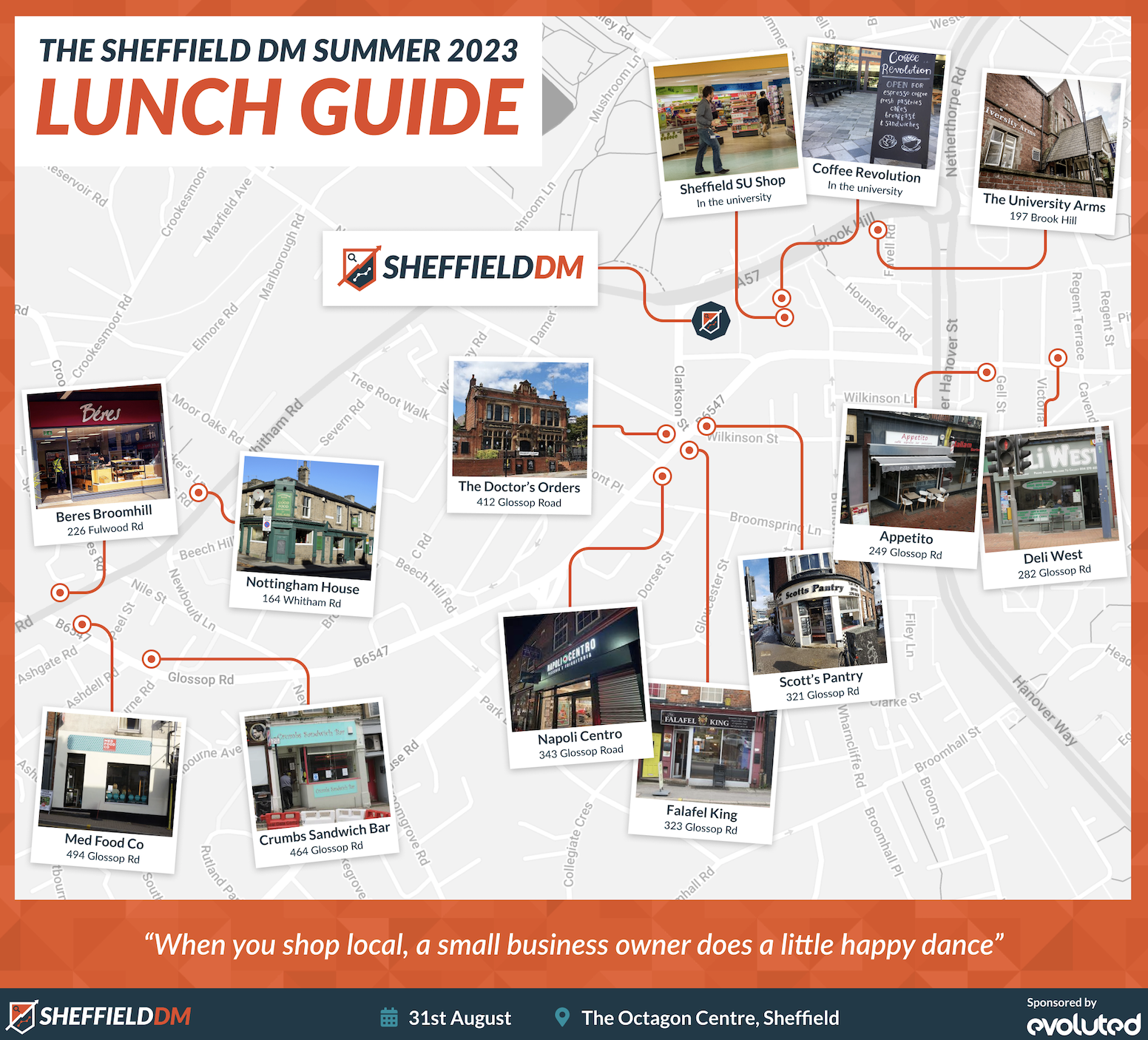 Here's a list of fantastic local eateries near The Octagon where you can grab a delicious lunch during the Sheffield DM Summer 2023 event:
Coffee Revolution - 1 min walk (In the university): 
Coffee Revolution is in Sheffield Student Union. Led by current and former Sheffield students, local suppliers, sustainability and quality at the core of the shop.
Sheffield SU Shop - 1 min walk (In the university): 
Check out their range of sandwiches, wraps, and snacks for a quick and convenient lunch option.
Falafel King - 3 min walk (323 Glossop Rd): 
Indulge in Middle Eastern flavours with their delicious falafel wraps.
Scott's Pantry - 3 min walk (321 Glossop Rd):
A cosy spot offering hot and cold sandwiches, salads, and jacket potatoes.
The University Arms - 3 min walk (197 Brook Hill): 
Good old fashioned pub grub, from chip butties and fish finger sandwiches to their famous pie of the day.
The Doctor's Orders - 3 min walk (412 Glossop Road):
Delight in a diverse menu featuring sandwiches, burgers, loaded fries and more.
Napoli Centro Pizzeria - 4 min walk (343 Glossop Road): 
Try authentic, delicious Italian pizzas and fritti dishes.
Appetito - 6 min walk (249 Glossop Rd): 
Italian cafe offering pasta dishes, pizzas & sandwiches, plus coffees & desserts.
Deli West - 7 min walk (282 Glossop Rd): 
Delve into a selection of homemade sandwiches, paninis, omelettes and more.
Nottingham House - 10 min walk (164 Whitham Rd): 
Hot homemade pies in a traditional pub setting.
Crumbs Sandwich Bar - 12 min walk (464 Glossop Rd): 
Enjoy a variety of freshly made sandwiches, omelettes, cakes and more.
Beres Broomhill - 12 min walk (226 Fulwood Rd): 
Known as 'the king of pork sandwiches'. A cosy café offering sandwiches, and savouries.
Med Food Co - 14 min walk (494 Glossop Rd): 
Experience Mediterranean delights with their range of wraps, rice boxes, salads, and burgers.
Whether you're in the mood for a falafel wrap, a gourmet sandwich, or a classic pub meal, there's something for everyone near The Octagon.